Events

2022 ACPA/ASHE Presidential Symposium
September 30, 2022 @ 12:00 pm

-

4:00 pm

EDT
2022 ACPA/ASHE Presidential symposium
Finding Our Way: Centering Joy, Care, and Community
Friday, 30 September 2022 | 12:00pm-4:00pm ET

Delivered Virtually & in Person at North Carolina State University

As leaders in higher education, we are challenged professionally and personally with supporting students, peers, and colleagues through "the great resignation," targeted violence and killings of People of Color, and consistent dehumanization.
The 2022 ACPA-ASHE Presidential Symposium will provide attendees with an understanding of how joy is cultivated, why joy is an act of resistance and healing, and how joy can be fostered through communities of care.
In this space, our hope is to bring together graduate students, faculty members, student affairs staff members, and senior student affairs leaders to reimagine our work to center care and community.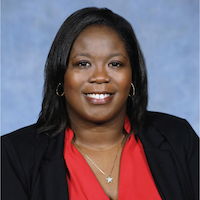 Andrea d. domingue, Ed.D
ACPA President // she, her, hers
Andrea D. Domingue, Ed.D is the Chief Strategy Officer for Student Life at Davidson College. She received her Ed.D. in Student Development with a concentration in Social Justice Education (2014) and an Advanced Graduate Certificate in Feminist Studies (2013) from the University of Massachusetts at Amherst, a M.A. in Higher Education Administration (2005) from New York University and a B.A. in Sociology and Mathematics (2003) from the University of Texas at Austin. Andrea has worked in a variety of student affairs functional areas such as residence life, multiple identity-based centers and dean of student offices across large and small colleges. A scholar-practitioner, she currently teaches graduate courses on critical pedagogy and college student development at University of Wisconsin La Crosse, published the co-edited book "Black Women and Social Justice Education: Legacies and Lessons" through SUNY Press and served as a co-author for ACPA's "A Bold Vision Forward: A Framework for the Strategic Imperative for Racial Justice and Decolonization." Lastly, Andrea is a recognized higher education association leader serving as Co-Chair for the Consortium of Higher Education Resource Professionals (2006-2009) and President for ACPA College Student Educators International (2021-2024).
Wilson Okello, Ph.D.
Assistant Professor in the Department of Education Policy Studies, The Pennsylvania State University // he, him, his
Dr. Wilson Okello is an artist-scholar who draws on Black critical theories to advance research on student development theory, racialized trauma and stress, critical masculinities,  and anti-racist curriculum and pedagogies, to name a few. Published widely, Dr. Okello is co-editor of "Trauma-informed practice in student affairs: Multidimensional considerations for care, healing, and wellbeing," a New Directions for Student Services volume (Wiley Press), and author of a forthcoming text with SUNY Press that explores the potential of centering Blackness in student development theory. Among other early career awards, he was named a 2022 Emerging Scholar by the American College Personnel Association.
Joy Gaston Gayles, Ph.D.
ASHE President // she, her, hers
Dr. Joy Gaston Gayles is an Alumni Association Distinguished Graduate Professor of Higher Education and Senior Advisor for the Advancement of Diversity, Equity, and Inclusion in the College of Education at North Carolina State University. Dr. Gayles is internationally recognized for her research and scholarship on women and people of color in STEM fields and her work in the area of intercollegiate athletics in higher education. Issues of equity, inclusion, and justice undergird the collective body of her work.
Dr. Gayles is one of the primary thought leaders in her field of study and was recently named as one of 25 innovative women leading higher education in DIVERSE: Issues in Higher Education magazine. She is currently serving as President of the Association for the Study of Higher Education (ASHE), the primary professional association for studying post-secondary education issues.
Dr. Gayles is nationally known for her work in partnership with the National Center for Faculty Development and Diversity (NCFDD) the largest faculty development center in the United States. In addition, she serves as a faculty success coach and campus workshop facilitator. To date, she has coached well over 100 faculty across the country and conducted over 50 campus workshops on topics such as mentoring, tenure and time management, mid-career faculty success, and writing through resistance. 
Over the course of her career, she has won numerous awards for her scholarly contributions and for advancing diversity, equity, and inclusion in higher education. In 2020 she received the Chancellor's Creating Community Award for Outstanding Faculty at NC State and was named University Scholar in 2018, two of the highest faculty awards at NC State University. She also received the Zenobia L. Hikes Woman of Color in the Academy Award for advancing the development of young women of color in their pursuit of excellence. She is a community builder at heart and values engaging in work that makes a real difference in the lives of others. 
Joan Collier, Ph.D.
Assistant Vice President for Equity & Inclusion, Rutgers University // she, her, hers
Joan Collier, PhD is the assistant vice president for equity and inclusion at Rutgers University and co-leads university-wide strategic planning and implementation supporting comprehensive cross-campus engagement efforts to realize the university's commitment to fostering an inclusive learning and working environment.
Dr. Collier leads university-wide diversity capacity-building efforts that aim to improve cultural competency, reduce bias, and promote understanding and engagement on issues related to diversity and bias prevention. She chairs the Diversity Education Network, which serves as a mechanism for amplifying, connecting, and expanding equity, diversity, inclusion, and justice capacity building across Rutgers University for students, staff, and faculty.
Dr. Collier is an Affiliate member of the Ph.D. in Higher Education program faculty in the Graduate School of Education. She has more than ten years of experience within higher education as a practitioner and educator. She is a first-generation scholar and alumna of Georgia State University and the University of Georgia.
Registration Rates
Those who wish to engage in the 2022 ACPA/ASHE Presidential Symposium can do so in-person at North Carolina State University or virtually.
Graduate degree programs and student affairs divisions are encouraged to gather students and/or colleagues to participate in the live stream. A special group rate of $200 is available at registration for up to 20 attendees. If you wish to have more people attend as part of your program or division, select to Add Additional Attendees at an additional fee of $10 per registrant. We will contact the registered group representative by email to collect names, emails, position, and department for attendees in the group.
$200
*A personalized link will be sent to the purchaser on the day of the event and can be used for streaming as an individual or within a larger group. The live stream experience includes curricular materials, discussion questions, readings, and other resources for each virtual attendee.
*In-person attendees will receive a complimentary lunch in addition to curricular materials, discussion questions, readings, and other resources.
Registrations can be paid by check, VISA, MasterCard, Discover, or American Express. All fees must be prepaid. Purchase orders are not accepted. Refunds will be given for cancellations, received in writing at ACPA by 2 September 2022. After 2 September 2022, there are no refunds. ACPA reserves the right to charge a service fee of US$50 for returned checks. Registrations are non-transferable. The conference may be canceled or postponed due to insufficient enrollment or other unforeseen circumstances. In this case, the fees will be fully refunded; however, ACPA will not be responsible for other additional costs, charges or expenses, including cancellation/change charges assessed by airlines and/or travel agencies.
Related Events