ACPA LEADERSHIP COUNCIL NOMINATIONS, ELECTIONS AND APPOINTMENTS
The annual ACPA—College Student Educators International Leader Nomination and Election process defines the future of our Association. It is an opportunity to ensure that people with the necessary competencies are leading ACPA and providing governance that will fulfill the objectives of the Association. It is also an opportunity for new leaders to contribute to long lasting sustainable goals and outcomes. The mission of the Association is to transform higher education by creating and sharing influential scholarship, shaping critically reflective practice, and advocating for equitable and inclusive learning environments.
Our Association's leaders should represent the increasing diversity of our membership as well as have a demonstrated commitment and capacity to deliver on the strategic priorities of ACPA. Equity, diversity, and inclusion competencies are critical requirements of leadership in ACPA. Embedding and integrating equity, diversity, and inclusion into the Association's core activities is an ongoing, critical responsibility. As part of ACPA's legacy, we have a renewed commitment to these competencies and their application. These competency elements must include knowledge, skills, and experiences engaging and partnering with individuals and groups from multiple and intersecting identities with the capacity to integrate diverse views and information into leadership decision-making. ACPA leaders work to champion the interests of students, faculty, and staff ensuring high standards of quality and consistent service, support, and growth for our membership.
New Governance Model
At the 2023 Annual Business Meeting, ACPA members approved a new governance model for the Association that will begin implementation in March 2024 (Phase 1) and will be fully in place as of February 2025. Most significantly, the governance structure will change from the Governing Board (in place from 2007-2024) to a new Leadership Council. The new Leadership Council model is expected to:
Expand leadership opportunities, while also strengthening clarity of roles and responsibilities for each position
Reduce time commitments required of various leadership positions
Redistribute and align workload among volunteer leader positions to support efficiencies, job responsibilities, role satisfaction, and opportunities for collaboration
Increase flexibility in positioning leaders according to their roles and skill sets
Intentionally focus roles on key association activities such as strategic initiatives, volunteer leadership, equity & inclusion, membership, racial justice, decolonization, and universal design
Work toward further decolonizing association structures
Align decision-making bodies in ways that support transparency, honor role-specific expertise, and clarify scope of work.
Visual Representation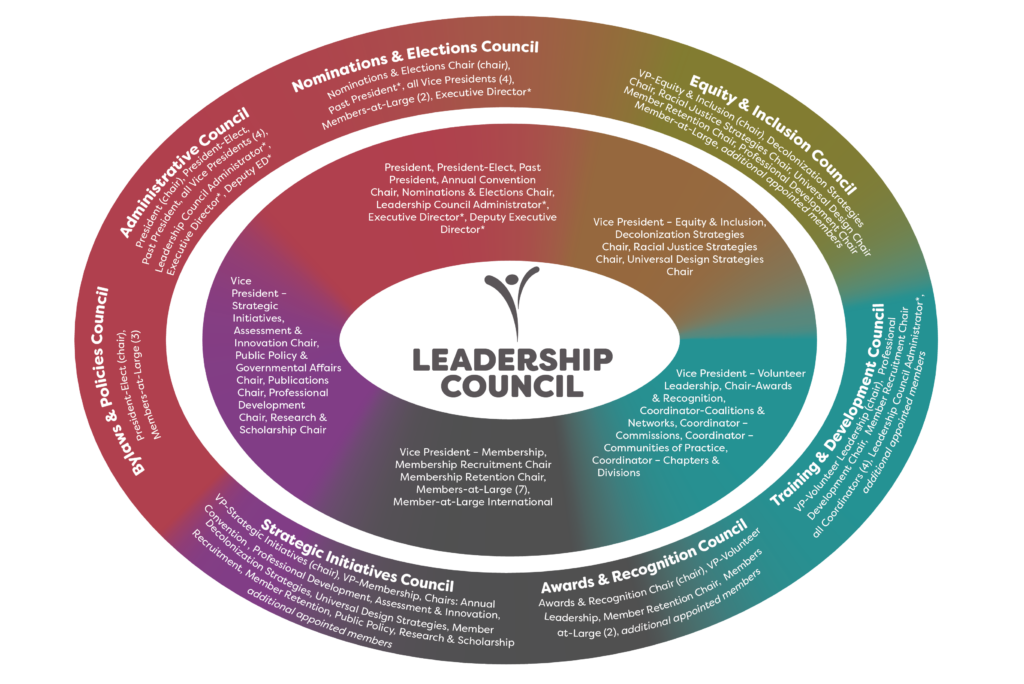 A graphic representation (draft) of the new Leadership Council model is available by clicking the image.
In this new model and graphic, the inner circle reflects all positions available on the Leadership Council, clustered by similarity of functions, areas of focus, and expertise, and the outer ring indicates the various working councils that will support and advance the authorities and work of the Association on behalf of the full Leadership Council. Leadership Council officers largely populate the various Working Councils, but some are open to general ACPA members seeking to be involved in these specific ways to support the work of the Association.
The various volunteer roles on the Leadership Council have different position responsibilities, term lengths, eligibility requirements, and selection processes and timelines. Not all Leadership Council positions will be available in each selection cycle to provide for continuity of leadership across years of service.
Understanding the New Position Structure
To begin understanding the various available positions, it is likely helpful to consider the roles by types:
The President is the senior elected officer of the Association and is responsible for guiding the Leadership Council and the Administrative Council in the stewardship of the Association. The President assumes the role after being elected by the ACPA membership and serving a term as President-Elect, both of which are voting members of the Leadership Council and the Administrative Council. 
Vice Presidents
There are four Vice Presidents who are voting members of the Leadership Council, Administrative Council, and various other governance working councils. The Vice Presidents provide strategic leadership and support for assigned functional areas of the Association (Equity & Inclusion, Membership, Strategic Initiatives, or Volunteer Leadership).
Leadership Council Administrator
The Leadership Council Administrator is an ex-officio, non-voting member of the Leadership Council and the Administrative Council who shall oversee a process for keeping the minutes of all meetings of the Leadership Council, the Administrative Council, and the Annual Business Meeting including all votes and resolutions adopted and shall maintain appropriate records. The Leadership Council Administrator shall oversee the process for issuing notices of all meetings, filing of all reports required by governmental authorities, and performing such other administrative functions and duties as the Leadership Council may from time to time prescribe.
Chairs
Chair positions provide functional oversight of critical and strategic areas of association interest and opportunity and will populate many of the working councils. At full implementation of the new Leadership Council, the specific functional Chair roles will be: the Annual Convention Chair, Assessment & Innovation Chair, Awards & Recognition Chair, Decolonization Strategies Chair, Member Recruitment Chair, Member Retention Chair, Nominations & Elections Chair, Professional Development Chair, Public Policy & Government Affairs Chair, Publications Chair, Racial Justice Strategies Chair, Research & Scholarship Chair, and University Design Strategies Chair.
Coordinators
The Coordinator(s) is a member of the ACPA Leadership Council in providing leadership and guidance to the 1) ACPA Coalitions and Networks, 2) Commissions, 3) Communities of Practice, and 4) Chapters and Divisions. Each Coordinator represents one of these entities of the Association and each of these entity types will have one Coordinator on the Leadership Council.
Members-at-Large
The Member(s)-at-Large is an elected member of the ACPA Leadership Council intended to represent a perspective of a particular audience among the ACPA membership (i.e. Entry Level, Mid-Level, Senior Level, Faculty, and International/Non-US). For Phase 1 implementation of the new Leadership Council, there will be six Members-at-Large. After full implementation of the new Leadership Council, there will be eight Members-at-Large.
Generally, the new Leadership Council model accounts for varying abilities to serve in a volunteer role across several years:
1-year positions:
Leadership Council Administrator (appointed)
Past President (appointed)
2-year positions:
President/President-Elect (elected)
Chairs (appointed; do not have an "elect" year before beginning role)
Member-at-Large (elected; do not have an "elect" year before beginning role)
3-year positions:
Vice-Presidents (elected; first year is an "elect" year, and last 2 years are in role)
Coordinators (3 are elected, 1 is appointed; first year is an "elect" year, and last 2 years are in role)
General questions related to the Leadership Council or the Nominations & Elections Process can be directed to Chris Moody, ACPA Executive Director, as ex-officio member of the Nominations & Elections Committee.
LATEST NOMINATION & ELECTION NEWS
NOMINATION, ELECTION & APPOINTMENT TIMELINE Nomination form available was available 5 July-15 September 2023 Application form available Available starting 5 July 2023 Nomination form closes 15 September 2023 Application due by 11:59pm ET 22 September 2023...
fall 2022 NOMINATION & ELECTION TIMELINE Nomination form available CLOSED Application form available CLOSED Nomination Form closes CLOSED Application due by 11:59pm ET CLOSED Elections open for member voting until 11:59pm ET 14 November-2 December 2022 Election...
The annual ACPA Leadership elections process is open NOW through 11:59 pm (EST) on Friday, 3 December 2021! Ballots were delivered via email to all current ACPA members on Monday, November 15, 2021.