As a professional association headquarted in Washington, DC, ACPA is consistently involved in high-stakes and high-profile government processes that effect higher education. We find it necessary to inquire with other associations, take a stance on certain issues, and offer support to push motives associated with our mission, vision and values. With the ever changing climate in our world today, we find a overwhelming need to be transparent with our members about our stance on these pressing issues. This webpage serves as a resource to review formal documents that ACPA has drafted, are in the process of reviewing, or signed on to support. When ACPA shows support for an issue, we will release that information on this page as well as on our social media channels using the hashtag #ACPASpeaksUp.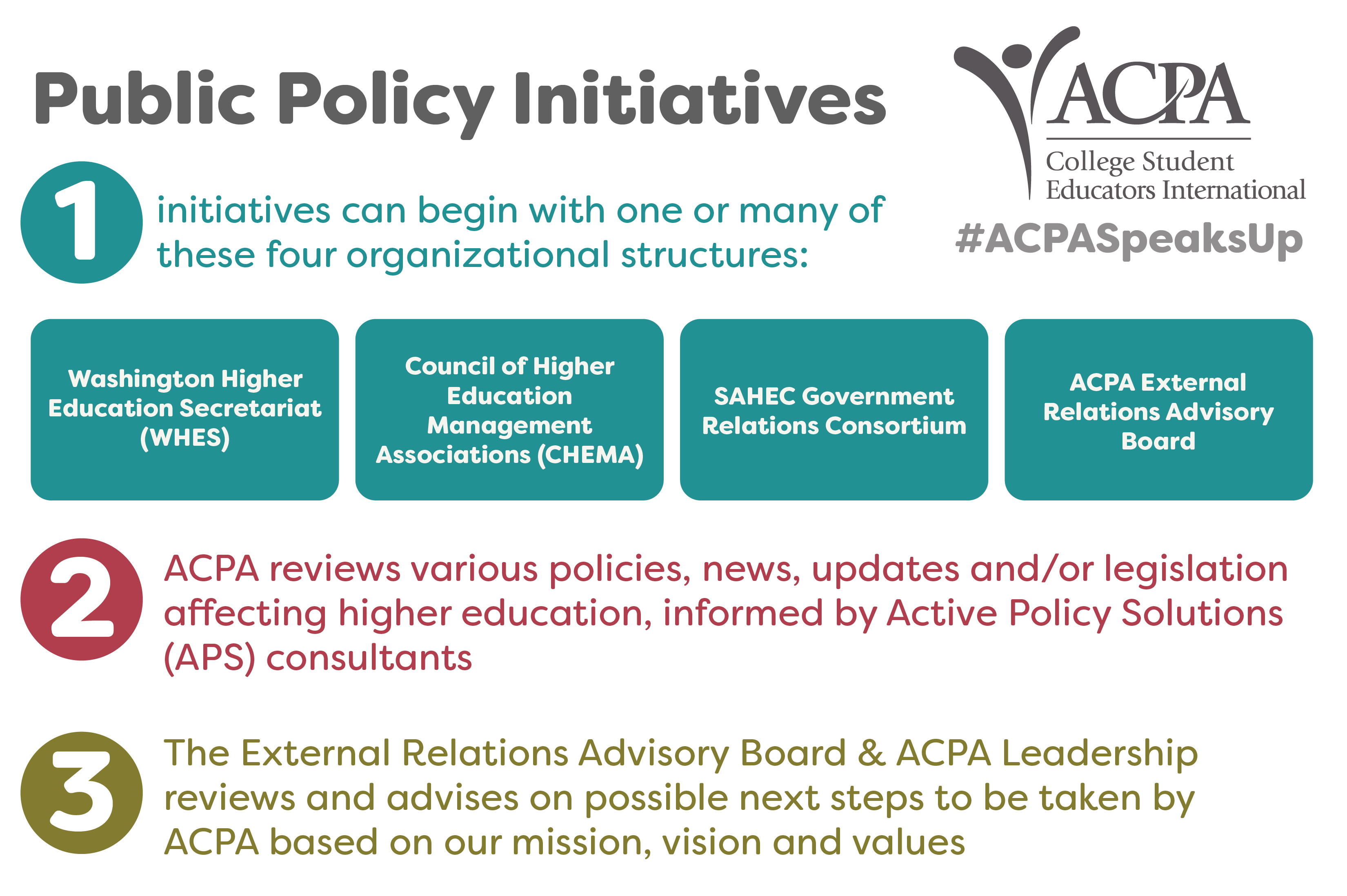 ACPA External Relations Advisory Board:
Molly Springer, California State University, San Bernardino (ACPA Governing Board Director of External Relations)
Sienna Abdulahad, Tulane University (LA)
Chad R. Mandala, University of Georgia
Ray Plaza, Santa Clara University (CA)
Cody Nielson, Dickinson College
Interested in joining the ERAB? Contact molly.springer@csusb.edu
LATEST EAB STATEMENTS/SIGN-ONS
ACPA - College Students International strongly believes in the importance and value of college students engaging in their constitutional right to participate in local, state and national elections in the United States. We believe that voting processes and procedures...
POSITION STATEMENTS
The ACPA International Office and Governing Board have worked together to construct position statements on areas within the political and social climate that impact higher education. These statements will serve as reference materials for those interested in understanding more about where ACPA stands on certain issues and current events.
We invite you to click on the links below to learn more about ACPA's position on each topic. ACPA will continue to review, edit, and add to this list over time. If you have suggestions or feedback, please email us at info@acpa.nche.edu.