Thank you for stopping by to learn more about the Commission for Spirituality, Faith, Religion & Meaning (CSFRM). Take some time to look through our content and don't hesitate to share how you'd like to get involved.
Use the menu below to jump to a section of interest.
Please contact us at CSFRM@acpa.nche.edu or connect with the members of our Directorate Body with questions or ideas.
The ACPA Commission for Spirituality, Faith, Religion, & Meaning (CSFRM) will provide ACPA members an arena within which to conduct research and assessment, strengthen their professional competencies, and enrich their self-knowledge and professional knowledge about issues related to meaning-making, specifically spirituality, faith, religion, belief, and existentialism within the context of higher education. In addition, acting within the ACPA governance structure and with the ACPA International Office, CSFRM will assist in positioning ACPA to be an informed voice on existential pursuits of meaning-making, including spirituality, faith, religion, and belief as they relate to student development, the administration of student affairs, and the organization of governance structures within a college, community college, or university setting. These efforts will include examining various modes of pursuing meaning-making in the contextual experience of both the U.S. and the global higher education community (Adopted by the CSFRM Directorate Body, October 2009).
History of Our Commission
Conversations to explore interest in developing an ACPA task force focused on issues of meaning-making, spirituality, faith, religion, and secular humanism began at the 2008 ACPA Convention in Atlanta. A small group of interested people participated in a conversation over breakfast. From there, a work group formed and crafted a proposal to establish the ACPA Task Force for Spirituality, Faith and Religion (TFSFR). Just prior to the 2009 Convention in Metro D.C., the Task Force for Spirituality, Faith, and Religion received final approval to begin the work of becoming a Commission.
Dafina Lazarus Stewart, Assistant Professor of Higher Education and Student Affairs at Bowling Green State University, accepted the invitation to serve as the interim chair for TFSFR from 2009-2011. She was joined by 15 other professionals, who represented a variety of institutions, years and experiences in the field, and spiritual worldviews to form the inaugural directorate.  The group was officially recognized as the Commission for Spirituality, Faith, Religion, & Meaning (CSFRM) in March 2010 by ACPA's Governing Board.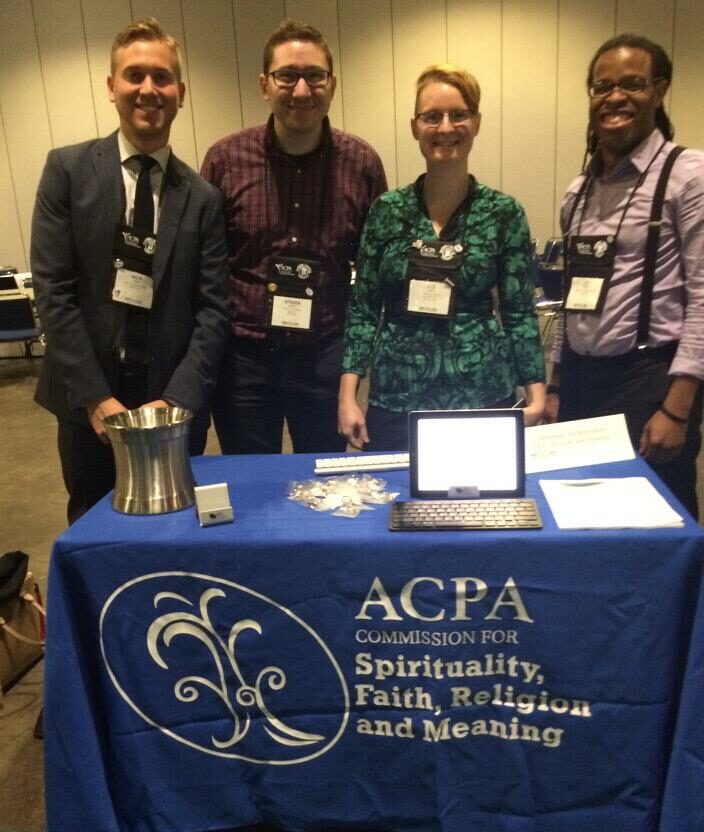 Talking about Spirituality, Faith, and Religion in Higher Education
A common definition and understanding of spirituality needs to be offered. For many years, researchers, authors, clergy, and common people have offered multiple definitions for the term "spirituality."
However, conversations can be stifled as some people may wonder if their identities, beliefs, and life experiences are excluded by the way spirituality is contextually defined. It must be acknowledged that the identities, beliefs, values, and life experiences of many have been excluded, denigrated, and/or oppressed in the name of one group's definition of the correct way to make meaning in the world.
As members of ACPA who are deeply committed to pluralism and social justice and to disrupting systems of oppression and marginalization, we must articulate a vision and understanding of the means that various individuals use to pursue deeper meaning that seeks to engage others across differences rather than to demonize and vilify others in the name of a singular religious or faith tradition.
Pluralism and social justice require serious engagement with differences that will challenge us, make us uncomfortable, and provoke us to reexamine our own strongly held beliefs. This is as important and necessary for consideration of ideas and perspectives that have been privileged as it is for those ideas and perspectives which have long been excluded. Out of such cognitive, affective, and existential dissonance, real learning is achieved and real community is built.
Within this commission we explicitly seek to include and engage multiple perspectives on meaning-making, religion, faith, and spirituality that bridge the East with the West, privileged with marginalized cultures, atheists and agnostics with religious orthodoxy.
CSFRM offers the following definition of spirituality on which our work as a commission would be based:
"Spirituality involves the internal process of seeking personal authenticity, genuineness, and wholeness" (Lindholm, 2005, p.76) through multiple forums and paths, including faith and religious traditions, and other forms of meaning-making. As such spirituality, faith, and religious expression are taken collectively to represent people's searches for meaning and purpose, interconnectedness and community, identity and transcendence. Spirituality is our "search for the sacred" (Pargament, 1997), that which is of deep value and through which we anchor ourselves in the world around and beyond us. We recognize that spirituality is not a term that resonates positively with everyone, particularly perhaps with those whose search for meaning and purpose lead them on secular, non-deistic paths. We assert therefore that CSFRM is talking about a meaning-making that is not limited to religion or belief in a non-material reality, but whatever the object or pathway is, all of our meaning making involves having trust and confidence (what some might call "faith") in certain things, ideas, people and not in others.
No Results Found
The page you requested could not be found. Try refining your search, or use the navigation above to locate the post.
There are no upcoming events at this time
get involved WITH US
We are seeking volunteers to work with the directorate this year. If you are interested, please email Steven at ssajkich@gmail.com
Ready to join?
Joining an Entity through the ACPA Member Portal automatically identifies you as a member of that Entity! You will begin to receive Entity communications through their respective email listserv and have access to any resources they share!
Login to your ACPA Member Account
Click on Community Groups (Chatter)
Click Groups
Click Active Groups
Find the entity you want to join and within that group, click +Join
Contact csfrm@acpa.nche.edu, to learn more about ACPA's Commission for Spirituality, Faith, Religion & Meaning!
Website Blog / Newsletter
ACPA will now be featuring a blog option for each of the commissions. We are looking for people to jumpstart the blog by finding resources and individuals to post blog entries about personal and professional experiences with spirituality, faith, religion, and meaning-making. If you are an avid blogger or looking to learn more about it, we'd love to have you on this project team! This writing team will also support CSFRM's periodic newsletter.
Collaboration with Career Central
A new and exciting opportunity is collaborating with Career Central to offer job postings related to spiritual, religious, faith-based, and meaning-making student affairs positions. As our awareness of the need to have meaning-making dialogues on our campuses grows, so do these positions. Our hope is to support the movement to include more full-time, meaning-making focused positions by providing a space for institutions to recruit from our very own membership and through the C3 system. This team will get the ball rolling by creating a proposal to our Career Central collaborators on how this process could work.
Professional Development Focus: Facilitating Conversations Around Worldview
In many of our dialogues at Convention and with colleagues throughout the year, we have noticed a theme regarding what would be useful for professional development. There appears to be a need to build capacity around worldview conversations and develop the awareness, knowledge, and skills necessary to engage in these dialogues. This would serve to both help students discuss worldview perspectives with each other, but also for practitioners and scholars to engage in meaning-making dialogues together. If you are interested in developing this capacity for yourself and/or aiding others in this area, we would love to have you join this project team.
Research Focus: Under-Researched Worldviews
There has also been a call for further research on under-researched worldview identities and perspectives. One potential focus is students who identify as atheists. If you are interested in conducting, compiling, or soliciting research on under-researched worldviews, we'd love to have you help out.