Barbara Anderson (1994-1995)
Fifty-Fifth President
Barbara Anderson initially became involved with ACPA through Georgia College Personnel Association (GCPA). She moved from primary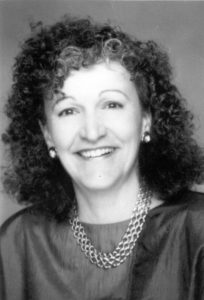 and secondary education to the college level in 1980 as Director of Counseling. Several of the College and University counselors, with whom she had previously worked, encouraged her to get involved with GCPA. Anderson's first involvement with GCPA entailed working on a directory for student affairs professionals in every university, college, and technical school (both public and private) in the state of Georgia. Since there were several thousand student affairs professionals in the state—this was an awesome task. This occurred when everything was done on a typewriter with carbon paper and whiteout. She guessed this was her "initiation". It was a particularly hard task, since Anderson had no clerical help and was wearing many different "hats" at work. Following her directory involvement, she became very active at the state level; holding several positions including—secretary; state convention chair; president-elect, vice president, president, and past president. Anderson served on several committees and did many presentations throughout the state. She also attended ACPA national conventions and began doing presentations at GCPA and ACPA.
Anderson became directly involved in the ACPA governing board as GCPA vice president-elect; GCPA vice president; and GCPA president. She began attending the annual leadership training meetings at a convent in St. Louis (I have forgotten the name), and meetings at the Executive Council at the national conventions. Anderson often told colleagues that both GCPA and ACPA were wonderful outlets from the day-to-day battles she fought on her campus for students. It kept her in the profession and passionate about the work she did on a daily basis.
Anderson served ACPA in a variety of ways, including serving on the executive committee, engaging in extensive work with state divisions, presenting at Annual Conventions, assisting with open membership meetings on issues of separation, helping establish the new headquarters, hiring of executive director, providing guidance and insight into the new governance structure, helping with the ethics code, and providing insight into the CAS Standards. Additionally, she coordinated all aspects of the 1995 Boston Convention, which was the year of her presidency by helping to obtain major speakers and working with the State Division Fair and the Commissions and Standing Committee Carnival.
Anderson served ACPA during a time of great change. She spent a total of nine years on the Executive Board (Committee) and was involved in the push from state divisions to become more involved in the decision-making of the organization, thus eventually leading to disaffiliation, the establishment of the new headquarters at One Dupont Circle, and the hiring of our first executive director, thus becoming an independent organization with a national and international presence. Further, she helped create a new mission, set of goals and priorities after ACPA became independent from APGA. She personally led the effort of developing the organization's first strategic plan and was also involved in the dismissal of the first executive director and in the replacement of the second director. Anderson worked with the first executive director in membership retention and recruitment and in taking the first steps to bringing the ACPA into the age of technology.
After several very tumultuous years in the association Anderson feels one of her greatest gifts was to be a listener and to bring different coalitions together in accepting the changes in the new governance structure and to provide hope and healing. She brought factions of the association together in working on the strategic plan and developed more structure to the Leadership mid- year meeting by moving it to the summer and using this as a forum to break down artificial barriers between different components of the governance structure. The meeting provided opportunities for input into the strategic plan and initiatives. It also provided opportunities for the leadership team members to get to know each other on both a personal and professional level and provided an outlet for discussing issues involving higher education and developing students prepared to lead in the next century.
Other initiatives which characterized Anderson's leadership included: meeting the needs of community colleges and non-residential students at our colleges and universities and refocusing the roles of student affairs professionals by collaborating with academic affairs in the education of students. Thus, the title of the 1995 ACPA Convention "Transforming the Academy: New perspectives and Practices in Higher Education," reflected Anderson's experience and passion for more accountability for the work done by student affairs professionals.
While Anderson experienced much success during her presidency, there were issues that she needed to overcome. Those included the implementation of the new governance structure, which required her to be a cheerleader, a healer, and an advocate for change. Additionally, the separation from APGA created the opportunity for a refocus on the mission of ACPA and the implementation of a new five-year strategic plan. Further, Anderson worked to move the organization from an inward orientation to forging ahead with a critical look on the broader issues facing students and institutions at the close of the twentieth century and in response to the changing demographics on campuses and in the United States in general. Anderson also provided a better understanding of the political issues faced by student affairs professionals and responded to an urgent need for student affairs professionals to develop learning outcomes for their students and programs and a means to assess their importance to the overall goals of their institutions.
After Anderson's presidency, she assumed a new position at Southern Polytechnic State University. She became Director of Strategic Planning, Assessment, and Institutional Research, which was the office that did all of the institutional planning and evaluation for all academic programs and all other services at the University. The most challenging work of the division was the coordination of a million dollar grant from IBM to incorporate the principles of Total Quality Management into the curriculum of engineering and business schools. This grant was shared with Clark Atlanta University. A million dollar grant was also awarded to Penn State University; University of Oregon; University of Maryland; RIT; Georgia Tech; and University of Houston. A requirement of the grant was that the recipients of the grants had to attend meetings three times a year with top IBM officials and other CEOs of Fortune Five Hundred Companies. Anderson is grateful for the opportunity to work with Deans and Department Chairs of some of the most prestigious colleges of Business and Engineering Schools throughout the nation, as well as interacting with the CEOs of many of the nation's Fortune Five Hundred Companies.
Anderson's last position was Dean of Students with Lake City Community College in Lake City, Florida. She worked in the position for six years and was responsible for all student affairs areas. The following areas reported to her: academic advising; athletics; residence life; admissions; recruiting; financial aid; orientation; student life; student activities; student government; student disability services; and testing. It certainly was the most challenging position in her career, but also the most rewarding. Anderson was able to use all her professional experience and knowledge in a hands on approach. Since community college students come from all walks of life and have enormous hardships to overcome, they were the most courageous students she had ever had the pleasure to help.
After 38 years in education: working as an elementary and middle school teacher; working as a middle school counselor; conducting faculty development from the county office; working at the college and university level as director of counseling, retention, faculty and staff development, academic advisement, Freshmen 101 programs, working with strategic planning, academic assessment, accreditation and grant administration, and as Dean of Students at a community college, she and her husband, Rick, have now retired. Rick retired as the Chief Financial Officer for the City of Atlanta. They celebrated 41 years of marriage in 2009 and are now living in Gainesville, Florida, where she and her husband met on a blind date while attending the University of Florida, and where Rick grew up. Those who have worked with Anderson, know that she is an avid Gator fan. Currently, she volunteers with the University of Florida's School of Education and has been working with the University's Foundation. She is also a member of the university's campaign to get more women involved in philanthropy. Rick is involved with his many hobbies, as he fights a courageous battle against ALS "Lou Gehrig's disease," they try to make every day matter and are both grateful to have each other.