Margaret J. Barr (1983-1984)
Forty-Fourth President
The election of Margaret J. (Peggy) Barr as the 44th ACPA president was announced during the Executive Council meeting on March 16,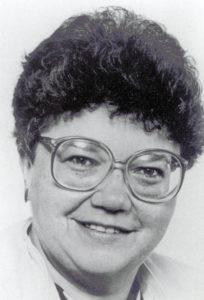 1982 and the Business meeting two days later at the joint national APGA/ACPA convention. She was the 16th woman voted to that exalted office. At Northern Illinois University (NIU), she was Assistant Vice President for Student Affairs (1982-85).
Born and reared in Pennsylvania, she attended State University College at Buffalo, New York, as an undergraduate, majored in Elementary Education with a minor in history, and graduated in 1961. In 1964, Southern Illinois University, Carbondale, granted her the M.S. degree (College Student Personnel-Higher Education). The University of Texas at Austin awarded her a Ph.D. (Educational Administration) in 1980. The dissertation topic was "Legal Constraints Governing Public Access to Institutional Facilities at Senior Colleges and Universities in the State of Texas."
Her educational background and professional work experience were tied together closely. With her under­graduate degree, Barr was hired to teach fifth grade in the Rush-Henrietta (New York) School System (1961-62). During the next year at Carbondale, she was Resident Fellow, then Graduate Assistant (1963-64) while working for her master's degree. After serving the next year as Assistant Director, she was Director of Women's Residences during 1965-67 at Harpur College, State University of New York at Binghamton. At Trenton (New Jersey) State College, she was Direc­tor of the College Union, and then became Director of Housing, working at each position for two years. She went cross country to UT Austin as Assistant (1971-79) then Associate Dean of Students for a year. She was named Assistant Vice President for Student Af­fairs at Northern Illinois University (NIU) for two years and was Acting Vice President for five months during 1981. She then became Vice President for Student Affairs at NIU and served until 1985. Barr left NIU to accept an appointment at Texas Christian University (Fort Worth) as Vice Chancellor for Student Affairs. In 1992, she became Vice President for Student Affairs at Northwestern University and full professor in Education and Social Policy. She remained there until 2000 when she retired and is currently Professor Emeritus in the School of Education and Social Policy. In these positions and other career interests, her responsibilities included some teaching, a number of major committee assignments, and related activities.
An active member of ACPA since 1963, Peggy Barr was a Directorate Body member of Commission III, Student Residence Programs, during 1969-72 and Commission II, School-College Relations, Admissions and Orientation from 1973-80 and chaired Commis­sion II during 1977-79.
During the mid-year Executive Council meet­ing on October 31, 1979 at Erlanger, Kentucky, Barr was introduced as Program Chairperson for the 1981 national ACPA convention in Cincinnati. At Erlanger two days later, she was listed as candidate for ACPA Vice President of Commissions which she won for a two-year term (1980-82). During those two years, she represented Commissions on the Media Board. Her "Commission Report" column, and often a commission membership form, appeared regularly in issues of the newsletter. As she left the commission office, she reported to the Executive Council in Detroit that there were 4,600 members of 15 active commis­sions.
Barr agreed to chair a special Ad Hoc Bylaws Review Committee to continue the review and updating proc­ess of the ACPA bylaws and to identify new areas that needed amending during 1982-83. She chaired the Ad Hoc ACPA/APGA Relationship Committee that year. The committee was continued during 1983-84. Her column on updates of "ACPA/APGA Relations" was published in four issues of ACPA Developments. Also she was a member of the Awards and Commendations Committee, the Generativity Project, and the ACPA Government Relations Committee during 1982-83. As president-elect, she was the keynote speaker at a number of state CPA meetings.
Featured speaker at the Luncheon on March 15, 1983 at the national convention in Houston as incom­ing president, she called for becoming assertive part­ners in institutions on both organizational and indi­vidual levels in higher education. Excerpts from her address were printed in the post-convention issue of the newsletter. At the Business meeting following the Luncheon, the quality of her work on drafting pro­posed changes and coordinating a thorough bylaws revision was recognized.
When she presided at the Executive Council meet­ing in Houston for new and continuing members on March 16, she reported that the Executive Board of BACCHUS agreed to provide a $25,000 fund to en­courage innovative alcohol education programs and a joint project with NASPA was preferred by the fund grantor.
During her presidency, a "Presidential Communiqué" column appeared in each issue of the newsletter. She was also a member of the Budget and Nomina­tions and Elections Committees that year. In July 1983, Barr attended the APGA Board of Directors meeting in Alexandria, Virginia. At the mid-year Ex­ecutive Council meeting in St. Louis, also attended by Commission Chairpersons and State Division Presi­dents, the establishment of an Executive Committee was approved subject to "review" by the Executive Council. A major need for the committee related to long-range financial and fiscal planning, complex organizational concerns, appointments to vacancies, and resolutions requiring action between meetings. Among other business matters there in St. Louis, a motion was passed to establish an ad hoc committee to codify and propose needed convention placement policy. The Ad Hoc External Relations Committee was recognized through standing committee status and the NASPA/ACPA task force report and recommenda­tions for professional development collaboration were adopted. The future role and scope of media was discussed, and the Awards and Commendations Committee was given the responsibility to provide annual recognition through two awards for graduate student achievement at the master's and doctoral levels beginning in 1985 at the national convention in Boston. New Jersey was granted charter status as a state division. A motion to appoint an ad hoc commit­tee on investment was approved. Another motion was approved to appoint an ad hoc committee to gather the specified convention planning information and report at the 1984 national convention in Baltimore. The national membership job description was revised to read for a two-year term. ACPA membership at the close of 1983 totaled 6,887.
The theme of the national convention held in Bal­timore during April 8-11 was "ACPA Renewal" 83. Renewal of mission, spirit, and intellect were featured as theme tracks. Registrations totaled 2,196. Eight pre-convention workshops had 253 attendees. A spe­cial feature of the opening session, at which time Senator Mark Hatfield spoke, was the presentation of ACPA's two highest awards. President Barr intro­duced the past editors in recognition of the 25th an­niversary of the journal. They and the editorial board members met at special celebration breakfast the next morning to share memories. The editors received plaques and the board members a certificate of appre­ciation from Barr. At the opening session, the Senior Scholars Program was inaugurated to provide schol­ars with a continuing opportunity for a six-year term to share their scholarship through the presentation of a convention program and to serve the association on projects related to their fields of interest.
The composition of the Executive Committee approved at the 1983 mid-year meeting was modified to include President, President-elect, Treasurer, Vice-President for Commissions or State Divisions (which­ever was in the second year of term) and one represen­tative to be elected from the broader membership of the Executive Council.
At the Business meeting on April 10, standing committee status was granted to External Relations, Men, and Theory and Research Board. The revised mission and goal statement for ACPA was unani­mously approved and wording changes dealing with a greater autonomy for Sate Divisions to determine their affiliation with other state organizations were ap­proved. The closing general session, chaired by Barr, highlighted three major addresses and provided a keystone to the three theme tracks.
During 1984-85, Past-president Barr served on the Ad Hoc ACPA/APGA Relations, the External Rela­tions, and the Budget Committees and she chaired the Ad Hoc Fiscal Management and Nominations and Elections Committees. During 1985-86, she served as member of the External Relations and Generativity Project Committees.
A number of ACPA honors and awards have gone her way. Peggy was selected to meet at the Annual Coeptis Dinner as an ACPA Senior Professional during the 1986 national convention in New Orleans, and she was the recipient of the Professional Service Award. Also, she was chosen a Senior Scholar and will com­plete her term of office in that role in 1991 at Atlanta. Also in 1986, she received the Contribution to Litera­ture Research award for NASPA. To help round out an eventful 1986, she assumed the role as Editor-in-Chief of the Jossey-Bass New Directions for Student Services Series and served in that capacity until 1997. She participated in a NASPA committee that reviewed the 1937 statement on the "Student Personnel Point of View". In addition, she served as President of the NASPA Foundation from 1995-97. In 2000, she received the Contribution to Higher Education Award from NASPA and was named a Pillar of the Profession.
Among her numerous literary contributions to the profession, Peggy Barr has given over 60 major ad­dresses. She has presented programs at 14 ACPA conventions. Her publications include 9 books and monographs, 17 book or monograph chapters, 6 jour­nal articles, and a number of other articles. Her speaking and writings have focused on such diverse issues as legalities in the profession, programming, orientation, and learning innovations. In 1990, she re­ceived the Contribution to Knowledge award from ACPA and served as one of the major speakers for the convention.
In a letter dated March 1, 1990, Barr included the following message concerning the association's fu­ture:
ACPA must act in concert with other professional organizations, become less concerned with the issues of territoriality, and continue to be concerned with the professional development of members. During my presidency, the association began to focus on long range fiscal management policies, established the Senior Scholars program, reviewed our relationship with AACD, and restructured the Media Board. One of the most rewarding parts of the presidential role was meeting so many members when I traveled to state division meetings.