David T. Borland (1981-1982)
Forty-Second President
ACPA's 42nd president, David T. Borland, was the 28th man elected to that office. He was Associate Professor of Higher Education in the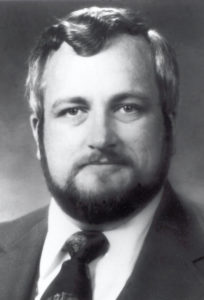 Division of Administration and Administrative Studies at North Texas State University (NTSU), where he accepted a joint appointment in 1973 to the Graduate Faculty in the Division of Higher Education and the Division of Counseling and Student Services in the College of Education. The alumni association presented him with the Distinguished Teaching Award there in 1979.
Born in Michigan, David Borland was 39 years old when elected. He attended Eastern Michigan Univer­sity where he received the B.A. degree (English & History) in 1962. His A.M. (Counseling & Personnel) was granted to him in 1965 by the University of Michigan. He was recipient of the Ed.D. (Higher Education Administration) from Indiana University in 1970. The title of his dissertation was "The University as an Organization: An Analysis of the Faculty Rewards System."
As a secondary school teacher, he taught in the Redford Union Schools (1962-66) in Detroit. He was Student Personnel Administrator at the Middletown Community Campus of Miami (OH) University during 1966-68, then Instructor, Foster Residential Learning Project, and Associate Instructor in the IU School of Education while he worked on his doctorate. Borland returned to Michigan in 1970 for three years at Ferris State College where he was Assistant Dean, School of Teacher Education, and Associate Professor of Educa­tion.
Borland became a member of ACPA actively in the 1973-74 academic year, when he left Ferris State for NTSU. He presented programs at each national ACPA convention through 1985, on a variety of topics. Borland's organizational leadership involvement de­veloped within the new and open ACPA Commission structure, which appealed to his own desire for active involvement, not just membership, in professional organizations, by serving on Commission I's director­ate, 1974-79, during which he was elected by Com­mission I's members as National Chairperson, 1976-78. In 1978 he was elected by ACPA members nation­ally to become the 3rd Vice President for Commis­sions, 1978-80. Throughout his 1980-83 presidential term, Borland gave keynote addresses at ACPA State Division Conferences in North Dakota, Minnesota, North Carolina, Rhode Island, Ohio, and Michigan.
During the Cincinnati convention at the opening banquet in 1981, President-Elect Borland and President Cynthia Johnson were the featured speakers. At an Execu­tive Council meeting during the Cincinnati convention, he reported on his activities in selecting future conven­tion sites by confirming contracts with Houston for 1983 and Baltimore for 1984. Subsequently, he assessed and con­firmed contractual ar­rangements for ACPA national conventions in Boston in 1985, New Orleans in 1986, Phoenix in 1988 (changed to Miami by the Executive Council in 1988, due to conflicts between the practices of the new Arizona Governor and ACPA policies), and Washington, DC in 1989. These negotia­tions, as well as his other ACPA service contributions, were highlighted during the Luncheon at the 1985 ACPA national convention in Boston by President William Bryan in presenting Borland with the Presi­dential Service Award.
At his initial, subsequent and full Executive Coun­cil meeting there in Cincinnati, President Borland presented quite directly his personal and professional expectations of those members thereafter. Borland's "Presidential Communiqué" column appeared in four different issues of ACPA Developments. He presided at the mid-year Executive Council meetings in October, 1981 at the Marydale Retreat Center and Camp in Erlanger, Kentucky. The Executive Council sessions in Kentucky were streamlined to optimize efficiency. Oral presentations were not repetitious of reports, submitted prior to the meeting, but were confined to discussion and questions raised in the Executive Council. Borland was presented with a citation from Governor John Y. Brown, commissioning him as a Kentucky Colonel. ACPA membership on December 31, 1981 was 7,252.
The site of the first joint ACPA/APGA convention since 1976 was Detroit in 1982, Borland's hometown. The theme of the combined convention was "A Renais­sance of Responsibilities and Responsiveness: Strate­gies for the Helping Professions." Headquarters for ACPA and four other APGA divisions was in Detroit's Renaissance Center at the Detroit Plaza, renamed the Westin Hotel by convention time. ACPA submitted at least 108 programs to APGA. More than 1,400 ACPA members preregistered, which increased with on-site registration. ACPA received $4 from APGA for every registrant, which assisted in offsetting the loss of funds in foregoing a separate convention; yet, income exceeded expenditures for ACPA during 1981-82 by $9,377.59.
Two Executive Council meetings were scheduled by Borland in Detroit during the Convention and a spe­cial late afternoon meeting was held for all members after the regular Business meeting to debate and discuss the ACPA/APGA relationship and the appro­priate response for the Executive Council to take with respect to a possible referendum vote by the entire ACPA membership. Subsequently, Executive Council members voted to stay within APGA.
At the annual ACPA Luncheon, prior to the Busi­ness meeting, Borland presented the first Presidential Service Awards to be awarded since their establish­ment in 1979 to Laurine Fitzgerald, the retiring editor of the Journal of College Student Personnel, and to Earl Nolting, the retiring editor of ACPA Developments.
Highlights of Borland's term were (1) the continuing effort to establish, finally, the structural, financial, and leadership accountability efforts, initiated by his predecessor; (2) the periodic, formal vote every decade or so within ACPA membership on its desire to remain within the umbrella of the APGA; (3) his efforts to initiate and establish a planned and continuous struc­ture to implement the wisest criteria, policies, and procedures for the annual selection of national con­vention sites, based primarily on economic negotia­tions and geographic factors; and (4) his personal message to the members, delivered in his presidential speech at the 1982 ACPA luncheon.
While on leave of absence from NTSU in 1981, prior to assuming the duties of his active status as ACPA President for 1981-82, Borland had relocated to the Lansing, Michigan area, so he could be closer to his three sons, Dean, Kurt, and Matt. Within a few weeks of assuming his active presidency, amidst trying times in his personal life, Borland reluctantly resigned from his tenured, full professorship at NTSU. Given the extremely harsh economic recession in Michigan at that time with its restricted employment opportunities in higher education, this decision resulted ultimately also in his reluctant departure from his preferred professional field.
Despite efforts to remain in this field and despite his still continuous membership and interest in ACPA, subsequently, Borland opened his own Dispute Reso­lution Services firm. While he occasionally served as a family/divorce mediator and as a consultant in organ­izational concerns with a variety of both management and union groups, Borland functioned, primarily, as a neutral Arbitrator, Mediator, and Fact-Finder in the field of labor relations disputes.
Borland believed that several prior personal and professional experiences may have "predestined" his move from advocacy with ACPA and higher education into a contrasting field, which required ultimate im­partiality. While his grandfather and namesake was a U.A.W. member and an assembly line worker for more than 25 years at the historic Dodge Main Plant, his father took the "opposite side" by choosing the Chrys­ler management program, even though his eventual business partner in Flint also happened to be a union steward at the Fisher Body Plant there. Listening to his father "discussing" vigorously his differences with his business partner and his own father over the years, it appears that Borland was "predestined" to become an impartial Arbitrator "in the middle."
When Borland himself was a high school teacher in Detroit, after having held jobs and union member­ships as a tool and die worker and a seaman, he was involved in efforts to gain collective bargaining rights for Michigan public employees. His first specific re­sponsibility in labor relations, subsequently, came as a local building representative (steward) with his local teachers' union in the Redford Union Schools. The subsequent years in Texas and his formal involvement in ACPA's efforts to examine the effects of increasing unionization in colleges and universities, found him engaged nationally and regionally in extensive con­sulting, speaking, and publishing activities with a variety of both employee and employer groups.
Borland's professional commitment in the field of dispute resolution was at the active level he exhibited within ACPA and higher education. He was a charter member of the Michigan Council of Family and Divorce Mediation and of the mid-Michigan In­dustrial Relations Research Association, having served also in various leadership functions with each. In 1986, he was inducted into the National Academy of Arbitrators during formal ceremonies in Philadelphia. Borland believed that his work was very much related to the general goals and objectives within ACPA and that the skills he utilized were necessary skills of the type that should be applied more directly within the organizational realities in institutions of American higher education and even internationally. Of related interest, in 1988 he was selected as a member of a delegation of American employment relations specialists, who went to Europe to engage in bilateral, technical exchanges with pro­fessional counterparts within their respective coun­tries, including England, France, Sweden, and the USSR.
Throughout his various administrative, faculty, and labor relations careers, Borland was engaged as a consultant with more than 50 educational, indus­trial, penal, financial, medical, and professional or­ganizations. He had more than 40 professional publications and more than 80 arbitration case pub­lications, and he presented more than 100 na­tional and regional workshops, speeches, and profes­sional training institutes.
Borland decided that his ACPA "future message" should come from his own personal highlight—the presidential speech he delivered at the 1982 Lunch­eon in Detroit with his three sons present. His three sons are now college graduates. The following quotes, selected from his speech, "My Three Sons and the Future of the Student Affairs Profession," were not published with the excerpts printed in the August 1982 of ACPA Developments:
…This profession is the only advocate, comprehen­sive and committed enough to avoid failure to facilitate student development.
You are not and should not consider yourselves to be the only ones who care or the only ones to provide the help my sons need to develop. But, you are the only ones who can see that this is facilitated in the variety of ways needed to meet the individual personalities of my three sons and their peers.
You may be able to tell that I have a great deal of respect and love for the work this profession does. I believe you can also tell that I love deeply the three young men who have met here today. These two loves of mine must come together in the appropriate man­ner. Some of you out there will have the professional responsibility for my sons' development. I want you and my sons to have an effective and fulfilling relation­ship and not just a cost effective one.
David Borland was 61 years old when he died on October 9, 2001 in Dewitt, MI.