Aaron John Brumbaugh (1937-1939)
Eighth President
Aaron John Brumbaugh Eighth President 1937-1939 The slate of officers presented by the Nominating Committee to those in attendance at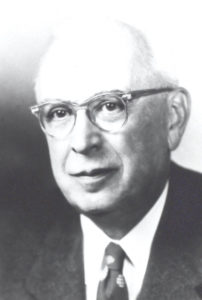 the Business session in New Orleans on Thursday, February 18, 1937, did not include A. J. Brumbaugh. His name was submitted from the floor when the president called for nominations, and Brumbaugh became the first ACPA president elected by written ballot.
At the University of Chicago he was Professor of Education, Acting Dean, and Dean of Students in the College of Arts, Literature, and Science, a basic two-year unit on which all upper level courses were based at the university. He was author of 30 articles in professional publications. His election came several days after his 47th birthday. He was married to Ruth Sherrick and father of a son, Robert, and a daughter, June.
Born in Hartville, Ohio, where he attended the early grades and high school, Brumbaugh then taught in a one-room country school (1908-09) and was superintendent in a township consolidated school (1901-10). He received his A.B. degree (1914) from Mount Morris College in Illinois, where he was named Superintendent of Schools (1914-15). At the college he was named Professor of English (1915-17), Dean (1918-21), and President until June 1925 when he resigned. At the University of Chicago he was recipient of the A.M. (1918) and Ph.D. (1929) degrees. His dissertation was entitled "The Authority of School Boards in the Administration of Pupils and Teachers as Defined by the Courts." During his years of doctoral work at Chicago, he taught part time in the Department of Psychology at YMCA College. At the University he was appointed Instructor (1926), Assistant Professor (1927), Associate Professor (1935), and then Professor (1936-44). He was appointed Dean of Students at the University of Chicago in 1941, a position he held until his retirement in 1944.
Brumbaugh first became a member of ACPA during 1931-32. He was a participant on each of the annual ACPA conference programs from 1932-37, when he was elected president at New Orleans. He chaired the General Committee on College Personnel Principles, functions, and Standards during 1932-33, and he edited the 1935 ACPA yearbook of annual Proceedings at Atlantic City. Also, he was elected vice-president of the ACPA Records and Research division for 1935-36.
The president of ACE called together a group of people in April 1937 to confer about student personnel problems. Brumbaugh was among those who met on Friday and Saturday, April 16-17 in Washington, DC for the two-day conference. From the bulletin which they produced and titled "The Student Personnel Point of View," a recommendation that the ACE establish a committee to act as a central agency of information for student personnel problems was approved. Brumbaugh was appointed as one of the members of that ACE Student Personnel Committee.
The fifteenth annual ACPA conference was held in Atlantic City, Wednesday through Saturday, February 23-26, 1938, prior to the yearly meetings of the National Association of School Administrators (NASA, formerly the Department of Superintendence) of NEA. The general theme of the meetings was "Coordination of Personnel Service." One hundred thirty persons registered at ACPA headquarters, the Chalfonte-Haddon Hall. Eighty were members and 50 were non-members. As during preceding years each of the five ACPA divisions was given equal importance on the program.
The ACPA Executive Committee members met for dinner in Room 133 on Tuesday evening before the conference meetings began. On opening day, Wednesday, February 23, Brumbaugh and other ACPA members attended the ACGPA joint luncheon followed by the joint session and the annual open meeting. Two other ACGPA joint sessions, a morning session and an evening program followed by a reception were conducted Friday.
At the annual ACPA dinner Thursday night in the Chalfonte Gold Room, Dean Brumbaugh spoke on "Achieving a Greater Unity in General Education." He cautioned against the departmentalization of student personnel activities similar to that so obvious in the organization of the curriculum. He suggested three aspects of an approach to a unified guidance or student personnel program: (1) focus on the total personality of the student to help determine all educational activities, (2) assign an administrative officer to the personnel program who understands it as a whole, and (3) relate counseling and instruction as closely as possible.
Two ACPA Business sessions were held in Atlantic City, Thursday and Friday afternoons in the Solarium room of the Chalfonte-Haddon Hall. At the first Business meeting, prior to the annual dinner, Brumbaugh presided. An announcement was made that one issue of a News Letter, authorized by ACPA at the 1937 meeting in New Orleans, was sent during the year. When the proposed ACPA Charter was presented by C. Gilbert Wrenn, who chaired the commission of three during the previous year, the group voted to accept the Charter as a whole with revisions which were offered at the session prior to the Business meeting chaired by Esther Lloyd-Jones.
Issuance of the Charter was meant to assist both in helping ACPA members be more conscious of personnel work as a whole and in helping ACPA become more representative of educators whose work responsibilities involved one phase or another of student personnel services.
Then Karl M. Cowdery, who chaired the committee on the revision of the constitution during the past year, proceeded to discuss the proposed constitution and by-laws, which the ACPA membership received in the mail prior to the annual conference. After Brumbaugh declared the new constitution and bylaws in effect, the remaining time of the Business session was devoted to amendments. Five members-at-large who were included with the other officers in an Executive Council, replaced the five vice-presidents. The second Business session convened on Friday afternoon prior to an ACPA Executive Committee dinner to be attended by old and new officers. Among the items of business discussed by the group headed by Brumbaugh was a report by the secretary that a new membership blank was in use. Shortly before the second Business meeting was adjourned, ACPA members voted to apply for associate membership in ACE which was accepted by the latter group. ACPA membership for 1937-38 totaled 172.
Prior to the next annual convention, ACPA members received three issues of the News Letter (May, October, and January), prepared and distributed by members of the Committee on Research and Publications.
Members of ACPA convened in Cleveland, Tuesday through Saturday, February 21-25, 1939, for their sixteenth annual conference, in conjunction with ACGPA prior to the annual NASA meetings. Hotel Cleveland was ACPA's headquarters hotel. One hundred forty-four people registered. Tuesday evening after the ACPA Executive Council meeting, some of the members attended the ACGPA business session for official representatives of member groups. The next day, the ACGPA opening session of the morning was followed by the joint luncheon and a series of afternoon joint sectional meetings. Brum-baugh spoke on "Coordination of Personnel Factors in a University" at one of these sectional meetings. The ACGPA coffee hour was held Friday afternoon and a joint general session was held that evening with the theme Our Common Cause.
The ACPA conference program which consisted of general sessions, including four or five speakers each who discussed topics on the personal development and adjustment of students, began Thursday morning and concluded Saturday morning. At the annual ACPA dinner meeting Thursday night, February 23, Brumbaugh read a paper titled "Student Personnel Work in the Light of Trends in College." A Business session chaired by Brumbaugh was held prior to the annual dinner, and a short business session chaired by Vice-President Helen Voorhees took place Friday afternoon. At the first Business session, Brumbaugh reported that 12 committees were active during the past year, including the first Membership Committee. The ACPA membership list totaled 212 for 1938-39.
A.J. Brumbaugh was president of the American Council of Guidance and Personnel Associations during 1939-40. Vice President of ACE during 1944-50, he then accepted the presidency of Shimer College (Mount Carroll, Illinois) until 1954. In 1955 he joined the Southern Regional Education Board in Atlanta. As a representative of the Board, he advised higher education institutions, state Boards of Regents, and other agencies on problems in higher education. He retired from his regular staff appointment on the Board on July 1, 1968 and continued as a consultant on special assignment until 1970 when he and his wife moved to Florida.
On July 8, 1977, A.J. Brumbaugh wrote an article for Presidential Reporting (1978). An excerpt from that piece is quoted:
Fifty years ago I chose student personnel services as an area of specialization. Were I called upon to make a choice today I doubt that it would be the same field. Not that I regard student personnel services to be less important than fifty years ago but because so many apparently insoluble issues have arisen…. What counsel can a student personnel officer give students who are "shacking up?" What authoritative criterion can one cite to youth who are involved in drug experimentation or addiction? What action, if any, should be taken regarding lesbians or homosexuals on the campus? Are there enough middle-of-the-road students to counteract the rebels and experimentalists? These are the kinds of questions that arise from the reports of social change. They are the kinds of questions to which a retired dean of students finds no satisfactory answer. Yet, these new conditions cannot be ignored. So, more power to the personnel officers who are currently involved in finding new criteria appropriate to current issues.
A.J. Brumbaugh died early in 1983, soon after his 93rd birthday. He was survived by his wife, son, daughter, and grandchildren. A memorial resolution in his honor appeared in the May 1984 issue of ACPA Developments.