Robert Callis (1959-1960)
Twentieth President
Robert Callis became president of ACPA in 1958. He was the fourteenth male to serve as president. The announcement of his election was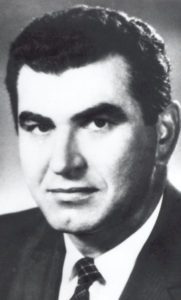 made at the first Executive Council meeting Sunday evening, March 30, 1958 and again at the afternoon Business session after the Luncheon on Monday, March 31.
Robert Callis was born and reared in Redtown near Grand Tower, Illinois. He could see the Mississippi River boat traffic about a quarter mile away from his bedroom window on the second story. A graduate of the Grand Tower High School in 1937, he attended college at Southern Illinois University, Carbondale, that fall, about 25 miles from his home. He worked himself through the undergraduate years serving as janitor for a shoe store and a college farmhand before he left college during the spring semester of his first year. When he returned the second year, he fired furnaces. The third year he worked as a campus carpenter's assistant. During the fourth and fifth years he worked for the dean of men's office. Callis was Student Council president his senior year. Recipient of the B.Ed, in 1942, his major field of study was Mathematics with minors in Chemistry, Social Sci­ences, and Education. Then he joined the military service.
He attended the University of Minnesota for gradu­ate study where he was a Research Assistant in Counseling in the General College. He received the M.A. in 1946 and the Ph.D. (Educational Psychology) in 1948. The title of his dissertation was "Change in Teacher-Pupil Attitudes Related to Training and Expe­rience." After he received the doctorate, Callis ac­cepted the position of Associate Director of the UTCS and Assistant Professor of Education then Associate Professor and Director of the UTCS in 1953. He was promoted to full Professor in 1955.
For 42 years, Callis served in various counseling, administrative, teaching, and research positions at the University of Missouri. He was the one person primarily responsible for the development of the coun­seling psychology program. He was major adviser to 100 graduate student committees, including 50 at the doctoral level. He worked in seven NDEA and EPDA institutes. For example, during the 1968-69 academic year, he directed the NDEA institute for persons to prepare for student personnel work in junior colleges and technical institutes for the 1968-69 academic year. At that time he was Dean of Extra-divisional Administration with specialties in student personnel work, testing, and counseling. For several years during the 1980s he chaired the Department of Edu­cational and Counsel­ing Psychology.
Callis first became a member of ACPA dur­ing 1946-47. He became chairman of the ACPA Membership Committee during 1952-53. At the 1953 Chicago convention, Callis pre­sided at a section meet­ing at which time three discussants spoke on the general subject of Research on the Nature of the Counseling Process. He reported for the committee he chaired at the Business session.
At the 1954 convention in Buffalo, Callis appeared on the program three different times as part of a symposium. On Monday afternoon, April 12 (at a section meeting), four persons spoke on the general subject of Application of Testing Theory to Practice. Callis discussed "Reliabilities." He spoke at a program the following morning, when he and three other speak­ers talked about Practicum Training of Counselors. On Wednesday morning at another symposium, Callis was one of three persons who discussed Professional Ethics of College Personnel Workers.
Callis was one of three discussants at a section meeting at the 1955 convention in Chicago. The general topic was The Measurement of Attitudes and Values. Later that year he was promoted to Professor of Education at the University of Missouri. During 1955-56, he chaired the Publications and Research Committee. At the Executive Council meeting Sunday evening, March 25, 1956, Callis suggested workshop-type sessions in job functions be added to the 1957 annual convention program, and he became a mem­ber of the 1956-57 Program Committee.
On October 16-17 in Detroit, Callis participated in the ACPA workshop discussions about projects and proposals for a year-round and long-range program. Two motions of his which were passed at the first Executive Council meeting at Detroit on Sunday eve­ning, April 14, 1957 were that the $2.00 special assessment to ACPA members be continued indefi­nitely and that ACPA support the Rehabilitation Council's request that it be recognized as a Division in APGA. At the Executive Council meeting on Wednesday, Callis moved that the ACPA's Executive Council be considered a continuing council. New officers and council members were to assume their duties at the end of the last Business session during the annual convention. The motion passed unanimously.
Callis was elected to the ACPA Executive Council in 1957 for a one-year term. He chaired the Program Committee that year that arranged 53 section meet­ings for the 1958 convention in St. Louis. The program highlighted sessions on health service, admission, and religious concerns as well as problem areas in higher education in general. During convention, he was one of a committee of five ACPA people who met with representatives of other national student person­nel groups to discuss further plans for cooperation.
Callis attended the three ACPA Executive Council meetings and the two Business sessions during the St. Louis convention. At the evening Executive Council meeting on Sunday, March 30, he presented the Program Committee report. At the third ACPA Execu­tive Council meeting Thursday afternoon, April 3, Callis was appointed to chair the Budget Committee during 1958-59 to propose a budget for 1959-60. Also, President Northrup requested him to serve as chair­man with her to complete the budget for 1958-59 and submit it to the ACPA Executive Council for approval by mail. At the first ACPA Business session called to order Monday afternoon, March 31, a motion by Callis that the $2.00 assessment be continued was passed unanimously. Callis was one of a three-member spe­cial Committee on ACPA Publications whose report was referred by the Executive Council to an ad hoc committee on Publications.
During 1958, President-elect Callis and five other ACPA members attended the ACE meetings in October at Chicago, and on Sunday and Monday, October 19-20, he and President Northrup attended the APGA Executive Council meetings in Cleveland. At the 1959 ACPA convention in Cleveland, Callis presided at the Luncheon on Monday, March 23, in the Ballroom at Hotel Hollenden, prior to the first Business session. He attended all four ACPA Executive Council meetings and the two Business sessions. He presided at morning and afternoon Executive Council meetings on Thursday, March 26 and when President Northrup relinquished the chair to him at the Business session on Wednesday, March 25, he spoke about his presi­dential plans for 1959-60. At the Thursday morning Executive Council meeting, P-Q-G was renamed The Journal of College Student Personnel, a quarterly jour­nal.
Callis reported on APGA Executive Council action at the second Executive Council meeting and the first Business session. Besides expressing his hopes for Increased ACPA membership for 1959-60 at the sec­ond Business session, Callis commented about his plans for ACPA to develop an "authoritative voice" for college student personnel work. His plans included increased publication effort through the new journal and a monograph series, and convention program which would yield papers of major importance to the profession. Work continued among the Inter-Association Coordinating Committee members. During January 1960, each ACPA member received a free copy of the first monograph titled Student Financial Aids. ACPA membership on March 31, 1960, was 2,223.
The thirty-third national ACPA Convention was held in Philadelphia during Monday through Thursday, April 11-14, 1960. The annual convention was the eighth for ACPA as a Division of APGA. The 1960 program Included 41 units of program time. President Callis presided at the four ACPA Executive Council meetings and the two Business sessions. He was one of three ACPA members who served as members of the APGA Executive Council which met on Sunday morning. At the annual Luncheon on Monday, President Callis and his wife sat at the head table with guest and other ACPA officials. Past-presidents Lloyd-Jones, Voorhees, Williamson, Wrenn, Blaesser, and Feder reminisced at a special table. Callis presented Past-president Northrup with a special citation of merit, then he delivered his presidential address titled "Toward a Unified Theory of Counseling" to close the Luncheon.
When he was immediate past-president, Callis chaired the Nominating Committee, he was an Executive Council member-at-large, a representative to the Inter-Association Coordinating Committee, and a member of the Commission on Student Personnel Monographs, which he chaired during 1961-62 and represented ACPA on the APGA Publications Committee.
During 1963-64 he was a member of the ACPA Monograph Series Committee, and he chaired the Policy and Resolutions Committee. He was treasurer of ACPA during President Ralph Berdie's term (1965 66). Callis served as the second editor of the Journal of College Student Personnel from 1964-70.
He appeared frequently on annual ACPA convention programs during the 1960s. Early in May 1968 Robert Callis suggested that ACPA strengthen its Journal, develop state divisions, and quit arguing about withdrawing from APGA.
A Life Lines article titled "Robert Callis: Developer of People and Builder of Programs," written by Richard Greer, a former doctoral student of Callis, was pub­lished in the March/April 1990 issue of the Journal of Counseling and Development.
In June 1990 the Callis Retirement Committee announced a "Frontiers of Assessment" conference in his honor scheduled for October 1990. Instead, a memorial conference was held. Robert Callis suffered a massive stroke at his home 15 miles south of Columbia on July 1 and never regained conscious­ness. He was 70 years old, survived by his two sons.