Harold E. Cheatham
1995-1996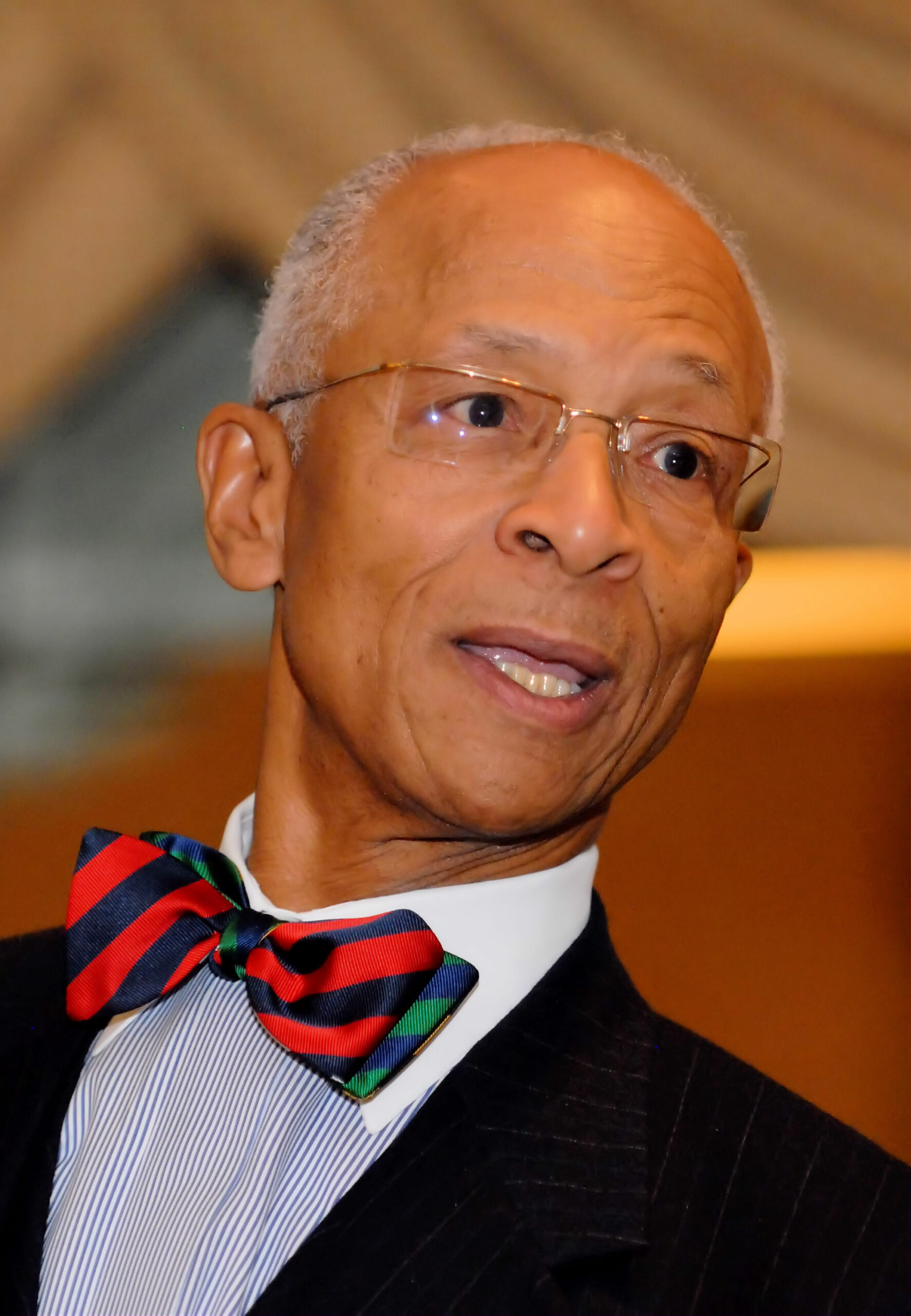 FIFTY-SIXTH ACPA President
The election of Harold E. Cheatham as the fifty-sixth president of ACPA, made him the first African American male to be so honored. He joined the Association in 1970 when, as a doctoral student and graduate assistant to Anne S. Pruitt, then ACPA secretary and later our thirty-seventh president, he was immersed in the historic Executive Council and Business meetings of 1971- 1973.
Cheatham is a native of New Kensington, PA, an Allegheny River town and home to the formerly thriving steel and iron industry and once home to Aluminum Company of America (ALCOA). Graduating from high school in 1954 amid an economic recession, he had to forego options for college matriculation and instead, following his guidance counselor"s advice, joined the US Navy expecting subsequently to attend college under the provisions of Public Law 550 – "the GI Bill." His initial military training as a hospital corpsman led him away from his previously identified vocation as a pharmacist and toward an undergraduate major in psychology, when he qualified for "Class A" training as a neuropsychiatric technician. While in the Navy, Cheatham began psychology coursework at the extension campus of the University of Delaware.
Cheatham completed his enlistment, received an honorable discharge in November 1957, and enrolled at Geneva College, Beaver Falls, PA for spring semester 1958. He transferred to the Pennsylvania State University that fall and graduated in summer, 1961 with a BS degree in psychology and history. While working from 1961-1968 as a junior-high and high-school teacher of social studies and de facto, "collateral duty," guidance counselor and confidant to students, he re-discovered the option that his psychology degree provided for changing tracks and becoming a "real" guidance counselor.
An heir of the cataclysmic, modern civil rights movement and, more specifically, of the national enlightenment that followed in part from the tragic April 1968 assassination of Martin Luther King, Jr., Cheatham, among the legions of suddenly "qualified" Black Americans, witnessed the historic availability of numerous, new career options in the public and private sectors and within institutions of higher education. Geography and family commitments dictated that the best among these was the offer of a fully paid, graduate assistantship at Colgate University. The apparent, negotiated engagement was for the master"s degree in exchange for service as a graduate residential advisor. Having entered college as a military veteran and with no college residence hall experience, Cheatham welcomed this offer as an ultimate deal. The less apparent but career-critical aspect of the assistantship was that it was part of, if not a precursor to, the "find and hire, home-grow your own" employment strategy.
He credited his unintended shift of career trajectory to the efforts of several Colgate faculty and administrators to convert him from a graduate student to full time staff as an assistant dean. Respecting their unsought counsel, he abandoned a planned return to secondary school counseling and initiated a search for an appointment in higher education. A master"s degree, a master"s equivalent in history and political science, and permanent certification had opened even more doors. The one chosen was that of the recently (1967) federated Case Western Reserve University (CWRU), with an appointment as coordinator of university counseling and the opportunity to pursue the doctorate. Cheatham"s principal task as "coordinator" (1969-1974) was to draw the disparate, predecessor, undergraduate counseling offices and centers, and the collaborating university psychiatric services into a coherent, accessible, university counseling center. At the end of five years Cheatham had succeeded in establishing a functioning center for student development comprising counseling, academic assistance programs, tutoring, career planning and placement, and the office of international students. Moreover, without missing a beat, he had earned the doctorate. Although he did not realize it at the time, his dissertation titled "The Status of Counseling in Traditionally Black Colleges and Universities of the South" was a precursor to his career interest and record in equity issues. With a tenure at CWRU that spanned the Cambodian "Incursion," the Kent State Massacre, unprecedented student activism, and the terms of two vice presidents of student affairs, he sensed an emerging case of "burnout" (probably the clinical variety, he added!)
Abandoning wistful notions of career advancements that might lead ultimately to an appointment as vice president for student affairs, and hoping to not host a full-blown burnout, in late summer, 1974 Cheatham abruptly sought refuge in the classroom and accepted appointment as associate professor of psychology at the US Coast Guard Academy (USCGA), New London, CT. A short-lived refuge it proved to be, as anti-military sentiment that was openly expressed, and sometimes acted upon in US society, were no less prevalent toward the Academy and its minions. And there was internal dissension borne of the Academy, much like the larger society, having suddenly and belatedly opened the gates to "qualified" African American males. That is, it had moved from a total of 4 Black upperclassmen in the corps of cadets (~900) to an unprecedented 20 in the 1974 entering class. For US military, academic institutions, addressing policy and procedures and reviewing and adjusting existing policy and procedures specific to facilitating the integrating or accommodating of such a dramatic influx of "the other" proved to be a challenge.
The turbulence was to be particularized and further amplified with the passing of Public Law 94-106 signed by President Gerald Ford on Oct. 7, 1975. The law, passed the House by a vote of 303 to 96 and the Senate by voice vote after divisive argument within Congress, obligated US military service academies to admit women in 1976*1. Neither military leaders nor their subordinates missed or misread the mood and divisiveness of the US Congress as it inked the Defense Appropriations Act. With the passing of that law, the Norwegian Merchant Ship ditty, "Why is a Ship a She?" enjoyed life anew at the USCGA.
1 *The interested reader is referred to:
Cheatham, H. E. (1984). Integration of Women into the U. S. Military. Sex Roles: A Journal of Research, Vol. 11(1/2), 141-153.
Cheatham, H. E. (1982). Report of an evaluation of a program of recruitment of Black and minority students. Journal of College Student Personnel, 23, 29-32.
Cheatham, H. E. (1978). Attitudes toward Women in the Military: Implications for Counselors. In R. Slimak (Ed.), Proceedings of the Second Service Academy Counseling Conference (pp. 16-29). New London, CT.
Curiously, a shift of focus to women in the academy provided Cheatham a like but different platform from which to champion equity. Academy colleagues who previously petitioned him to lower his voice and shoulders regarding racial inequality and related matters somehow seemed to respond with a lesser sense of offense to his voice raised about sexism. ["Perhaps," Cheatham mused, "that is owed to the fact that all of them had a mother, and some had sisters and other female relatives"].
The anti-military sentiment had a discernible base in the profession and occasionally it found expression. Still, Harold Cheatham enjoyed immense comfort and grounding among ACPA peers. The classroom proved to be a sanctuary and the more judicious time demands than those generally experienced by practicing student affairs colleagues, together with the turbulence in society made for broadened opportunity to engage in writing and research. His accumulating record of writing and research on women and African Americans in the academy occasioned an invitation to join the counselor education faculty at Penn State. In this appointment he was tasked to develop the multicultural counseling courses that would contribute to APA accreditation of the program in counseling psychology. Cheatham"s academic record together with his leadership, and service to the Association, including an appointment as program chair of the 1977 Denver Convention, resulted in appointment to the editorial board of the Journal during the Cincinnati Convention.
Cheatham served JCSP/D from 1981-1987. Given the notable influence of "political correctness," he was called upon by the Media Publications board to produce a manuscript addressing the role of student affairs professionals in assisting our higher education institutions" in addressing and responding appropriately to cultural diversity issues on campus. Cheatham, with selected colleagues, responded with the 1991 publication of Cultural Pluralism on Campus, a publication addressed to personnel responsible for campus programming "… that ensure the creation and preservation of culturally plural – as contrasted with a culturally diverse – environment." Cheatham was appointed editor and chair of the Media Board Publications (1991-1994), overseeing acquisition and development of manuscripts and negotiating a new contract for production and distribution of a number of monographs including the second edition of Student Affairs: The Profession's Heritage (Rentz,1994) and Beyond Tolerance (Evans and Wall, 1991), which remains among Media Board"s all time best sellers.
Through Association leadership roles and service as convention program chair, convention planning committee member, JCSP/D editorial board, Media Board chair and editor, and membership on ACPA/NASPA Task Force, ACPA Theory and Research Board, Fund Management Group, and Association Personnel Committee, Cheatham inspired some members" confidence that he should be a candidate for Association president in 1993. These were the heady days immediately following "disaffiliation" and our chartering as an independent student affairs professional association. Our Dupont Circle, national office had been established under the leadership of the first executive director and there was strong sentiment that among our most critical priorities was gaining of recognition by and inclusion among professional education association leaders in Washington.
A sentiment widespread within the membership was that the Association had strayed from its mission as it struggled to address pressing organization status issues of the early 1990s. The turbulence brought from reorganization resulted in a plunge in membership from a high of about 9000 to approximately 5000. Accompanying turbulence included financial stability, governance structure, and professional identity, and "inclusion," referring specifically to ensuring gender and racial equity in Association affairs and in the profession. An unofficial pact among several successive presidents to function as co-presidents was a vital and functional strategy for managing the turbulence, for bringing Association out of disaffiliation. The unofficial watchwords among those Association leaders were: recovery, stability, and growth. The order of the day was assuaging and managing real and imagined injury.
Not having previously served in elected office in the Association, Cheatham entered the 1993 election cycle and was elected 1996 president. In his Goal Statement, he noted:
The new ACPA remains at a historical crossroad. To claim our destiny, we must elect and support those who will selflessly contribute to the development and implementation of a coherent five-to-ten year plan. The primary task of elected leadership is critical review of existing goals to identify those that remain in the best interest of ACPA. In broad consultation with the membership, the leaders must set priorities and derive structures and vehicles to ensure attainment of the identified goals during the next several years. Principal among my goals as president would be to secure ACPA"s enunciated values as an inclusive and multi-cultural organization, and an organization that takes seriously its role in higher education.
Cheatham"s goal statement or platform had four planks: "1. Effecting the Association"s Image within Higher Education, 2. Effecting the Revised Governance Structure, 3. Assuring Association Financial Stability, and 4. Legitimating and Stabilizing ACPA Headquarters Operations" (Developments, 21(1), November, 1993). His vision statement addressed the Association"s obligation to respond to cultural diversity/multiculturalism, and enrollment trends, together with current issues and problems faced by individual members of ACPA.
Cheatham credited any success of his term of office to having had close, mutually respectful working relationships with his immediate predecessors who, among the many challenges, each had made seminal contributions. He noted specifically the principal leadership role of Leila Moore, in guiding us through "disaffiliation," of Terry Williams, in overseeing the establishment of ACPA "Headquarters," and of Barbara Anderson, in whose home and city we spent countless hours during several weekends, in leading the crafting of the Association"s Strategic Plan. Noted also among the several others serving at the time was Charles Schroeder, whose energies were critical in the formation of About Campus and the ACPA Educational Leadership Foundation, and Paul Oliaro who labored intently with Fund Management and financial stability issues.
It was a wonderful time to be in a leadership role as the reservoir of goodwill and optimism and commitment to our future trumped the pool of the timid and the naysayers. The Association"s most senior and most junior members expressed and demonstrated confidence in Cheatham"s goals and leadership. Cheatham wrote to the membership that he would follow, both as the text and title of his plan for leadership, the counsel provided by a senior member: "Don"t try to make everything happen during your year at the wheel" rather, "steer." "Steer" he did. The planned and hoped-for healing and for "Making Our Way," the theme for the March 6 – 10, 1996 Annual Convention in Baltimore, was emergent, as the 1995 convention held in Boston posted one of the largest attendance records in Association history. And the captured cadence was increased as the Leadership Summer meetings were held July 14-17, 1995 at Johns Hopkins University, Baltimore. The meetings provided broad opportunity for all of the Association"s constituent groups, State Divisions, Commission – all 18 of them – and Standing Committees to share plans and activities "that ensure the successful implementation of our new governance structure."
And it was during the 1995 Leadership Summer Meetings that a new phase in the life of the association was announced. The recommendation of the executive director search and screen committee, chaired by Gregory Roberts, had at the end of June reported completion of its work. In a conference held on July 11, 1995, the Executive Council voted unanimously to confirm the recommendation that Dr. Carmen Guevara Neuberger, "who brings most impressive higher education credentials and experience," be named ACPA executive director, with tenure to begin August 1, 1995. The hiatus that had existed between the resignation of the first executive director and Neubereger"s appointment had been effectively managed by the executive council authorizing Cheatham to travel to the national office bi-weekly to supervise the professional staff and ensure continuity of the affairs of the Association. Dr. Neuberger, was introduced to the leadership during the Summer Leadership Meeting and subsequently introduced herself to the general membership in ACPA Developments (2(4), August, 1995). With a new and steady hand now on the tiller, to share the joy and palpable confidence about the Association"s future, Cheatham wrote to the membership: "From here, a bright green sign continues to mark the horizon!"
Cheatham"s tenure as ACPA president was fulfilled through collaboration with executive director Carmen Neuberger, who needed no actual supervision, in reviewing and solidifying the publications contracts, and particularly that with Jossey-Bass for our new publication About Campus, co-edited by Charles Schroeder and Patricia King, and launched in 1996. A critical focus was planning, with Association leaders, for implementation of the new governance structure, and ensuring that the forthcoming convention in Baltimore sustained the success that had been achieved in Boston in 1995. Among his last official duties as president, Cheatham delivered, a state of the association address: Making Our Way (Journal of College Student Development, 1995, 36(4), 307-313), and in keeping with the Camden Yards theme of the ACPA Carnival at the Baltimore Convention, threw out the first pitch to president-elect, Paul Oliaro.
During his ACPA presidency, Cheatham became the first African American, academic dean in Clemson University history when he was named founding dean of the university"s College of Health, Education, and Human Development. He served in this post from 1996 until retiring in 2001. A 1990-91 Senior Fulbright Scholar to India, Dr. Cheatham is a distinguished member of the National Society of Collegiate Scholars, and a member of Skull and Bones Society, Sigma Pi Phi, and Alpha Phi Alpha Fraternities. Cheatham is a life member of Phi Kappa Phi, and the Fulbright Scholars Association. Additional to his ACPA publications service, he has served on the editorial boards of the Career Development Quarterly, Western Journal of Black Studies, Journal of Black Psychology, and the Journal of College Student Development.
His writing and research addressed multicultural counseling theory and practice, cultural pluralism, and psychosocial development of African Americans in US higher education. A 1990-1991 Senior Fulbright Scholar to India, Cheatham is author of numerous professional papers. He is editor of a special issue of the Journal of College Student Personnel (1987-1988) titled "Blacks in US Higher Education," co-editor (with J.B. Stewart) of Black Families: Interdisciplinary Perspectives, Transaction Press, Rutgers University (1990), editor of Cultural Pluralism on Campus (1991), and co-editor (with J.S. Mio et al.) of Keywords in Multicultural Interventions, A Dictionary, Greenwood Press (1999), and A Documentary History of the US Civil Rights Movement (with R.P. Green), Manchester University Press (2009).
Dr. Cheatham was recognized as a pioneer in multicultural counseling and development by the American Psychological Association, Division 17 (The Counseling Psychologist, July, 1997). In 1993, ACPA honored Cheatham with the Contribution to Knowledge Award and induction as a Senior Scholar. In 1999 Dr. Cheatham received the Esther Lloyd Jones Professional Service Award. He also received the Pennsylvania College Personnel Association Award (1994) and The American Counseling Association, Association for Multicultural Counseling and Development Research Award (1995). A recipient of the Pennsylvania State University, Howard B. Palmer Faculty Mentoring Award (1995) and the Clemson University Board of Trustees Award for Faculty Excellence in 1998, 2000, and 2001, he also received the Grazella Shepherd Award for Excellence in Education (2000) from Case Western Reserve Alumni Society and Educators Forum.
Dean emeritus and professor emeritus of counseling and education leadership at Clemson University, Cheatham continues in community and church service, having chaired the City of Clemson Planning Commission through five years of a ten year appointment; he serves on the advisory boards of AnMed Foundation and Wachovia Bank. He was a gubernatorial appointee to the South Carolina Mental Health Commission (2004-2009) and is a member of the Fort Hill Presbyterian Church (Clemson, SC) Medical Mission Team, and of the Foothills Presbytery Unity and Community, and Investigative committees. He has served also as education leader and as a student of mental health service delivery in the Soviet Union and China, and as medical missionary to Zambia, Ghana, and Vietnam. Cheatham chairs the national advisory committee to the Office of Educational Equity, Pennsylvania State University.
Cheatham"s 1999 Diamond Honoree bio reads in part: "A strong presence within ACPA, his contribution … are best summarized by this tribute in a 1999 Penn State dissertation: "he has played an irreplaceable role as mentor, teacher, advisor, colleague and friend. He has provided endless respect, reassurance, challenge, humor, vocabulary, and validation of my world view.""
With two dozen former doctoral advisees and two hundred former master"s advisees in various aspects of human service practice, Harold and his wife Arlene, also a retired college counselor with a following of her own, enjoy the wonderful relationships, frequent contact, and occasional visits that are emblematic of their life work. Visits with their sons Mark and Brian, who reside in California, and frequent international travel with Arlene, the love of his life, are savored as the fruit of successful professional careers and as "the bright green signs that mark the horizon!" In honor of their careers, as they mark their forthcoming 50th wedding anniversary, they have endowed The Harold E. and V. Arlene Cheatham Educational Equity Scholarship, at the Pennsylvania State University.