William G. Craig (1961-1962)
twenty-second President
William G. Craig was the fifteenth man to serve as ACPA president. His election as president-elect in 1960 was announced at the annual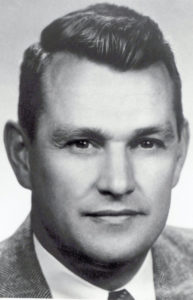 Luncheon meet­ing on Monday, April 11, in Philadelphia. He was Dean of Men, Associate Dean of Students, and Associate Professor of Education at Stanford University. Craig was 45 years of age, married to Mary Lois Bestor, his college classmate, and father of four sons.
William Craig was born in West Hebron, New York, and graduated in 1933 from the Washington Academy in Salem, New York. He completed his undergraduate education at Middleburg College where he was captain of the football team his senior year and received his A.B. degree (1937, Physical Education). During the next two years he was an English Teacher and Coach at Middleburg (Vermont) High School. After serving as Assistant Director of Admissions and Assistant Coach of freshman football at Middleburg College during 1939-41, he continued graduate study at the Univer­sity of Minnesota where he had a University Fellow­ship under Willis E. Dugan. He also was a Graduate Assistant and served as Assistant Personnel Director at the University High School (1941-42).
In February 1942 he enlisted as Chief Specialist, A, in the U.S. Naval Reserve. Commissioned Ensign in the Navy Air Force in September 1943, he was honora­bly discharged as Lieutenant (s.g.) in January 1946. He returned to Minnesota, where C. Gilbert Wrenn was his adviser for the M.A. degree (1946, Educational Psychology).
With the master's, Craig went to Washington State University as Counselor and Instructor in Education (1946-48), Associate Dean of Students (1948-49), and Dean of Students (1949-51). From Washington Craig moved to Kansas State University during 1951-55, where he was Dean of Students and Professor of Education. During that period he also secured his Ed.D. (1955, Educational Administration) with dis­tinction- (Phi Delta Kappa Award). The title of his doctoral thesis was "Developing a Student Union and Student Activities Program at Kansas State Univer­sity." His next move was to Stanford University during seven years (1955-62).
At the 1950 ACPA convention in Atlantic City, Craig was a panel member at a Wednesday morning, March 29, section meeting for those from middle-sized col­leges and universities. At the Los Angeles convention in 1952, Craig was the leader of a small discussion group limited to 25 persons.
During 1952-53, William Craig chaired the ACPA Advisory Committee for NSA, and he was one of 20 elected ACPA repre­sentatives to the APGA Assembly. He presided at a section meeting on Wednesday, April 1, 1953, at Chicago. The general subject of the meeting at the Conrad Hilton Hotel was Plan­ning and Presenting the Student Personnel Budget. Craig was elected member-at-large to serve on the Executive Council during 1953-54.
In the spring of 1955, William G. Craig was ap­pointed to the 1955-56 Program Committee. During 1955 he received his Ed.D. degree with distinction from the Harvard Graduate School of Education. He left his position at Kansas State College to go to Stanford University.
At the 1956 ACPA convention in Washington, DC Wednesday morning, March 28, Craig presided at a general session. During 1956-57, Craig was a member of the ACPA Grass Roots Development Committee. In the 1957 elections, Craig was elected one of 17 ACPA delegates-at-large to the 1958 APGA Assembly.
At St. Louis in 1958, at the Sunday evening, March 30, ACPA Executive Council meeting in the Statler Hotel, the report of the Nominations Committee in­cluded William Craig as one of the four newly elected members-at-large to the Executive Council for a two-year term (1958-60). He attended the joint profes­sional organization meetings of representatives from AACRAO, NAWDC, NASPA, and ACPA. At the Thurs­day afternoon Executive Council meeting, he reported on the progress of the inter-organization committee.
William G. Craig attended three of four ACPA Executive Council meetings at the Cleveland conven­tion in 1959, and he was present at both Business sessions. Prior to the first ACPA Business session held on Monday afternoon, March 23, Craig was one of the 16 people seated at the head table, who were intro­duced after the luncheon in the Ballroom of Hotel Hollenden. On the convention program Tuesday after­noon, Craig was scheduled to be at two different meetings: Fraternity and Sorority Self-Government and Student Judicial Responsibilities in Residence Halls.
At the 1960 Philadelphia national convention, the ACPA Executive Council members held their first meeting on Saturday morning, April 9. Craig was present, and he attended the other three Executive Council meetings on Sunday evening, Tuesday after­noon, and Thursday morning. He was among 14 people who sat at the head table at the annual luncheon, which was held on Monday, April 11. Immediately following the Luncheon, Craig was among approximately 75 other people who convened at the first of two ACPA Business sessions held during the Philadelphia convention. In May 1960, Craig and President Hopwood represented ACPA at the APGA Executive Council meetings in Washington, DC.
The annual convention for 1961 was held in Den­ver. Craig attended the three Executive Council meet­ings and the two Business sessions. President-elect Craig presided at the ACPA Luncheon on Monday, March 27. At the second Executive Council meeting held Tuesday afternoon, March 28, the question was raised as to whether the annual ACPA convention needed to be at the same time as the APGA national convention. Near the close of the meeting, Craig noted that a group ought to be appointed to study the APGA-ACPA relationship. At the conclusion of the Wednes­day morning Business session, President Hopwood relinquished her presidential responsibilities to Wil­liam G. Craig. At the Wednesday morning Business session, he presented the 1962 budget including the special assessment of $2.00 planned again for another year.
At the Thursday evening Executive Council meet­ing on March 30, President Craig presided and made several proposals for discussion and appropriate action. During the meeting, the Executive Council members authorized Craig to appoint ad hoc commit­tees to study ACPA. At that Thursday meeting, Craig appointed each Executive Council member as a liai­son person with another organization. Ad hoc commit­tees selected were: (1) ACPA's Relationship in APGA, (2) ACPA's Relationships outside APGA, and (3) Mate­rials for Regional Workshops. Also, as a basis for a series of program meetings for the 1963 convention, 11 working commissions were appointed to study various aspects of SPW and to make recommenda­tions concerning the profession. These commissions formed the basis for the current ACPA Commission structure. The second ACPA monograph titled The Legal Basis for College Student Personnel Work was made available to ACPA members late that year. ACPA membership at the end of January 1962 was 3,088. The thirty-fifth annual ACPA convention (the tenth as a Division of APGA) was held in Chicago, Monday through Thursday, April 16-19, 1962. The ACPA program theme was "Climate for Learning." Head­quarters was the Morrison Hotel, where most of the 60 content programs with 232 participants were held President Craig presided at the first three of four Executive Council meetings, the Luncheon, and the Business session following the luncheon.
The first two ad hoc committees were discontinued by Executive Council action Sunday night, and the third ad hoc committee was authorized to continue long enough to develop materials for Executive Coun­cil review. On Monday at noon, Craig presided at the luncheon. Those seated at the past-president table were the following: Lloyd-Jones, Feder, Hopkins, and Callis. They were introduced and appreciation was expressed to Hopwood for her service to ACPA as the 1960-61 president. President Craig delivered his luncheon address titled "The Stu­dent Personnel Profession: An Instrument of National Goals." Near the end of his speech, he suggested the formation of cooperative Association for Student Serv­ices in Higher Education and recommended that the ACPA Executive Council make a study of his proposals during the following year.
Then at the conclusion of the Luncheon, approxi­mately 270 people remained for the Business session. When the meeting was opened for new business, a motion was passed to carry out the intent of Craig's concern for a year's study with recommendations to be given at the 1963 convention. The ACPA membership was to be consulted as to their views and to be advised of Executive Council action.
William Craig was the recipient of a special merito­rious award from ACPA in 1961. Within a year after his ACPA presidency, William Craig accepted positions in the U.S. Peace Corps. First he was special assistant to the Director of Training at San Juan, Puerto Rico (1962-63), and then he became Director of the entire Peace Corps (1963-64). That experience was followed by two years as Headmaster at the John Burrough's School in St. Louis, Missouri (1964-66). The next move took him to Washington, DC as Deputy Assistant Secretary, HEW, and Deputy Associate Commissioner for Higher Education (1966-69).
William Craig was a college president and a state chancellor in five different systems: 1969-70, Univer­sity of Montana-Missoula (Vice President for Aca­demic Affairs); 1970-73, Johnson State College (Presi­dent); Vermont State College (State Chancellor); 1977-80, California Community Colleges (State Chancellor); 1980-88, Monterey Institute of International Studies (President); 1987-present, U.S. International Univer­sity (Director).
William Craig wrote on September 10, 1989: "I always felt that my counseling skills, learned earlier, were helpful assets in whatever success I had in those positions." In 1991 he was living in La Jolla, California, writing a book on some of the many education experiences he had had, focusing on a comparative study of the tremendous variety of American institution and their philosophies, progress, and goals. He died in San Diego in March 1990. He was 90 years old.