Don G. Creamer (1978-1979)
Thirty-Ninth President
The 27th man among ACPA's first 39 chief executives was Don G. Creamer. His election was announced at the national ACPA convention In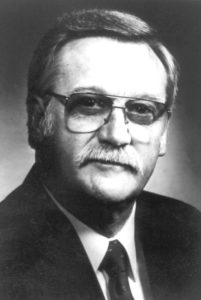 Denver during the Sunday morning, March 27, 1977 Executive Council meeting and the Business session two days later. When voted president-elect of ACPA, Don Creamer was 40 years old.
A native of Commerce, Texas, his B.A. (History, 1960) and M.Ed. (Counseling and Guidance, 1961) degrees were received from Texas A & M University-Commerce [TAMU-C] (formerly known as East Texas State University [ETSU]). Indiana University (IU) granted him the Ed.D. (Higher Education, Counseling and Guidance) degree in 1965. During his last year at IU, Creamer was Assistant to the Director of Educational Placement, and then he returned to Texas where he accepted the Dean of Students position at El Centro College of the Dallas County Community College District during 1966-77. At TAMU-C during 1961-64 and 1965-66, he held various positions such as Assistant Professor of Counseling Psychology, Director of Financial Aid, Counselor, Director of Alumni Affairs, and Director of Placement. During 1973-77 at TAMU-C, he was part-time Adjunct Assistant Professor of Student Personnel and Guidance. While he served as president-elect and president of ACPA (1977-79), he was Associate Professor of Community College Education and Administrative Coordinator of the Richmond Cooperative Doctoral Programs at Virginia Polytechnic Institute and State University (VPISU). For the next nine years he was Associate Professor of Community College Education/College Student Personnel in the VPISU College of Education's Division of Administrative and Educational Services, where he serves as Coordinator of Graduate Studies in Student Affairs in the Division. He was elevated to professor and was the Division Director during 1988-89.
Creamer was author or co-author of 11 publications when voted ACPA's president-elect. By 1990 his list of professional publications had increased to 71 including editorship of two books, 31 refereed articles and 2 book reviews, editorship of 5 monographs, contributor to 9 chapters in books, 5 chapters in monographs, 8 miscellaneous newsletter and non-refereed articles, and 9 ERIC papers. His consultations during 1977-89 totaled 73 and by his retirement totaled approximately 150. Creamer's professional presentations at national and regional conferences were 19; at state and local conferences, 35 and by his retirement added an additional 116. By his retirement in 2005, he was author or co-author of 128 publications including 6 books, 24 chapters in books, and 44 refereed journal articles.
Don Creamer joined APGA/ACPA in 1961. A former member of Commission VI, Career Counseling and Placement, he chaired Commission XI, Student Development in the Two-Year College, during 1971-73, and he has chaired that commission's research committee since 1983. His term on the Directorate Body of Commission XI expired in 1990.
During the ACPA national convention in Cleveland on April 7, 1973, Creamer was appointed to fill the unexpired one-year term of the president-elect as a member-at-large on the Executive Council. He served on that body again during 1977-80, when he was president-elect, president, and immediate past-president.
Creamer served on the Tomorrow's Higher Education Project (Project) Phase II conference group at the University of Georgia during June 4-8, 1974, and he chaired the Project during 1979-80. Since 1989, he has served as alternate director of the Council for the Advancement of Standards for Student Services/ Development Programs [now known as the Council for the Advancement of Standards in Higher Education] (CAS), an organization of higher education groups ACPA had a role in forming during his presidency. Creamer later served as President of CAS during 2001-2004. He was appointed to a three-year term (1989-92) as ACPA representative to the CAS Board of Directors. In 1976, he was appointed to a three-year term as an editorial board reviewer for the Journal of College Student Personnel, but his term ended after two years to prevent interference with his ACPA presidency. He was the APGA national convention coordinator for Dallas (1977). Creamer was appointed a member of the ACPA Professional Ethics and Conduct Committee in 1987. He played a direct participant role in the rewriting of the ACPA ethical standards and guidelines. During 1989-90, he co-chaired (with Theodore Miller) the ACPA Professional Standards and Accreditation Committee.
At the Executive Council meeting in Denver on March 27, 1977, the year of his election, he was charged by the incoming president to consider long range concerns regarding ACPA fiscal matters. Creamer cautioned overspending the budget and suggested taking a hard look at the imbalance between the level of spending and level of income. At that meeting, he reasoned that if the proposed budget was adopted, it would mean spending the entire fund balance. At a late morning Executive Council meeting for new officers two days later, he reported that the special finance committee decided that a dues increase was necessary. At the Business meeting that afternoon (March 29), he recommended a $3 dues increase to bring ACPA's projected spending and planned income closer to a balance. The increase was approved.
At ACPA's 1978 national convention in Detroit, incoming President Creamer presided at Executive Council meetings for new officers on March 12 and 15. On March 14, during the Business meeting, he addressed the members in attendance and reaffirmed a close relationship between APGA and ACPA, but he encouraged the involvement of members during the discussion of new business on implications of not joining APGA at the 1979 national convention in Las Vegas, Nevada, a non-ERA state. He assured those in attendance that he and the 1978-79 Executive Council members would be committed to carry out the decision of not programming with APGA in Las Vegas and not accepting a rebate from APGA for ACPA members who attended. ACPA members voted to meet in another state.
Among actions taken at the second Executive Council meeting chaired by Creamer in Detroit on March 15, the Continuing Education Committee was re-titled Professional Development and Consultation, members approved a motion to endorse and willingly Implement the action taken the previous day at the Business meeting to relocate the 1979 ACPA convention, and they also voted not to hold future national ACPA conventions in non-ERA states. Soon after the convention in Detroit, Los Angeles was chosen for the 1979 location. Creamer wrote a "Presidential Communiqué" column in four different issues of ACPA Developments.
President Creamer chaired Executive Council midyear meetings during November 1-3, 1978 at the Marydale Retreat Home in Erlanger, Kentucky. ACPA membership at year's end was 8,256.
More than 300 program proposals were submitted for the Los Angeles convention. The commissions generated 96. The convention theme was "Human Development/Human Rights." The Los Angeles Hilton was named headquarters hotel. Eight pre-convention workshops were scheduled. The keynote address was delivered by Sarah Weddington, special assistant to President Carter on women's issues. She presented a forceful speech to a capacity audience and identified progress being made in developing full rights for women and men.
Among activities at the annual Luncheon in the Pacific Ballroom of the Hilton on March 28, 1979, President Creamer announced five memorial tributes to dedicated ACPA professionals who were deceased. Two annual awards were presented. More than 281 candidates were interviewed for 150 job openings offered through the Placement Center.
Among actions taken at the Executive Council meeting on March 25, the refined ACPA Mission and Goal Statement was approved. The Ethics Task Force presented ACPA ethical standards for review by the Executive Council members, who also endorsed the establishment of the Annuit Coeptis Dinner, commemorating the contributions to the profession by Philip A. Tripp who died on December 21, 1978. The first dinner for five emerging professionals was held at the Los Angeles Bonaventure Hotel on March 28.
At Las Vegas early in April during the APGA Senate meeting, the ACPA senatorial delegation read the following statement to those in attendance:
A decision was made at Los Angeles that ACPA will meet in conjunction with APGA at the Detroit Convention (1982). We are participating in activities of the Association, including licensure, governmental relations, media, governance, standards, and others, and are planning to play an active role in APGA.
A keynote speaker at the 1975 ACPA national convention in Atlanta, Don G. Creamer's annual program participation and other professional involvements have continued since his presidency. For example, he has presented content programs at almost all of the ACPA national conventions until his retirement.
Among his awards and other recognitions from CPA, he was named a Senior Professional for graduate student awardees to the Annuit Coeptis dinner during the 1989 ACPA national convention in Washington, DC. At the 1990 national convention in St. Louis, he was honored with the Senior Scholar award (1990-95). He later received the Robert H. Shaffer Distinguished Alumnus Award from the Indiana University Department of Higher Education in 1992 and the Robert H. Shaffer Award for Academic Excellence as a Graduate Faculty Member from the National Association of Student Personnel Administrators in 1998. He was honored with the Contribution to Knowledge Award from the American College Personnel Association in 1999, the Esther Lloyd-Jones Professional Service Award from the American College Personnel Association in 2000, and the Lifetime Achievement Award from the American College Personnel Association in 2004.
In his letter dated March 1, 1990, Creamer commented about his term in office:
Two things stand out for me that characterize my presidency of ACPA. First, it was on the occasion of the 1978 convention in Detroit, when I assumed the presidency, that the Association took a stand on the Equal Rights Amendment by declaring our refusal to join AACD (then APGA) for our scheduled joint convention in Las Vegas, Nevada, a state that had rejected the Equal Rights Amendment. I believe that my behavior was instrumental in achieving a majority vote from the Association to support this legally risky decision. I felt then, and I feel today, that the political gesture was the right thing to do in the climate of the times and that it signaled a turning point in the life of the Association reflecting greater sensitivity toward human rights issues in the Association's activities and internal structure.
The second thing that stands out for me about my year as President of ACPA was our role in forming what has come to be known as the Council for the Advancement of Standards for Student Services/Development Programs (CAS). An initiative had been taken by ACES, and to some extent by AACD, to endorse accreditation of counselor education programs and student affairs programs in higher education without due consideration of the views of ACPA, NASPA, and other associations that represent higher education constituencies. We intervened in that process by appointing Ted Miller to represent ACPA's interests with ACES and AACD. The result was the formation of a consortium of association representatives that has survived now for over 10 years and which has drafted standards of practice in a wide range of student affairs programs and for master's level preparation programs.
Don G. Creamer is married and the father of three children and a stepson. He is grandfather to five granddaughters.