Sixty-Second President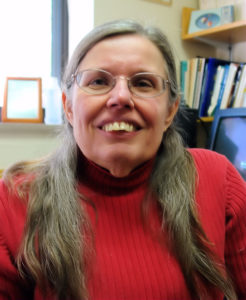 While a professor at Iowa State University, Nancy Evans was elected the sixty-second president of ACPA. She first learned about ACPA from her doctoral advisor, Dick Caple, and became involved through his mentorship. Her first involvement was with the Commission on Professional Preparation since she aspired to be a faculty member. Evans held a number of positions on the Directorate of the Commission and her first major ACPA office was as chair of the Commission (1986-1988). She was also involved in several ad hoc committees related to preparation standards and retention of student affairs professionals. Further, she served on the JCSD Editorial Board for several terms starting in 1987. Prior to her retirement, Evans attended all but two Annual Conventions after she completed her doctorate in 1978 and presented at least one program at most of them. She was a featured speaker for the Scholar's Studio at the ACPA Metro DC 2009 Annual Convention.
Evans has been involved in ACPA since 1972. In addition to her involvement with the Commission for Professional Preparation, she also served the Commission on Assessment and Evaluation and the Commission for Housing and Residential Life through the 1985-1986 Task Force on Assessment and Evaluation in Residence Life. Further, Evans served as a Senior Trainer and Evaluation Coordinator for the Beyond Tolerance Roadshow from 1993-1995, was a Senior Scholar from 1998-2004, and coordinated the Emerging Scholars Program from 1999-2000. Additionally, Evans was on the Executive Director search committee in 2003. She was named an Annuit Coepis Senior Professional in 1989 and received the ACPA Contribution to Knowledge Award in 1998. She also was awarded the Richard Caple Award by the Missouri College Personnel Association in 2001 and was named a Diamond Honoree in 2002.
The successful Long Beach convention was described by Evans as the "major accomplishment" of her presidency. There was a great deal of apprehension about holding a west coast convention since ACPA's membership is traditionally not as strong in that part of the country. Under the direction of Vernon Wall, who served as convention chair, and an outstanding team made up of many west coast student affairs professionals, they planned and executed what many have referred to as the best convention in terms of quality of program in recent memory and the attendance was above projections. Other activities during Evans's presidency included the development of a new strategic plan that solidified the direction of the association for many years. Additionally, she also initiated important discussions on the role of research and scholarship in the association through the work of a task force headed by Heidi Levine. A significant issue that was faced at that time was clarifying the role of the National Office vis-à-vis the elected officers and finding ways to provide greater service to the membership, given financial and personnel constraints the association was facing.
Evans has continued to be involved in ACPA in a number of ways, most significantly as Editor of ACPA Books and Media for three years and as a member of the convention planning team and co-chair of the Next Generation conference at the 2009 convention. She also helped to plan and conduct a national seminar in 2008 on developing social justice allies and was a featured speaker at a national seminar on disability and student development in 2006. She served as an ACPA representative to the ACPA/NASPA task force that wrote the statement, Learning Reconsidered: An Action Agenda (2002-2004). In 2006, Evans was awarded the Voice of Inclusion Award for her work on social justice in higher education. ACPA honored her entire body of work with the ACPA Lifetime Achievement Award in 2015.
At Iowa State, Evans was instrumental in the development of a Higher Education doctoral concentration in Social Justice and infusing a social justice perspective in the master's program in Student Affairs. She is particularly proud of the 33 doctoral students she advised and whose dissertations she chaired as well as the 166 master's students she advised throughout her academic career at Indiana University, Western Illinois University, Pennsylvania State University, and Iowa State University. Evans continued to be an active scholar, publishing a number of books and articles, including a second addition of Student Development in College in 2010 and Disability in College: A Social Justice Approach in 2017.
Since her retirement from Iowa State in 2017, Evans, along with a research team made up of former students Ellen Broido, Charlie Varland, Val Erwin, and Autumn Wilke as well as Dr. Broido's current and former students Kirsten Brown and Jody Kunk-Czaplicki, has continued her research and scholarship focusing on the impact of the environment on disabled students in higher education and the creation of socially just campus environments for disabled students. With various members of her team, she has developed several webinars for ACPA, as well of programs, workshops, and articles focused on disability in higher education. In addition to her continuing research, Evans has also been actively using her MFA in Theatre, serving as a Board member and dramaturg for Story Theater Company, a children's theater for youth from 9-18 years of age. Additionally, she served a three-year term as President of the Board of Directors of her church, Unity Church of Ames, and remains involved in church activities. Evans and her spouse, Jim Trenberth, a theatrical lighting designer and production manager, who were married in 1997, enjoy attending theatre and concerts. Their favorite venues include Stratford Shakespeare Festival in Canada, Great River Shakespeare Festival in Winona, MN, Red Rocks Amphitheatre in Morrison, CO, and bluegrass bands, especially Trampled by Turtles, wherever they can find them.