W. Harold Grant (1974-1975)
Thirty-Fifth President
W. Harold Grant was the 25th man to hold the presidential title of ACPA. At the mid-year Executive council meeting in Cleveland on Thursday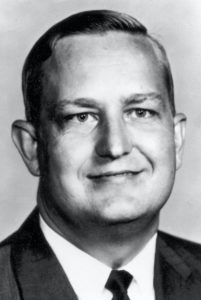 evening, October 5, 1972, his name was announced as one of the nominees for president-elect in the 1973 election. At Cleveland's Statler Hilton Hotel at the convention in 1973, President Ross announced Grant's election at the Executive Council meeting on Wednesday morn­ing, April 4, and again at the Business session the next afternoon, when Grant was introduced. Grant was serving the second year of his three-year term as member-at-large on the Executive Council. At the time of his election, Grant was Professor of Counselor Education and Director of Student Development Serv­ices at Auburn University, where he earned his B.S. degree (with honors) in 1957. Born in Phenix City, Alabama, Grant was 39 years of age when elected, married, and the father of a son and two daughters.
W. Harold Grant joined ACPA in 1960, four years before he received his Ed.D. in Student Personnel from Columbia University. He served on various commis­sions, task forces, and committees, and became an Executive Council member in 1970. In 1966, when he was Assistant Professor of Guidance and Director of Student Counseling Serving at Auburn, he attended the annual Business session at the Washington Hilton Hotel in Washington, DC on Monday afternoon, April 4.
Beginning in 1967, Grant was one of two ACPA representatives to the COSPA Commission on Profes­sional Development. He presented his report at the Executive Council meeting at the Sheraton Cadillac Hotel on Sunday afternoon, April 5, 1968 at the Detroit convention. In Cobo Hall the next afternoon, he chaired a program called Research and Evaluation in Student Personnel Services. In Cobo Hall on Tues­day morning, April 8, he was listed as one of nine presenters at a session labeled In-Service Training for Senior Student Personnel Workers. Grant was then Associate Professor of Counseling and Personnel Services and Educational Psychology at Michigan State University (Lansing). At the second Business session on Wednesday afternoon, April 10, his motion that ACPA accept a resolution for the establishment of a Special Committee and Action Program on Interper­sonal Alienation and Racial Strife was passed. That spring he was featured as one of the 10 most exciting professors in the Big Ten Universities by Chicago Tribune Magazine.
At the 1969 Las Vegas convention, Grant was a discussant at a program called The University and the Fully Function­ing Counseling Center, held in the Convention Center on Monday af­ternoon, March 31. Meanwhile, in January 1970, he went back to Auburn as Director of Student Development Services and Professor of Counselor Education. Early in 1970 while COSPA continued its work on the questions of ethics and confidentiality of professional records, Grant still represented ACPA on the Professional Development Commission of COSPA.
In St. Louis at the 1970 national ACPA conference during the Saturday afternoon, March 14 Executive Council meeting at the Chase-Park Plaza Hotel, a motion to place Grant on the Executive Council in case of a vacancy was approved. At the Executive Council meeting Thursday morning, March 19, he was ap­pointed to a one-year term as member-at-large. During the annual program, W. Harold Grant chaired a session on Assessing Environmental Influences on College Student Development.
Grant was one of eight members-at-large of the ACPA Executive Council who participated in the mid-year meeting at Denver on Saturday and Sunday, December 5-6, 1970. At the 1971 Atlantic City convention, W. Harold Grant participated in all or part of the Executive Council meetings on Saturday and Sunday, April 3-4, in The Tent of the Dennis Hotel. In the 1971 elections, he won a three-year term as member-at-large on the Executive Council. The chairman of the ACPA Nominations and Elections Committee announced his name at the Business session Tuesday evening, April 6, in the Shelburne Hotel. Earlier that day in the same hotel, he was one of two presenters at the workshop on The Student Develop­ment Concept in the Community College. At the Executive Council meeting Thursday morning in his absence, he was recommended to a task force to meet in June to pull Project THE together and seek funding. The seven Project Task Force members, including Grant, met in Washington, DC on Friday through Tuesday, June 25-29, 1971 to produce the prelimi­nary documents.
At the 1972 Chicago convention, Grant partici­pated in the Executive Council meetings during all or part of Saturday, Sunday and Thursday afternoon, March 25, 26, and 29, and the Business session on Monday afternoon at the Conrad Hilton Hotel. The mid-year ACPA Executive Council meetings were held in Cleveland on Thursday through Saturday, October 5-7, 1972. W. Harold Grant and the other ACPA representative to the COSPA Commission on Profes­sional Development received special recognition at the Friday morning meeting for their contributions to the Commission's final statement on "Student Develop­ment Services in Higher Education," completed in July 1972. At that Executive Council meeting, Grant expressed interest in providing optimum involvement opportunities for ACPA members, both on the Com­missions and within interest areas.
During the 1973 convention at the Statler Hilton Hotel in Cleveland, Grant attended the Executive Council meetings as a member-at-large on Tuesday evening and all day Wednesday, April 3-4. At the annual Business session on Thursday afternoon, his motion on the establishment of a Vice President each for Commissions and State Divisions was passed. At the Executive Council meeting for 1973-74 officers on Saturday afternoon, Grant was present as president­-elect. His report on the selection of a convention site for 1975 led to an approved motion to include Atlanta among the three other cities being considered. The Executive Council adopted President Beyerl's plan to appoint Grant to chair the Blue Ribbon Panel and replace him on the COSPA Professional Development Commission. On Friday afternoon, April 6, Grant appeared on a Commission XII program labeled Prepa­ration of Student Development Specialist: Objectives and Curriculum.
During August 1973, President-elect Grant visited APGA headquarters with the ACPA president and treasurer to discuss issues including the rules and regulations for the affiliation/disaffiliation vote. Later that summer, Grant conducted an organizational meeting to consider content, data collection proce­dures, and plan of presentation for the Blue Ribbon Panel to assist ACPA members in suggesting a future relationship between ACPA and APGA. ACPA mem­bers voted to remain affiliated with APGA.
In September 1973, Grant announced that the 1975 ACPA convention would be held in Atlanta. On Thursday evening and all day Friday until 11:00 p.m., October 25-26, 1973, he met in Chicago with the Executive Council. At the 1974 ACPA convention in Chicago, President-elect Grant participated in the Executive Council meetings held Saturday afternoon and all day Sunday, April 13-14, and the annual Business session on Monday afternoon in the Conrad Hilton Hotel. Incoming President Grant presided at the Executive Council meeting Wednesday afternoon, April 17. The Executive Council members acted favorably to his request that a Media Committee be created to replace the Monograph Commission and the Commission Publications Board. President Grant and the Execu­tive Council agreed on tentative plans to conduct mid­-year meetings at New Orleans, where they met during September 3-5, 1974. Grant elaborated on the ACPA commitment to participate in future APGA national conventions, while reserving the right to hold a sepa­rate convention. He announced that the ACPA news­letter would continue to be published, but with a name change from Presidential Communiqué to ACPA Devel­opments. At the close of 1974, ACPA's membership was 8,204, an increase of 427 over 1973 totals.
The 1975 annual ACPA convention, a special 50th anniversary celebration, was held in Atlanta during Wednesday through Saturday, March 5-8, with head­quarters at the Hyatt-Regency. The convention theme was "Focus on Student Development — A Leap into the Future." There were 2,389 registrations reported. Approximately 750 members attended the opening banquet, during which time 14 ACPA past-presidents in attendance were recognized. The program that followed included 131 content sessions, an additional 11 15-minute poster sessions, a placement and career development service, exhibits, and special graduate student functions.
An excerpt follows from President Grant's message titled "A Leap into the Future," which was published in Presidential Profiles (1975):
Hopefully, we will model after our founders and former leaders in using similar creativity, resourceful­ness, and determination to continue to influence our future professional practice and our future role in education. Our Tomorrow's Higher Education Project is an effort to approach the future proactively rather than reactively. Hopefully, we will be tenacious and stubborn in holding to principles and practices we feel continue to be relevant. Hopefully, we will be flexible and open to changes when these seem appropriate to enable us to be more successful in serving students. We may not be the sole determiners of our professional future, but we should not hesitate to use the influence that is ours. Future principles and practices should be based upon our past but not determined by it.
Much of our energies in the past have been used to explore organizational affiliations and identity. I would hope that the bulk of our energies in the future will be used in increasing our effectiveness as Individual practitioners of the science and art of student develop­ment.
W. Harold Grant lived on Mockingbird Hill in Waverly, Alabama, 1969-1995. He served as Town Councilman from 1970 to 1972 and was Mayor of the town during 1972-78. He was Special Assistant to the President at Auburn University, a position he held during 1974-81. He served as Dean of Students 1981-82.
From 1982 to 1995, he has served as Director of Missionary Cenacle Volunteers, a Catholic program of recruiting, training, and placing lay missionaries throughout the United States, Mexico, and Puerto Rico. In 1994 he was ordained a permanent deacon in the Catholic Church and with his wife Sylvia served as Directors of Family Life at St. Columba Church in Dothan, AL 1995-2004.
In 2006, Harold and Sylvia moved to Gardendale, AL. William Harold Grant, 78, died suddenly Sunday June 5, 2011 at St. Vincent's Birmingham. His wife of 52 years (Sylvia Moon Grant), their four children (Craig, Laura, Jennifer, and Harold), and six grandchildren survive him.