Elizabeth A. Greenleaf (1967-1968)
Twenty-Eighth President
Elizabeth A. Greenleaf was the tenth woman elected president of ACPA. She was present at the Saturday afternoon, April 2, 1966 ACPA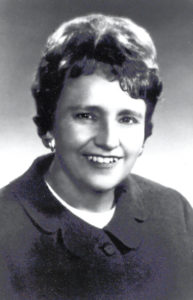 Executive Council meeting in the Washington Hilton Hotel, when the announcement as president-elect was made. Green-leaf was introduced as president-elect at the annual Luncheon on Monday, and the announcement of her election was made at the Business session later that day. She was Assistant Dean of Students, Director of Resident Hall Counseling, and Associate Professor of Education at Indiana University, where she also earned her doctorate in 1952.
Born in Winthrop, Massachusetts, Elizabeth Greenleaf's family moved to Indiana when she was a young child. She attended Greencastle High School where she was president of student government dur­ing her senior year and graduated in 1937. That fall she enrolled at DePauw University in Greencastle where her father was a professor and chaired the Department of Mathematics. She had a double major when she received her A.B. degree (1941, History and Political Science). She was awarded DePauw University's Distinguished Alumni Citation in 1967 "in recognition of outstanding achievements and serv­ice."
In Indiana she accepted a position to teach Social Studies and English at Washington Township in the Putman County Schools during 1941-42. Then she taught Social Studies at Salem High School during 1942-1946. In the fall of 1946 she entered the Univer­sity of Wisconsin for graduate study. In 1947 she received the M.A. degree (Political Science). Greenleaf returned to teach at Salem High School where she was given the opportunity to begin a counseling program the following year and became Counselor for Girls until 1950.
Meanwhile, she enrolled at Indiana University (IU) in 1948 to study part time for a doctorate in Counsel­ing and Guidance. She was a fellowship holder and Graduate Assistant during 1950-51 then an Instruc­tor of Social Studies and Critic Teacher at the Univer­sity School the next year. She received the Ed.D. in 1952. The title of her dissertation was "Comparison of Women Students Majoring in Three Schools at Indi­ana University.
For the next five years (1952-57), Elizabeth Greenleaf was an Assistant Professor and Coordinator of the Activities Development Center at Southern Illinois University, Carbondale. From 1957-59 she was Asso­ciate Dean of Students and Dean of Women at San Jose State University in California. Greenleaf re­turned to IU in 1959 as Director of Counseling and Activities for Uni­versity Residence Halls and Assistant Professor in the School of Educa­tion. In 1960 she ac­quired an additional title: "Assistant Dean of Students."
Elizabeth Greenleaf was promoted to Associate Professor in 1962 then full Professor of Education in 1967. During the 1960s she was responsible for combining a men's and women's residence hall system. She had a profes­sional staff of 276 with 200 graduate assistants and budget well over a half million dollars.
After 10 years in university administration, she felt ready for a chief student personnel position. She relinquished her administrative position in January 1969 and was appointed to chair the IU Department of College Student Personnel Administration. She re­turned to teaching and research. She carried a heavy graduate teaching load and developed and directed the Student Personnel Internship in the School of Education.
Elizabeth Greenleaf's professional career was capped in 1978 when she received the President's Award for Distinguished Teaching at the annual Founders Day ceremonies on the IU Bloomington campus.
Elizabeth Greenleaf was listed as a member of ACPA during 1952-53. She served as a recorder at the 1953 and 1955 Chicago conventions. When the 1958 ACPA election results were announced on Saturday evening, March 30 at the Executive Council meeting and during the annual Luncheon on Monday in St. Louis, Greenleaf's name was among the 13 delegates to the APGA Assembly (1959). She was a panelist on the Political Extremists in the Campus Extra-Curricular Program, a section meeting held Tuesday morning, April 1 in St. Louis. In the 1959 election, Greenleaf was re-elected delegate to the APGA Assembly (1960). She attended the APGA Assembly meeting Wednesday afternoon, March 25 at the Cleveland convention.
She attended the 1960 APGA Assembly meeting scheduled for Tuesday afternoon, April 12 in Philadel­phia. Also, she participated on the convention program twice. Prior to the APGA Assembly, she spoke at a program called Counseling Objectives in College Residence Halls. The next morning, she and 14 other persons presented A Demonstration and Discussion of Human Relations for College Student Personnel Workers.
During the convention program in 1962 at Chicago, Greenleaf participated in the Wednesday morning, April 18 meeting titled "Climate for learning— Fusion of Living and Learning in College Residence Halls." At the Boston convention in 1963, she and several other ACPA members presented a program titled "The Profes­sional Education of Student Personnel Workers in Higher Education Workshop Reports" on Wednesday afternoon, April 10.
In the ACPA election of 1964, Elizabeth Greenleaf was one of three voted a member-at-large to the Executive Council for a three-year term. She was present at the Thursday morning, March 26 Executive Council meeting for 1964-65 office holders and Execu­tive Council members-at-large. The night before, she was discussant at a program called "Sex and Suicide: College Myths and Realities."
From 1964-66 Greenleaf served as ACPA represen­tative to the COSPA Commission on Professional Development. She served as Chair 1966-67 and as Chair of an Inter-Association Study Committee on Accreditation (COSPA and APGA) 1967-68.
At the Minneapolis convention in 1965, Greenleaf was present at the Executive Council meetings on Saturday, Sunday, and Thursday, April 10, 11, and 15, at the Capp Towers Motor Hotel. Also, she at­tended the annual Luncheon and Business session on Monday. At the Executive Council meeting on Satur­day, her motion to increase the number of issues per volume of the Journal from four to six was passed. Later during that meeting, she was announced as one of three ad hoc committee members to draft a state­ment for Executive Council consideration regarding ACPA's position on continuation of a staff position in APGA that represented higher education interests. At the Thursday Executive Council meeting, President Berdie appointed Greenleaf to chair a three-member Convention Study Committee.
Greenleaf attended the three ACPA Executive Council meetings on Saturday, Sunday, and Thurs­day, April 2, 3, and 7, 1966 at the Washington Hilton Hotel during the national convention. She was present at the annual Luncheon and Business session on Monday. At the Executive Council meeting Sunday afternoon, Greenleaf presented a summary report titled "An Evaluation of Conventions held by the American College Personnel Association." Copies of the resume of her report were distributed in the ACPA Business session on Monday. At the Sunday after­noon Executive Council meeting, she and two other members were appointed to investigate the need for a mid-year meeting. At the Executive Council meeting on Thursday morning, Elizabeth A. Greenleaf was present as president-elect.
President-elect Greenleaf participated in the ACPA mid-year meeting at Chicago during November 1966. At the Executive Council meeting on Monday, Novem­ber 28, her motion that the ACPA president appoint an ad hoc committee to consider ethics and standards for the profession was passed.
At Dallas in 1967, President-elect Greenleaf par­ticipated actively in the ACPA Executive Council meetings, annual Luncheon, and Business session. At the Saturday morning, March 18 Executive Council meeting, she presented the proposed budget for 1967-68. At the Sunday morning Executive Council meet­ing, she discussed ACPA representation to COSPA. She presided at the annual Luncheon on Monday, April 20 in the Grand Ballroom of the Statler Hilton and introduced ACPA past-presidents in attendance. At the close of the Luncheon, she acknowledged appreciation of ACPA to President Black. At the an­nual Business session which followed, he presented the presidential gavel to her a short time before adjournment.
At a Tuesday afternoon ACPA convention program in the Mustang Room of the Statler Hilton at Dallas, Greenleaf presented a paper titled "A Multi-Discipline Approach" on the general subject Who Should Edu­cate the College Student Personnel Worker and to What End?-Dialogue. She presided at the ACPA Executive Council meeting in the Mustang Room on Thursday morning, March 23.
Periodically during 1967-68, President Greenleaf sent her Presidential Newsletter to more than 700 ACPA members. Following her attendance at the APGA Executive Council in New Orleans, November 29-December 1, Greenleaf met with the ACPA Executive Council on mid-year meetings on Sunday through Tuesday, December 2-4, 1967, at the O'Hare Airport Johnson Motor Lodge in Chicago. ACPA membership as of March 1, 1968 was 7,109.
The forty-first annual ACPA convention was held in Detroit, Sunday through Thursday, April 7-11, 1968. The national meeting was ACPA's sixteenth as a Division of APGA. ACPA headquarters hotel was the Sheraton Cadillac. President Greenleaf presided at the morning, afternoon, and evening Executive Council meetings on Saturday, April 6 in Cobo Hall, and the Executive Council meeting Sunday morning in the Normandy Room of the Sheraton Cadillac. She at­tended the Executive Council meeting in Parlor C on Thursday morning. She presided at the ACPA Busi­ness sessions held Monday afternoon (following the Luncheon) and Wednesday afternoon in the Woodward Room of the headquarters hotel. At the annual Lunch­eon on Monday, April 8 in the Ballroom of Cobo Hall, Greenleaf presented a plaque to Bernard Black in recognition for his service and leadership to ACPA. Her presidential address was titled "As Others See Us."
Early in June 1968, Elizabeth A. Greenleaf's hopes were that ACPA have (1) a successful convention of their own in 1970, (2) closer ties with NAWDC, NASPA, and AAHE, and (3) more extensive support of Commis­sions.
Widely known as a consultant, author, and lecturer in her field of student personnel and residence hall administration, Elizabeth Greenleaf died at Imperial Hospital, Ft. Lauderdale, Florida, following a short illness in May 1979. She was 59. The Greenleaf Distinguished Alumnus/Alumna Award was estab­lished by IU as a memorial to her.
At the ACPA mid-year Executive Council meeting on November 2, 1979, a memorial to her was dis­cussed and unanimously supported. A tribute to her was printed in the February 1980 issue of ACPA Developments.