Everett H. Hopkins (1950-1953)
Fourteenth President
Everett H. Hopkins was serving his second one-year term as ACPA vice-president, when Thelma Mills resigned in 1950. According to the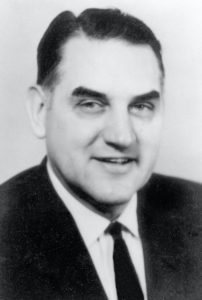 constitution, the vice-president was authorized to fill the vacancy and serve out the unexpired term (1950-51) of Mills. Hopkins became the ninth man to serve ACPA as president. He was Academic Vice President at Wash­ington State College (Pullman), 38 years of age, mar­ried, and the father of three sons. Hopkins was an Advisory Committee member (1949-51) to 11 Western Governors on Regional Higher Education (the forerun­ner of WICHE), a member of the National Conference for Mobilization of Education, a member (1950-52) of the Council of Advisors to the U.S. Commissioner of Education, and Chair (1949-51), State of Washington Survey Committee on Higher Education.
His birthplace was Linville, a small rural commu­nity in Ohio. He graduated from North Hampton High School in 1930, a consolidated school where he was his class president for two years. At Wittenberg College (now University) he received the B.S. degree (1934, Psychology and Education). Wittenberg presented him an honorary Doctor of Laws degree in 1958. He enrolled at the University of Pennsylvania (Philadel­phia) graduate school of education as a University Scholar in 1934 and received the A.M. degree (Guid­ance and Psychology) in 1935.
After receiving the master's degree, Hopkins re­turned to Wittenberg to teach for two years. Then he went to Miami University in Oxford, Ohio, for the next five years, first as Freshman Adviser and Instructor of Psychology (1937-40) then as Assistant Professor and Director of the Associate of Arts program. He left Miami in 1942 to become a Lieutenant Commander in the U.S. Naval Reserve for four years. He was Director of Personnel at the Naval Training Center in Idaho for the first three years and Officer in Charge at the West Coast Naval Classification Centers the fourth year.
At Washington State College for the next five years, Hopkins was Assistant to the President (1946), Dean of Students (1947), and Academic Vice President (1947-51). At Washington University in St. Louis the next 10 years, he served as Assistant Dean to Facul­ties (1951 -52), Assistant to the Chancellor (1952-54), and Vice Chancellor for University Development (1954-61).
Hopkins first became a member of ACPA during 1936-37, when he was Assistant Director of Personnel and Instructor of Psychology at Wittenberg College ("University" after 1957) where he received his B.S. degree in Education in 1934 and an honorary Doctor of Laws degree in 1958. During 1947 he was appointed to the ACPA Committee on Standards and Train­ing. At the Stevens Hotel in Chicago on Monday morning, March 29, 1948, E.H. Hopkins presented the opening address, "The Essen­tials of a Student Per­sonnel Program," at the ACPA convention.
A 14-member Program Committee with Hopkins as an ex-officio member prepared the ACPA program for the 1951 convention in Chicago. The twenty-fourth annual ACPA convention was held in conjunction with other organizations participating in CGPA on Monday through Thursday, March 26-29, with the pre-convention Executive Council meeting held on Sunday. The ACPA program featured three general sessions (one was a joint meeting with NADW), five series of sectional meetings, two Business sessions, a banquet, and social hour. ACPA members attended "Council Day" sessions on Tuesday, March 27, 1951.
When Hopkins presided at the annual ACPA Busi­ness sessions on Monday and Wednesday afternoons, the unification issue was one of the major topics of discussion. His election to a two-year term as ACPA president was announced at the Monday session. The presidential address was delivered by President Hopkins at the banquet Wednesday night. His after-dinner speech was titled "Student Personnel Work, Higher Education, and the Current World Situation." Later in 1951, on Saturday and Sunday, October 6-7 in Chicago, President Hopkins attended the first meeting of the Personnel and Guidance Association (PGA) Executive Council. He reported to ACPA mem­bers that much time was devoted to the discussion of matters relating to criteria for divisional affiliation with PGA, professional journals and publications, regional activities, the central office, and the orderly transition from CGPA to PGA.
From approximately 1,000 questionnaires sent out to ACPA members, 250 returns indicated to the pro­gram Committee members that they should plan the twenty-fifth annual ACPA convention at Los Angeles in 1952 around practical student personnel problems through use of panel discussions, symposia, and informal discussion groups limited to 25 persons. A frequent suggestion was that presenters should re­frain from reading formal papers. The theme of the four-day meetings scheduled for Monday through Thursday, March 31-April 3, was "Improving Human Relations."
The Biltmore Hotel was ACPA headquarters. At the opening session Monday morning, March 31, Presi­dent Hopkins was one of four panel members who spoke on the topic "Counselors and Student Personnel Administrators Look at Each Other's Functions." ACPA members attended the joint "Council Day" programs on Tuesday. The PGA president outlined plans at 11:00 a.m. which were made by PGA (changed to APGA at Los Angeles) Executive Council and Delegate Assembly. Wednesday morning, ACPA and NADW members met jointly for a general panel session la­beled The Individual and Authority.
Hopkins presided over the two Business sessions on Wednesday and Thursday mornings. He presided at the ACPA banquet Wednesday evening, April 2. At the close of the Los Angeles convention, ACPA became Division 1 of APGA, and the Personnel and Guidance Journal replaced EPM as ACPA's official journal. The new ACPA membership fee of $6.00 included member­ship in APGA. During 1952-53 President Hopkins continued as one of the two ACPA representatives on the APGA Executive Council.
The total number of ACPA committees reached 12 during 1952-53. New committees appointed by the president and the ACPA Executive Council included (1) Committee to Review Editorial Policies of, and Advisory Relationships with, Student Newspapers, (2) Committee on Constitutional Revision, (3) Orientation Programs, (4) Special Committee to Consider Matters of Interest to Clinical Counselors, (5) Student Eligibil­ity Requirements for Participants in Co-curricular Activities, and (6) Committee on Recording and Reten­tion of Student Disciplinary Records. The last commit­tee included representatives from ACPA, NADW, the American Association of Collegiate Registrars and Admission Officers (AACRAO), and the National Asso­ciation of Student Personnel Administrators (NASPA).
Hopkins attended the two-day APGA Executive Council meetings in Chicago in the fall of 1952. In December of that year, President Hopkins informed the ACPA membership that they would receive a preliminary convention program shortly after the holidays for the 1953 national convention to be held at the Conrad Hilton Hotel in Chicago. As of March 15, 1953, ACPA membership was 1,160.
ACPA's twenty-sixth annual meeting was held in conjunction with the first overall APGA convention on Monday through Thursday, March 30-April 2. The common theme was "Human Resources and Man Power Utilization." The only general session planned by the ACPA Program Committee was held Monday afternoon at 1:30 p.m. President Hopkins delivered his presidential address titled "Changing Times the Individual." All the other sessions were sectional meetings, so that more persons had an opportunity to participate in the discussions. ACPA and NADW members conducted three joint sectional meetings.
Hopkins presided at the general Business session Wednesday morning, April 1. Also, he called two Executive Council meetings. At the second one, the largest item in the proposed budget was $600.00 for publishing the P-O-G.
The last 20 years of his professional career were spent at Duke University. He held the academic appointment as Professor of Higher Education and functioned in the dual role of Assistant Provost and Vice President for University Advancement and directed the Office for Institutional Research in Problems of Higher Education. In 1964, vice presidential duties were realigned. Under the new arrangement, Hopkins became Vice President for Planning and Institute Studies.
In January 1967, Hopkins assumed duties President of the Durham-based Regional Education Laboratory for the Carolinas and Virginia. He took leave of absence from the university to fill the full-time position. His leave extended to five years, 1972, when he returned to full time teaching duties at Duke that fall. Then he helped develop a strong program in higher education management from educational administration. A management/science system approach to graduate education was introduced. However, the complete education department was abolished, and after retirement from Duke in 1981, he helped 14 education doctorates finish their graduate studies.
Although he did not remain solely in student personnel work, his training, experience and point of view about students and higher education continued to affect almost everything he did since serving as ACPA president.
Everett H. Hopkins and wife of 51 years, Bernice Brubaker Hopkins, retired in Durham, North Carolina. Two of their sons are surgeons and the other is a lawyer. He died on November 21, 1998.