Mary T. Howard (1977-1978)
Thirty-Eighth President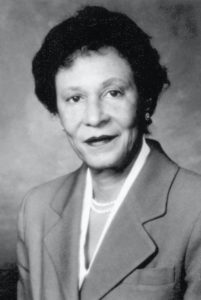 ACPA's 38th president was Mary Tatum Howard, the 12th woman and second Black elected to serve as chief officer. At the ACPA Executive Council meeting on April 9, 1976 in Chicago's Pick Congress Hotel during the annual convention, Howard was recog­nized as the newly elected president-elect. Other for­mal announcements of her election were made at the Luncheon and the Business meeting that followed in the Gold Room on April 12.
When voted president-elect, Mary T. Howard was Dean of Student Services at Hostos Community Col­lege (HCC) in Bronx, NY. She was appointed to the position in 1973, after serving as Lecturer, Professor, and Director of the Counseling Center at Federal City College, District of Columbia. She left her position at HCC in 1976 to accept a position at Mercer County Community College (MCCC) as Dean of Urban Affairs and Director of the urban campus in Trenton, New Jersey, and continued as evening faculty at HCC. While at MCCC she founded the Trenton Artists Workshop Association, now a tri-state organization of New Jersey, Pennsylvania, and New York, of visual artists which, in 1989 and 1990, completed an exchange program hosting and exhibit­ing paintings and sculptures of Soviet artists.
Born in San Francisco, Mary T. Howard received her B.A. degree from West Virginia State College in 1948. A Danforth Fellowship recipient, she received her M.A. degree from the University of Kansas City in 1952. She then accepted an appointment as Director of Testing Services and Assistant Professor of Educa­tion at Miles College (Birmingham, AL) during 1952-57, and she was a Visiting Lecturer at Tuskegee Institute during the summer of 1955. While serving as Counseling Psychologist at the Kenny Rehabilitation Institute in Minneapolis (MN) during 1963-67, begin­ning in 1965 she served as Assistant Professor of Psychology at Augsburg College, a private school in Minneapolis and became Director of Psychological Services at the Kenny Rehabilitation Institute in 1967. Meanwhile, Howard studied for her doctorate (Coun­seling Psychology, 1967) at the University of Minne­sota (UM). She was a Clinical Instructor during 1965-67 at UM and Clinical Assistant Professor of Psychol­ogy there during 1967-68, before her move to Wash­ington, DC.
During the late 1970s she was Associate Director of the Commission on Higher Education, Middle States Association of Colleges and Schools in Philadelphia, Pennsylvania. In 1980 she returned to Minnesota as Coor­dinator of Educational and Vocational Coun­seling at the St. Cloud Veterans Affairs Medi­cal Center and an Ad­junct Faculty member in psychology at St. Cloud State University. She has also been a Waldron University faculty member. In 1983 she established the St. Cloud branch of the National Association for the Advancement of Colored People.
On April 6, 1971, in Shannon Hall of the Shelbume Hotel in Atlantic City during the national convention, results of the 1971 election included Mary Howard as a member-at-large on the ACPA Executive Council for a three-year term. She was present for the Executive Council meeting on April 8 for new officers there in Atlantic City. During the next three years she partici­pated in Executive Council and Business meetings in St. Louis (October 1971), Chicago (March 1972, Octo­ber 1973, and April 1974), and Cleveland (October 1972 and April 1973).
At Cleveland during the October 26, 1972 Execu­tive Council meeting, her motion for funds was ap­proved to cover expenses for preparation of a survey questionnaire form by the Women's Task Force to be mailed with the President's Communiqué, a newsletter which was the progenitor of ACPA Developments. At the 1973 annual convention in Cleveland, some women discussed the idea of beginning a women's commis­sion. This led to reactivating the Women's Task Force at an open meeting in 1974, during the annual con­vention in Chicago at which time steering committee members were elected and she was voted to chair the committee. On April 15, the day after she was voted Senator by the Executive Council members for an unexpired term, she reported a summary of activities of the Women's Task Force. Her motion that the Black Task Force be dissolved and a Task Force on Minority Concerns be established was approved. Her motion that the president establish a study group to explore practices and implications of affirmative action as it affected Black Colleges was also approved.
At the March 4, 1975 Executive Council meeting at the annual convention in Atlanta, she reported the activities of the ACPA Women's Task Force. The sched­ule of their meetings included a special presentation, Legal Rights of Professional Women. At the Business meeting on March 6, after reporting on the Women's Task Force, she noted that the United Nations initi­ated celebration of International Women's Year during 1975, and then she introduced a resolution that specified ACPA recognize the importance of major efforts to become aware of the accomplishments and educa­tional needs of women. The motion passed. At the Executive Council meeting for 1975-76 officers on March 8, Howard urged reconsideration of the budget for the Women's Task Force. A motion to increase funds $500 was then approved.
Meanwhile, at the March 4, 1975 Executive Council meeting and at the opening Banquet late the next afternoon, her election as Senator was reported in Atlanta. Women contributed to a number of programs at the St. Louis Workshop Fair in October 1975, and Women's Task Force members helped stimulate commissions to have workshops at Chicago that dealt with such areas as assertiveness, career planning, and rape prevention. On October 29, Howard joined other Women's Task Force steering committee mem­bers to organize a plan to highlight commission sponsored programs relevant to women at the 1976 Chicago convention. The brochure announced 27 ACPA women's programs and three social gatherings available to them. At the Executive Council meeting on April 10 in Chicago, she reported for the Women's Task Force, continuing to keep their concerns visible. The task force had a very close relationship with the commission structure and a liaison person in each commission helped to sensitize the group to the need for attending to women's concerns.
On behalf of the Convention Site Committee at that meeting, Howard recommended that ACPA go to De­troit in March 1978. NAWDAC intended to follow with their convention. Since voted president-elect and having served only one year of her three-year term as Senator, she was replaced by Executive Council ac­tion. As chair of the 1976-77 Budget Committee, she distributed and discussed the budget for that year at the April 14 Executive Council meeting. She explained each item of the budget of $113,620 which was accepted. Projected income was estimated to be $97,000. The balance needed was to be transferred from the fund balance.
At the Sunday morning, March 27 Executive Coun­cil meeting and the Business meeting on March 29 during the 1977 national ACPA convention in Denver, Howard officially announced the theme of the 1978 Detroit convention at the new Renaissance Center of the Detroit Plaza Hotel during March 12-15: "Revitalization: Professional and Political Assertiveness" to focus on strategies to enhance ACPA's professional positioning. The location was a showplace which promised to give the Association excellent housing and meeting space. At the Executive Council meeting for new officers on March 27 at Denver chaired by Howard, she announced that pending a budget re­view, the mid-year meeting was planned for October 30-November 2 at Breech Academy, Overland Park, Kansas, because of low cost and its centrality. She presided at another Executive Council meeting on March 30, at which time members approved her ap­pointments of committee chairs or coordinators. Fis­cal policies were discussed, and a balanced budget of $125,000 was presented by the president-elect and approved by the Executive Council members. The self-study report was accepted, and early stages of the organizational self-study were begun. A summer issue of ACPA Developments was authorized in which the first ACPA Leadership Directory (for 1977-78) and logo appeared in the May 1977 issue.
A Licensure Task Force was formed by Howard's Executive Council in Denver, and a Licensure Ques­tionnaire was enclosed in the August 1977 issue of the newsletter. At the Detroit national convention in 1978, the Executive Council adopted a position statement on licensure. President Howard wrote the Presidential Communiqué for two separate issues of the newsletter during her presidential term. She attended the July and December 1977 APGA Board of Directors meet­ings. ACPA's membership at the close of 1977 was 8,978.
At the annual 1978 ACPA convention held in the Detroit Plaza Hotel, there were 1,790 registrants. The Convention Committee purchased banners that were displayed and used during subsequent conventions. President Mary T. Howard conducted three Executive Council sessions held on March 10, 11, and 12 and presided at the Luncheon followed by the Business meeting on March 14.
Charters were presented to representatives of four new ACPA state divisions: Colorado, Nebraska, North Dakota, and New Hampshire. A new commission (XVII) on Commuter Programs was established. A position statement was adopted on licensure. The Past Presidents' Advisory Council met with seven in atten­dance on March 13. Approximately 550 candidates registered at the Placement Service for 1975 positions offered by 191 employers.
At the ACPA Luncheon, the 1978 Contribution to Knowledge Award was presented to Alexander Austin. Charles L. Lewis received the Professional Service Award, and at the request of the APGA Awards Com­mittee, the APGA Ralph Berdie Award was presented to C. Carney Strange.
At the Business meeting, attended by the largest number in her memory, a motion to withdraw partici­pation in the 1979 APGA convention at Las Vegas was passed by a large majority. Nevada had not ratified the Equal Rights Amendment. A count of the votes revealed 211 were in favor of withdrawing, 30 were against, and 24 abstained.
Later that month, President Mary T. Howard and other ACPA officials participated in the APGA national convention at Washington, DC. Headquarters hotel for ACPA was the Sheraton Park. The ACPA fund balance on June 30, 1978 when Mary T. Howard left office was $63,769.09, up $12,570.11 from the previ­ous year.
Since 1991, Mary has not been directly involved In student services; however, she has been an active community member of the SCSU Minority Studies and Women's Studies pro­gram; Minnesota's Psychological Association representative to the American Psychological Associa­tion and an elected Fellow of Division 17; a volunteer at Woman House, a shelter for battered women; and a Governor's appointee of both the Advisory Council of Battered Women and of the Sentencing Guidelines Commission of Minnesota.
She does miss the daily contact with college stu­dents, but her continuing teaching experience is sat­isfying. As a past president of the Adult Student Personnel Association she maintains her concern about the "returning" students who now represent almost half of all college students. They often have full time employment as well as family responsibilities. There has been a recent sincere effort to enhance the quality of education for this significant segment. Li­braries are open past midnight; admissions and reg­istration offices are open until evening classes begin; programs are held in the evenings instead of only at lunch time. Counseling Center services for personal, academic, crisis, couple, rape, and battering assis­tance need to be more available than evening-only students are now finding them.
Mary T. Howard was named a Senior Professional for Annuit Coeptis Awardees at the 1986 ACPA na­tional convention in New Orleans. Since 1980 she has been a psychologist at the St. Cloud Veterans Affairs Medical Center, St. Cloud, MN. She plans to retire in St. Cloud. She has been a foster parent and three of her adult "children" have children who happily consider her one of their grandparents. She is currently president of the St. Cloud Unitarian Universalist Fellowship Board.