Marvalene Hughes (1987-1988)
Forty-Eighth President
ACPA's 48th president, Marvalene Hughes, was the 17th woman and the third African American elected chief executive. Results of balloting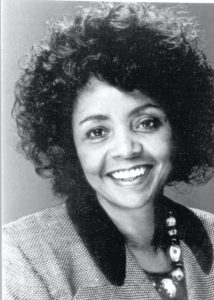 were announced at Executive Council and Business meetings during the 1987 convention in New Orleans and in the June issue of ACPA Developments that year. She was Asso­ciate Vice President of Student Development at Ari­zona State University (ASU), a position she accepted in the summer of 1986 and held until the fall of 1988 when appointed Vice President for Student Affairs and Professor of Counselor and Human Services Educa­tion at the University of Toledo (UT). She was offered and accepted an appointment as Vice President for Student Affairs at the University of Minnesota (UM) in August 1990. She served as chief officer of Student Affairs on the Twin Cities Campus and oversaw policy development and administrative continuity at the coordinate campuses (Crookston, Duluth, Waseca, and Morris).
After leaving Minnesota, Dr. Hughes served as President of California State University, Stanislaus for eleven years (1994-2005). She is President Emerita at California State University, Stanislaus, where she was the first Black and first female president. She was credited with increasing enrollment by 40%, fundraising by 416% and capital construction by 41%. Currently, she serves as the eighth and first woman president of Dillard University in New Orleans, a historically black, 4-year, comprehensive liberal arts college established in 1869. Dr. Hughes began her tenure as president of Dillard July 1, 2005. Less than six weeks later, Hurricane Katrina struck, and her campus was totally destroyed. Her leadership is profound as she guides the university through the effects of Hurricane Katrina, the nation's most devastating natural/human disaster.
Marvalene Hughes at­tended Tuskegee University on scholarship for her B.S. (English and History) and teaching fellowship during her M.S. (Counseling and Administration). With her master's she traveled to St. Petersburg, Florida, where she was counselor-teacher at Gibbs Jr. College for a year (1960-61). The College's policy on nepotism required her to relocate when she married, thus she became Coordinator of Guidance at Six­teenth Street Junior High School in St. Petersburg for the next two years. She became Research Interviewer at the New York Medical College (1963-64), studied counseling psychol­ogy at New York University (1964), attended Columbia University on a National Defense Education Act doctoral fellowship in counseling psy­chology (1965-66), and then returned to St. Petersburg to become Director of Education at the first Job Corps Center for Women. Later, she was counselor for seniors at Lakewood High School during 1966-68. In 1968 Marvalene decided to complete her doctoral program at Florida State University (FSU). She earned her Ph.D. in Administration and Counseling from FSU, after studying at Tuskegee University, New York University and Columbia University.
At Eckerd Col­lege in St. Petersburg during 1969-70 and 1971-72, she was Ad­ministrator and Coun­seling Psychologist, Career Development and Placement Center, and Assistant Professor. She later became Director of Counseling Career Development and Associate Professor.
A career move from the Atlantic to the Pacific Coast took her to San Diego State University for the next 14 years, first on a joint appointment as a professor of Counselor Education and counselor in the University Counseling Center (1972-77). For two years (1974-76) she was also a core faculty member at the California School of Professional Psychology where she taught the first course on Psychology of Women. She was Acting Director (1977-78) and became Direc­tor of the Center for Counseling Services and Place­ment at San Diego State University (1978-86).
Since her initial career emphasis was in counsel­ing, she affiliated with APGA. ACPA became her pri­mary division affiliation very early in her career, when she learned about the association in graduate school. She used the Journal of College Student Personnel (Journal) during her studies, so it was a logical deci­sion for her to assess experientially the organization's services to members. Bonding professionally was easy for her. She realized the importance of presenting programs and workshops at national conventions early in her career. The practice of annual presenta­tions, which became regularized in 1975 (Atlanta) opened opportunities for her profes­sionally and personally. Hughes became a prolific writer and speaker. ACPA prepared her to lead and she soared.
Hughes developed an interest in assessment and joined Commission IX, Assessment for Student Devel­opment, in 1966. The Commission offered her the opportunity to learn from senior professionals. Membership on Commission IX's Board of Directors during 1973-1975 led to her first leadership role in ACPA as Chairperson of that Commission during 1975-76. Again during 1982-84, she was a member of that Commission's Board of Directors. By this time, Marvalene Hughes had gained national recognition as a speaker, consultant, and author.
In ACPA's 1978 election, Hughes was voted an ACPA Senator to APGA for a three-year term, and during 1979-81, she served as Chairperson of the ACPA Senators to maintain liaison with the APGA Board of Representatives. In the 1982 election, she was voted the new Treasurer-Elect during 1982-83, then Treasurer during 1983-85. But when the incom­ing treasurer resigned his position, Hughes was ap­pointed interim Treasurer during 1985-86.
Numerous appointed positions enabled her to develop confidence in ACPA and AACD, and she was motivated to give tireless energy to their missions and goals. Volunteer assignments which stand out as most significant include: (1) ACPA representative to the APGA Task Force on Testing (1976-78), (2) co-chairperson of the ACPA Convention National Program Committee during 1978-79 when the association decided to meet in Los Angeles instead of with APGA in Las Vegas, Nevada, a non-ERA state, (3) representative to the APGA Name Change Commit­tee which she chaired during 1979-80, the same year she chaired the ACPA Ad Hoc committee to assess the membership's response to the APGA name change, and (4) four terms (1982-84, 1985-87, 1988-90, and 1991-93) as a member of the Journal editorial board.
President Marvalene Hughes wrote a "President's Communiqué" column in four issues of the newsletter. Topics included: mission and goals during her presi­dential year; strategic planning; building community; and serving the profession. Near the close of the annual convention Luncheon in Chicago on Tuesday, March 17, 1987, she delivered her Presidential Ad­dress, which was published in the June 1988 issue of ACPA Developments. She credited her parents, sisters, brothers, husband, and son for her value-rich heri­tage and dedicated her address to her friend, the late Carl R. Rogers. At Chicago on Wednesday, she chaired her first Executive Council meeting, when some of the discussion focused on ACPA's legal right to withdraw from Phoenix as the site of the 1988 convention. She steered the Council through its decision to move the convention to Miami, because the Arizona governor took public positions on gender, race, and sexual orientation which contradicted or denied some of the values most deeply held by ACPA members. At St. Louis during November 7-8, 1987, Hughes presided over the mid-year Executive Council meetings. Her emphasis was on leadership development and creat­ing campus climates for diversity. ACPA's member­ship rolls numbered 7,349 at the close of the year.
Approximately 3,000 people convened In Miami for the ACPA convention during March 20-23, 1988, despite the sudden disruption in relocating the con­vention. The theme was "Challenging Boundaries: Weaving the Future," chosen to portray Hughes' commitment to diversity. The Placement Center registered 640 candi­dates for 647 job listings Involving 3,500 job inter­views. Co-headquarters were the Hyatt Regency and Inter-Continental Hotels. There were 13 pre-convention workshops. Three major keynoters addressed the conventioneers, including Congresswoman Pat Schroeder. President Marvalene Hughes presided at Execu­tive Council meetings on Saturday and Sunday, March 19-20, and the Business meeting on Tuesday, when resolutions honoring 13 people were read and other business was conducted with the general membership prior to the Luncheon.
Hughes wrote about her presidential term in a communication dated July 25, 1990 in which she reflected about her ACPA Involvements:
My year as President of ACPA allowed me to build a platform from which to transmit my ideas and values on diversity to others in the profession. This was made possible because of the congruence between ACPA's espoused values and my values in human rights. First, it was necessary to engage leaders in strategic planning to complement the long range planning advanced during Cynthia Johnson's presidency. It was time to build on earlier foundations and chart a strategic course to bring continuity to a volunteer organization which structurally operates by transi­tory leadership. During the strategic planning, goals were identified, priorities were determined, and spe­cific programs were planned to promulgate ACPA goals.
During my Presidency, three major initiatives gained prominence as a result of strategic planning: (1) The Annual Conference was shifted from Phoenix to Miami because of the political climate in Arizona during that year; (2) A comprehensive, randomly sampled, na­tional survey of 2,500 members was completed and a technical report was presented to the Executive Coun­cil to guide future planning; and (3) The first "Road­ show on Diversity" was planned and implemented. That program became extremely popular because of the timeliness of the topic in higher education and the high quality of its hands-on materials. It continues to operate, having served as a major outreach initiative for ACPA in numerous states.
In a letter she wrote following her presidency, Marvalene commented about the association's future:
ACPA has a rich future, as higher education con­cerns itself increasingly with how students develop and learn in a diverse environment. The reform move­ment encourages educators to improve the quality of education through renewed commitment to the indi­vidual and through strong assessment procedures. Toward this end, ACPA can and should play a vital role in improving undergraduate education. This role will focus the profession on the Increasing diversity of the student population. When this happens, we will begin to acknowledge the urgency of change which will demand responsiveness to differences related to age, gender, ethnicity, sexual orientation, and disability. ACPA has paved the way for the profession to examine the interactive features of human rights, diversity and excellence in education. From my perspective, excel­lence cannot be attained without diversity and human rights. The convergence of the three was addressed in one of my presidential communiqués in Developments titled, "Building a Genuine Community." The chal­lenge ahead for all of us is to develop mastery in diverse human relations in order to achieve excellence and, thereby, build stronger campus, local and world communities.
Recipient of at least six ACPA awards, Marvalene Hughes believes strongly in one of ACPA's espoused values, generativity. Thus, much of her time is devoted to guiding and training young professionals who can increase the diversity in the professional pool, a criti­cal goal at this time in the association's history. This belief propelled her decision not to seek another ACPA elected position. She concentrated her efforts on specific appointed tasks which potentially contributed to the development of young professionals and the maturity of the profession. This does not imply passivity. To the contrary, she took advan­tage of her freedom to choose activities and commit to continued Involvement.
From 1986-89, Hughes spoke at meetings of no less than 15 of ACPA's 38 state divisions. Most of her post-presidential era was devoted to speaking engagements, usually on the topic of domes­tic and global diversity. She believes the need for expertise in the area is paramount to the success of education. She wrote about this in "A Time to Speak…" published in the June 1989 issue of ACPA Develop­ments.
In 2005, Dr. Hughes was selected as one of the top 10 Black women in Higher Education in America; Black Voices, April 2005. She recently was bestowed a high honor, "Woman of the Year," in New Orleans which is a symbol of how far Dillard has come in its recovery. She has conducted research and authored or co-authored numerous chapters and articles related to education, globalization, managing organizations, human behavior and diversity. She has served on editorial boards of major journals, and made hundreds of presentations to national and international audiences, and has given keynote addresses throughout the United States as well as in Austria, South Africa, Costa Rica, Russia, Mexico, Lithuania, China, Bermuda, Jordan, the Emirates, Ethiopia, Puerto Rico, Italy, Holland, France, and Germany.
Other than ACPA, she has served as an active leader in major national organizations including the American Association of State Colleges and Universities Presidents (AASCU) where she chaired the National African American Presidents and chaired the Women President's Group, the National Association of Land Grant Colleges and Universities where she chaired the vice presidents, and the National Association of Counseling Center Directors where she served as president. She has initiated international partnerships with the Arab American University in the Palestinian Territory (1995), the Ethiopian-African American University (1997), Hanseo University in South Korea (1997), Evora University in Portugal (1999), The University of the Azores (2001), Tamkang University in Taiwan (2002), Universite' de Cergy-Pontoise in France (2004), Communication University of China in Beijing and Universidad Regiomontana in Monterrey, Mexico (2005). In these partnerships, she served as the founding American President who guided the universities through global partnership building.
Dr. Hughes is the recipient of a number of honorary degrees, including the Honorary Doctorate of Fine Arts from her Alma Mater, Tuskegee University; the Honorary Doctor of Laws at the University of Massachusetts, Boston in 2006; and Honorary Doctorate from Brown University in 2007. She has pursued post-doctoral study at three Harvard University Summer Institutes and one institute at Oxford University, England.
In August 2006, she delivered the invited keynote address at the Great Hall of the People of the Republic in Beijing China to the international Conference of Women University Presidents. It was her third invited address on Women's issues at the Great Hall.
Hughes was a founding member of the Millennium Leadership Institute (MLI), which has trained and placed nearly fifty presidents in less than ten years in major presidencies. Hughes chairs that program for the MLI. Her simple commitment is to enable others to accomplish that for which she fought largely alone. She joins candidates in training in D.C. from beginning to end, as a volunteer and serves as their mentor, thereafter. Marvalene is a servant and steward of education.