Tom Jackson, Jr. (2009-2010)
Seventieth President
Tom Jackson, Jr. assumed his presidency of ACPA while the Vice President for Student Affairs at the University of Louisville. He first joined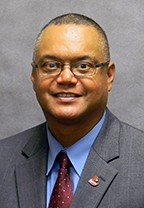 ACPA in 1988 so he could attend the Miami Convention. Jackson joined ACPA on the advice of Dr. Charlie Fey who was then the Dean of Students at St. Mary's University in San Antonio, Texas. Fey hired Jackson out of graduate school the year before. Fey was very clear to Jackson at that formative time of his career. He said in so many words,
We are professionals in this field of student development. Certainly one of our roles is to serve students and to serve them well. Another equally important, if not more important obligation – a duty, is to also serve the profession. You do this by writing, presenting, mentoring, and giving back to the profession through your associations. Jackson admits that he may have enhanced some of Fey's words a little because he has found himself saying exactly that for many years to his colleagues. Fey's message to Jackson was a very important one. It is one that still guides him today.
Fey was very active in the Commission for Administrative Leadership. He also took great pride in volunteering in the Placement Center each year. Jackson believes Fey volunteered 22 straight years before missing the opportunity. It was through the Commission for Administrative Leadership where Jackson met many people he had heard about or read about. Fey later brought him to the annual commission dinner where he was able to interact informally with several other practitioners. Before Jackson knew it, he was signed up to help on a couple of different projects. These projects kept him engaged in the commission and association, and as the years progressed, led to many other wonderful opportunities. That commission experience opened doors for Jackson. He was able to work on communication skills, newsletters, marketing, membership intake, and leadership. He recalls contributing to the beginnings of many things well established in ACPA now, 2 including some efforts on middle management, senior management, and women's leadership. Interestingly Jackson was first a NASPA member, attending the 1987 Joint Conference in Chicago as a NASPA member and he has also remained a NASPA member ever since. Jackson's ACPA involvement has included serving as a Trustee with the ACPA Foundation, faculty for the Donna M. Bourassa Mid-Level Managers Institute, Commission for Administrative Leadership Chair, a member of the 2006 annual convention program team, and the 1999 annual convention exhibits co-chair.
Jackson's 2009-10 Presidential Initiatives focused on Internationalism, Veterans, Research, and Corporate Relations. He characterized his presidency and initiatives as forward thinking, vibrant, and a world leader in student development — ACPA is uniquely positioned to impact and engage the profession. As one of the world's leaders in student development, ACPA will enthusiastically and actively inspire its membership, and the global profession, to advance knowledge and competencies, deliver professional and career development, and aggressively develop new and thoughtful strategies to serve the many different campuses and students.
Jackson's presidential priorities listed below sought to unify the association's strategic plan with his presidential vision: Becoming Truly International and Global. ACPA (and the profession) can broadly serve the international community and should discover ways now to not only have a presence internationally, but to more deliberately reach out to colleagues across the globe. Additionally, as campuses share resources and research, and students from abroad find their way to the United States, the Association must be open to the changing dynamic this may have on our campuses. Serving Veterans
This honorable group brings full scholarships to our nation's campuses. Best practices for recruiting veterans and active duty people to campus, as well as how campuses may have modified policy and services to best serve this at-risk group would be important. The influx of veterans may rival WWII. The impact that graduating veterans will 3 have on the economy is very significant. Nationally we are at the infancy stage of this phenomenon, but it is moving fast and it will soon be beyond our grasp without deliberate action. Focusing on Research ACPA's strength is inspiring new research, and one of the research needs is college mental health and veterans issues.
Although not intended to be related, there is much discussion on college campuses about the mental health challenges of students. There is also growing research on the implications, yet the root causes of these challenges have not been revealed. Why is the profession facing increased mental health issues on campus? What has occurred in the past that is now contributing to these dynamics on our campus today? Discovering why these challenges exist (at the root) will enable the profession to demand change the formula so when students do arrive on campus they are in a healthier, more stable state of mine. Developing a Sense of Giving Many practitioners are accustomed to the giving of one's time and intellect through scholarly work. That is a strength of this association and the profession. ACPA has the opportunity to envision how giving of other resources can contribute to the success of the association and its impact on student success. Cultivating relationships, an ACPA strength, is a requirement in the giving process. Identifying strategies to improve corporate relationships, establish innovative partnerships, or devise unique strategies to inspire giving in different ways is important if the association is to better serve the students at member campuses.
Although Jackson set forth an ambitious agenda for his ACPA presidency, he did serve the association during a turbulent economic downturn. Even so, new initiatives in global education, renewed interest in veteran's services, a balanced ACPA budget, and a stronger ACPA Foundation are remnants of the Association's efforts during his presidency. Further, the ACPA/NASPA Joint Task Force on the Future of Student Affairs, as well as the 4 collaborative work with NASPA (and Mike Segawa, NASPA President) on the proposal to consolidate the two associations took much time during his presidency.