Barbara A. Kirk (1964-1965)
Twenty-Fifth President
Barbara A. Kirk was the ninth woman to serve as ACPA president. The Nominations and Election Com­mittee report distributed to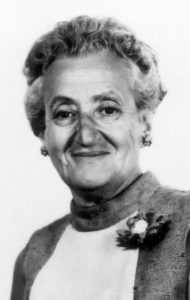 approximately 500 people who attended the ACPA Luncheon at the Boston convention on Monday, April 8, 1963 included Kirk as president-elect. She was Manager of the Counseling Center and Lecturer in Education (equated to Associ­ate Professor) at the University of California, Berkeley (UCB). She was married and the mother of a daughter.
Born and reared in San Francisco, Barbara Kirk attended Girls High School in that city and graduated in December 1923. She was business manager of the school paper, class president four times, and had the leading role in the senior class play she wrote. She was included in Terman's "Gifted" Group during high school which opened awareness to the field of mental measurement to her and established acquaintance­ship with Lewis M. Terman prior to her enrollment at Stanford University in April 1924.
Kirk became interested in psychology beginning in the second quarter at college. She received the A.B. degree (1927, Psychology) from Stanford. Employed there as Research Assistant to 1936, Terman was her adviser for the M.A. degree (1934, Psychology).
Beginning in January 1936, Kirk took additional graduate work for a year in psychology at the Univer­sity of Minnesota, where she was a Psychometrist for the Institute of Child Welfare. Then she returned to California.
Back in San Francisco from 1937 to 1946, she worked with the National Youth Administration to 1941, California State Department of Employment to 1942 and the United States Employment Service to 1946. After several months (May-September 1946) with the Oakland Board of Education, she was ap­pointed the founding manager of the Veterans Admini­stration (VA) Guidance Center at UCB, the first stu­dent counseling service on the Berkeley campus for veterans after World War II, until termination of the VA contract in June 1950. She continued the program as a self-sustaining cost-free public program for a year, however.
After serving as Lecturer and conducting a half-time private practice for several months, she was appointed Manager (founding director) of the UCB Counseling Center and continued as Lecturer of undergraduate and graduate courses. During her 25 years at UCB as she directed the Counseling Center and the office of Dean of Counseling, she pioneered a wide array of counseling services for students. When she retired from UCB in December 1973, she had a staff of 45.
At the 1952 national ACPA convention in Los Angeles, Barbara Kirk led a small discussion group on The Practical Value of Group Dynam­ics for Student Person­nel Workers at a Mon­day evening program on March 31. On Wednes­day afternoon, she pre­sented a research report on "Test Versus Academic Performance in Mal­functioning Students."
During 1952-53, she served on a nine-member Special Committee to Consider Matters of Interest to Clinical Counselors. Beginning in 1952, she chaired the ACPA membership drive in Northern California for a number of years.
Kirk was appointed to the seven-member Commit­tee on Professional Standards and Training during 1953-54. At the 1954 ACPA convention in Buffalo on Monday afternoon, April 12, she and two other people discussed the general topic Dissemination of Voca­tional Information on the College Campus. During 1956-57, Barbara Kirk served on the 20-member ACPA Policy and Planning Committee. The following year she worked with the 19-member Grass Roots Development Committee. At St. Louis in 1958, on Thursday morning, April 3, she presided at a program called The Functioning of a College Mental Hygiene Clinic.
As a result of the 1960 election, Barbara Kirk was named a delegate-at-large to the APGA Assembly. At the Philadelphia convention in 1960, she participated with three other persons on a Tuesday afternoon, April 11 program called Use of the WAIS in Counseling Students with Academic Difficulties. The next morn­ing, she presided at a session called Goals in Voca­tional Counseling: Mobilizing the Counselee.
Barbara Kirk was elected ACPA secretary in 1961 for a two-year term. At the Denver convention that year, she presided at a morning session on Wednes­day, March 29. The topic was listed as The College Counseling Service of the Future. At the final ACPA Executive Council meeting in Denver on Thursday evening, March 30, she kept the minutes. At that meeting, Kirk moved that President Craig appoint three ad hoc committees to study ACPA. Her liaison assignment for 1961-62 was with Counseling Center Directors. Also, she developed and chaired Commis­sion VII, Counseling, Testing, and Advising at its inception.
At the 1962 convention in Chicago, Kirk and others who chaired study commissions met on Saturday and Sunday, April 14-15. She was busy taking minutes (17 hours) at the five ACPA Executive Council meetings and luncheon and annual Business session. Also, she found time to participate twice on the convention program. She presided at the afternoon session on Tuesday, April 18 called Similarity of College Counselor-Counselee Personality Characteristics—A Re­search Report. On Wednesday afternoon, she participated with four other people on a program labeled Counseling Relationships to College Psychiatric Serv­ices.
Kirk took minutes of the three-day Executive Coun­cil pre-convention workshop at Boston in 1963. Also, she took minutes of the Executive Council meeting on Sunday morning, April 7, and the ACPA luncheon and Business session minutes on Monday. Total recorded minutes by Kirk at the Boston were for about 26 hours of meeting time. She attended the Thursday morning Executive Council meeting as president-elect. A mo­tion of hers that the Executive Council accept and adopt the ad hoc committee report which suggested ACPA representation in APGA by a higher education specialist was passed.
At the Boston meetings, Kirk and the other Com­mission VII members met on Sunday. On the Wednes­day morning convention program, Kirk and two other persons presented at Plenary Session III—Student Personnel Work in Higher Education: The Years Ahead, Foreign Student Advising, Counseling, and Junior Colleges.
Official transfer of the ACPA presidency to Barbara A. Kirk occurred as of January 1, 1964, because the president was unable to serve the remainder of his term. She proposed that a special project of ACPA during 1964-65 be the study of central issues of students on the college campus, and she initiated an official relationship with the American College Health Association.
The San Francisco convention in 1964 was ACPA's thirty-eighth annual meeting and the twelfth as a Division of APGA. The convention was dedicated to the memory of Dennis L. Trueblood. The national confer­ence program was held Monday through Thursday, March 23-26, and Hotel Mark Hopkins was ACPA headquarters. The ACPA program contained 55 con­tent sessions involving some 190 people.
President Kirk presided at two all-day Executive Council meetings on Saturday and Sunday, March 21-22, the annual Luncheon and the annual Business session on Monday afternoon, and the Executive Council meeting on Thursday morning, March 26. With only one exception, all those meetings were held in Hotel Mark Hopkins. Kirk opened the Luncheon on Monday with readings of excerpts from Trueblood's letters, quoted in a personal letter by Mrs. Trueblood. Harold F. Cottingham, APGA president-elect, was presented a picture of Dennis L. Trueblood for perma­nent display at APGA headquarters.
Approximately 150 ACPA members attended the Business meeting. A resolution honoring Trueblood was endorsed by those present. Kirk said that she continued the ongoing ACPA program as originated by Trueblood, with the creation of several new commit­tees and restructuring of various Commission duties and titles.
President Kirk appeared on the 1964 convention program three times. At a Tuesday afternoon session in Hotel Mark Hopkins, Kirk was the discussant on the program called Impact of Higher Education on the College Student Today. In the Fairmont Hotel on Wednesday afternoon, she was one of three presenters who spoke on the general subject Achieving Integra­tion in Career Counseling and Placement at the Col­lege Level. On Wednesday night at the Fairmont, she participated in an organizational meeting for a Califor­nia ACPA branch. ACPA membership as of May 31, 1964 was 3,780.
In the year of her elected presidency, the 1965 convention (ACPA's thirty-eighth) was held in con­junction with APGA's other Divisions in Minneapolis, Monday through Thursday, April 12-15. The ACPA conference program contained 70 content sessions. ACPA headquarters was the Capp Towers Motor Hotel, where the Executive Council meetings, Luncheon, and Business session were held and where the presi­dential suite was located. President Kirk presided at the two ACPA Executive Council meetings on Satur­day and Sunday, April 10-11. Current total member­ship was 4,622. At the luncheon on Monday, with more than 550 people in attendance, she delivered her presidential address titled "Identity Crisis— 1965." Then she presented the past-president certificate to Dorothy Trueblood, in recognition of her husband's devoted service to ACPA. She presided at the Business session that followed.
In May 1968, Kirk's hopes for ACPA were: "…that it will have the best of both possible worlds in that it will remain within the context of APGA and benefit from cross fertilization while leaving roots in the higher education context."
Author and co-author of close to 90 publications, they were a source of much satisfaction to her. They were diversified, although the bulk had to do with college counseling and its efficacy.
Before her death in August 1986 at the age of 79, the ACPA Executive Council approved a resolution honoring her during the 1986 ACPA national conven­tion in New Orleans. The resolution was printed in the June issue of ACPA Developments that year. Another article, "Barbara Kirk Remembered," written by Char­les Lewis, was printed after her death. Barbara Kirk was survived by her daughter, two grandchildren, and her husband, Leopold.