Phyllis L. Mable (1979-1980)
Fortieth President
ACPA's 40th president, Phyllis L. Mable, was the 13th woman to preside in that high office. The "adven­turous journey" occurred for her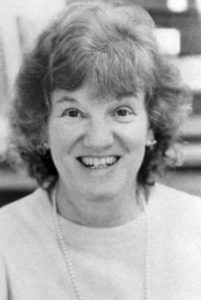 during the association's 55th year which closed the 70s decade and began the 80s. At the 1978 national ACPA conven­tion in Detroit, official announcements of her election were made during the Executive Council meeting on March 10 and at the Business session on March 14. She was Dean of Student Services and Assistant Professor of Education (1971-82) at Virginia Com­monwealth University (VCU).
Born in Delhi, New York, Phyllis Mable attended Cornell University where she earned her B.S. (Home Economics, Child Development and Family Relation­ships) in 1956. Indiana University (IU) awarded her the M.S. in Education (College Student Personnel Administration) in 1959. She attended the Institute for Educational Management at Harvard University during the summer of 1985.
During her early employment career, she taught nursery school children in Winnetka, Illinois for a year (1956-57), and then she accepted a Resident Assistant position at IU for the next two years while studying for her master's degree. At the University of Florida from 1959-71, she was first Resident Counselor for two years and then Senior Counselor for Women's Resi­dence Halls. When the residence halls became coed, she was appointed Assistant Director of Housing for Educational Programs. During the summer of 1982, Mable accepted a new position as Vice President for Student Affairs at Longwood College in Farmville, Virginia. She served in this position until 2001 at which time she retired.
Author, co-author, or editor of 28 publications, two of the three new publications announced by the ACPA Media Board chairperson that were prepared and available at the Boston convention in 1980 during Mable's presidency included her joint editorships for Personal Education and Community Development in College Residence Halls and Creating Community in Residence Halls: A Workbook/or Definition, Design and Delivery. Those two new publications distributed at Boston gave prominence to student development, design, and specific plans for the profession's progress toward professionalism. Mable has been a program participant and speaker at 40 workshops and confer­ences. Also, she has been consultant at no less than 30 colleges, universities, and conferences. Invited to contribute "A Time to Speak…." column for the Au­gust 1987 issue of Developments, she wrote a state­ment about residence halls, a topic of great interest to her.
Phyllis Mable joined ACPA/APGA in 1959. Among her involve­ments and activities, she was a member of ACPA's Commission III, Student Residence Pro­grams, from 1968-88 and chaired that Com­mission during 1970-72. During 1970-74, she was that Commission's work­shop chairperson and coordinator when eight regional workshops devoted to student development and residence education for housing professionals were conducted. She chaired ACPA's Residence Hall Education Symposiums dur­ing 1975-82 when eight were conducted. Her appoint­ment to the ACPA Continuing Education Committee was announced at the Executive Council meeting in April 1973 at Cleveland. At the 1974 convention in Chicago, Mable was introduced as the treasurer-elect. At Atlanta during the 1975 annual convention at a March 8 Executive Council meeting, she began her two-year term as treasurer and presented the 1975-76 ACPA budget. Her treasurer's assignment neared com­pletion at the Denver national convention on March 25, 1977, when she and the new treasurer presented a document which summarized total income and ex­pense for over a six-year period, 1971-77.
As president-elect, she attended the two Executive Council meetings for new officers at the 1978 national convention in Detroit. At the mid-year Executive Council meeting that fall in Erlanger, Kentucky, she proposed and the Executive Council approved Boston as the site of the 1980 national convention. At ACPA's national convention in Los Angeles during the March 25, 1979 Executive Council meeting, she presented the final report of the committee that studied the Status of ACPA Committees, Task Forces, and Proj­ects and reported on needed bylaws changes.
Phyllis Mable shared her "Presidential Communiqué" with readers in five different issues of ACPA Developments. A major goal of her administration was to provide additional structure and direction for the Commissions, so that their activities would be in­creasingly thematic and intentional.
Mable presided at the Executive Council meeting for new officers at the conclusion of the 1979 Los Angeles national convention on March 29. During the mid-year meetings of the Executive Council in the Marydale Retreat Home in Erlanger, Kentucky, 15 commission chairpersons and 6 state division presi­dents attended. The entire group discussed a stimulus paper entitled "The Profession's Progress Toward Professionalism: Challenges and Opportunities for ACPA" prepared by Lou Stamatakos. The Awards and Commendations Committee was renamed the Awards, Commendations, and Memorial Recognition Commit­tee. A memorial recognition of former President Eliza­beth A. Greenleaf, who died suddenly on May 28, 1979, was discussed and unanimously supported by the Executive Council. At their meeting on November 2, 1979, the Executive Council approved a motion that ACPA Developments publish a summary of the signifi­cant activities and actions of the mid-year Executive Council in the next issue following the meeting. Membership continued to decline. On December 31, 1979, the count was 7,622.
Headquarters hotel for ACPA at the 1980 national convention in Boston was the Sheraton. The conven­tion theme during April 27-30 was "Sounding the Call for the 80s: Diversity and Development." Despite the rain and winds of a three-day storm in the north Atlantic region, 2,872 registrants, the largest atten­dance to date, participated in at least 16 pre-convention workshops and more than 350 presentations. A record number of job hunters (1,045) took advantage of the newly combined placement services of APGA and ACPA at the Career and Placement Center. They communicated with almost 788 employers. More than 600 graduate student convention registrants were issued a copy of The Management Primer, a new ACPA Commission I publication issued to each new profes­sional.
Mable chaired Executive Council meetings and a Business meeting during the annual convention. The Business meeting, in accordance with a motion ap­proved by the Executive Council on March 25, 1979 at Los Angeles, was scheduled for one hour on the second full day (April 29) of the convention with no competing programs for that time slot (11:00 a.m.). One of the announcements during the Business meeting was that the Professional Development and Consultation Committee reported 14 workshops presented during the past year with 10 scheduled for the future. Over 2,282 participants were involved in the workshop program thus far that year. Arkansas was approved a state division at the 1980 Boston convention.
Following her presidency in 1980, Mable was ap­pointed to chair the ACPA Professional Standards and Issues Task Force established by the Executive Coun­cil at the mid-year meeting during her term to create, disseminate, and monitor professional standards for student services/development programs. During June 9-10, 1979, she had attended a meeting of prominent higher education organization representatives serving student affairs professionals about accreditation is­sues. This group decided to form and establish a Council for the Advancement of Standards for Student Development Services/Programs (CAS). ACPA joined CAS and Mable appointed two representatives to that organization. She continued to chair the task force to CAS for 10 years until the summer of 1989 at which time she began to serve as its new president. She served as CAS President from 1989-2001. When CAS made the decision to hire a part-time Executive Director, Phyllis was selected to serve in this role and continues in 2009 to provide leadership (service, stewardship, and spirit) to this important professional organization located in the ACPA Office at One DuPont Circle in Washington, DC. ACPA is a very important and significant member of CAS (36 Member Associations). In her work with CAS, Phyllis continues to focus her dedicated and devoted attention to the development of quality programs and services for students.
During 1980-81, she served on the Long Range Planning Committee. A member of the ACPA/APGA Relations during 1981-84, she chaired External Rela­tions for ACPA during a four-year period, 1981-85. In 1982, Phyllis was appointed to chair the ACPA Stan­dards Development Task Force. During 1984-85, she served on the following: Government Relations, Advo­cacy Activities and Resources, Committee on Conven­tion, and Dissemination of CAS Standards, the last being a special one-year assignment. Phyllis Mable was chosen by membership votes twice for three-year terms to represent ACPA on the AACD Governing Council (1982-85 and 1987-90). A member of the ACPA/NASPA Task Force on Governmental Relations during 1983-85, she co-chaired the ACPA/NASPA national convention at Chicago in 1987, a position she graciously volunteered to serve. At the opening ses­sion in the Hyatt Grand Ballroom, she introduced guests Esther Lloyd-Jones and C. Gilbert Wrenn, participants in the April 1937 conference which pro­duced The Student Personnel Point of View." In 1990, Phyllis was appointed to a committee of ACPA past-presidents to decide about retaining affiliation with AACD. She was assigned to help the Executive Council look at philosophical and strategic planning issues.
During the decade of the 80s, Phyllis Mable was a content program participant at each ACPA national convention. When the annual national convention dates for AACD and ACPA conflicted in March 1988, she was keynote speaker for the ACPA Luncheon at AACD in Chicago on one day then flew to Miami for two presentations the next day at the ACPA national convention! Her Luncheon address was titled "Weav­ing the Student Affairs Future in Higher Education."
At the Chicago national ACPA/NASPA convention in 1987, a resolution was approved that expressed profound appreciation to her for continuous dedication to ACPA and her colleagues. Phyllis Mable has received many ACPA honors: Outstanding Commission Service Award (1972), selected as one of the Senior Professionals to host the annual Annuit Coeptis dinner for emerging professionals (1981), Professional Service Award (1983), Senior Scholar Award (1987-92), and the ACPA Lifetime Achievement Award (2001). In Jackson, Mississippi on November 4, 1982, the Southern Asso­ciation for College Student Affairs awarded her the Melvene Hardee Award for Outstanding Service to Student Personnel Work, and she was the 1984 recipient of the IU Elizabeth A. Greenleaf Distinguished Alumnus/a Award.
In her correspondence of March 26, 1990, former president Phyllis L. Mable shared a message for ACPA's future:
ACPA has an enormous opportunity and obligation to influence the future of total student development on college and university campuses, especially as under­graduate education is studied and improved. ACPA could become the setter of tones and trends as involve­ment in and reflection about learning, both inside and outside of the classrooms, becomes the focus of aca­demic and social integration of students into their own education.
The challenge for ACPA is now. The future opportu­nity (distinction) for ACPA rests in guiding and shap­ing undergraduate education as it discovers new avenues for student performance, learning, and in­volvement— especially as the community of student and academic affairs becomes the purposeful commu­nity for total student development—ACPA's distinctive focus and future? ACPA requires some strong Intellec­tual vision and leadership.