Thirteenth President
Thelma Mills was the ACPA presidential winner in the 1949 elections for a two-year term. She was the fourth woman to be elected president.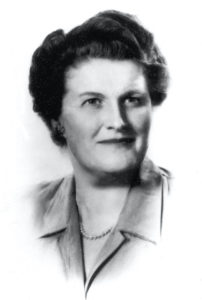 The announce­ment of her elevation to ACPA's highest office was made at the Business session in Chicago on Monday, April 18, 1949, during the twenty-second annual convention. She was Director of Student Affairs for Women at the University of Missouri (Columbia), a position she accepted in 1938. Thelma Mills was ACPA's vice-president during 1948-49, and she chaired the CGPA Study Commission at the time of her elec­tion.
She resigned as president the next year, the first of two ACPA chief officers to do so. She became the Executive Director of the Young Women's Christian Association (YWCA) of the City of New York. When she left Missouri to take over her new responsibility on September 1, 1950, she became director of the entire YWCA program in New York City (the largest in the world), including supervision of a staff of 511 and the operation of four branch YWCA's and five residence halls.
Born on a western Nebraska farm, Thelma Mills moved with her family to the West Coast where she graduated from Forest Grove (Oregon) High School in 1919, valedictorian of her class. She enrolled at Pacific University in her hometown for two years before transferring to Willamette University. At Willamette she was a Senior Scholar in Sociology with minors in History and Psychology and received her A.B. degree in 1923. In 1954 Willamette honored her with a Doctor of Humanities degree, the first woman to receive such an honor from that university.
Thelma Mills taught school a year (1923-24) in Roseburg, Oregon. After she attended a summer ses­sion at the University of Oregon, she taught at Ray­mond, Washington (1924-25). Requested to go to North China by a former Willamette graduate, she taught English in a Methodist Boys' School, the Hut Wen Middle School, in Tientsin during 1925-27. She returned to the United States to become Director of Hoyt Hall at the University of Wyoming for a year.
Chosen a Felix Warburg Fellow in Personnel (Coun­seling and Guidance), she entered Teachers College, Columbia University (TC) in 1928 and specialized in College Administration. Thelma worked for Ben Wood. Esther Lloyd-Jones was one of her advisers for the M.A. degree (1929). Mills continued study at TC for another year then accepted an appointment as Dean of Women at Whitman College in 1930. During the summer of 1933, she studied Psychology at the University of South­ern California.
Thelma Mills first became a member of ACPA during the 1935-36 membership year, when she was Dean of Women and Lecturer in Sociology at Whitman College (Walla Walla). ACPA president was Esther Lloyd-Jones from TC, where Mills was awarded the Felix Wallburg Fellowship in Person­nel and where she received her master's degree in 1929. Her first attendance at a national meeting was at New Orleans in 1937. During 1939-40, Thelma Mills chaired the ACPA Arrangements Committee, and she was a member of the Regional Meetings Commit­tee. She first appeared on the ACPA convention pro­gram at St. Louis in 1940, when she was in charge of the informal social hour late Wednesday afternoon, February 21. At the ACPA Business session prior to the social hour, she was elected one of the five mem­bers-at-large on the Executive Council. At the second ACPA Business session held on Friday afternoon, February 21, 1941, in Atlantic City, members of the Executive Council appointed her to the vacancy cre­ated when Ruth Strang resigned her position on the Executive Council for 1941-42.
Thelma Mills was a member of the CGPA Planning Committee for the January 1943 work sessions held instead of the usual annual convention. Again, she was selected as ACPA member-at-large for 1943-44, and she was present at ACPA's annual Business meeting at Hotel Biltmore in New York City on Friday, November 19, 1943. Early in 1944 she was listed among other ACPA officers as secretary (the eleventh) for a two-year term, 1944-46. She was re-elected to a second two-year term in 1946. She chaired the Membership Committee during 1944. Later that year the names of 55 new ACPA members were announced. She retained her Membership Committee assignment through the first post-war convention in 1947 at the Fort Hayes Hotel in Columbus. She started the P-O-G with Fred McKinney (also from the University of Mis­souri) and was co-editor for two years.
At the Chicago convention in 1948, Thelma Mills completed the fourth year of secretarial duties for ACPA. Then among the election results announced at the annual Business session that year (at the Stevens Hotel), she was listed as the new ACPA vice-president for 1948-49. During that year, she chaired the CGPA Study Commission of 11 members that was charged with the responsibility of studying professional quali­fications.
During the annual CGPA convention at the Stevens Hotel in Chicago, Monday through Thursday, April 18-21, 1949, she was a participant on the "Council Day" program on Tuesday morning, April 19, the day after the announcement that she was elected ACPA president. She presided at the opening CGPA general session, when the members of the Study Commission, representing nine national organizations, presented their Report before interested members of the con­stituent groups. Later during the morning, scheduled discussions of the Study Commission Report were held.
During 1949, President Mills continued to chair the CGPA Study Commission, and after the CGPA convention— planning meetings in Atlantic City on October 19, 1949, two representatives were appointed to work with the CGPA Committee to Consider Unification. She was one of three presidents who were members of a committee to urge their respective organization members to contribute to the preparation of a code of ethics for counselors in the use of occupational infor­mation.
Besides the appointment of Program Committee members and the selection of the 1949-50 Atlantic City Convention Committee chairmen, Mills and the ACPA Executive Council members revised the com­mittee structure. The Membership, International Re­lations, Nominations, and Professional Standards and Training Committees were retained. The Research and Publications Committee was divided to form two committees. The following three additional commit­tees were organized: Local Arrangements, Proceed­ings, and Public Recognition. ACPA membership as of March 1950 was 894, according to President Mills.
ACPA's twenty-third annual convention was held in conjunction with the other CGPA constituent organi­zations in Atlantic City, Monday through Thursday, March 27-30, 1950. The theme of the convention was "The Personnel Profession: Achievements and Objec­tives." She presided at the ACPA Executive Council meeting on Sunday, March 26, and she presided at two ACPA Business sessions to receive committee reports.
Mills presented the report of the Study Commission at the opening "Council Day" program on Tuesday morning, March 28. The report of the Committee to Consider Unification was scheduled next and discus­sion followed. An important proposal was made to reorganize CGPA into an International Personnel and Guidance Association. As recommended by the Com­mittee to Consider Unification, The CGPA reorganiza­tion plan was taken back to the constituent organiza­tions for consideration during 1950-51. Final action was postponed until the 1951 convention.
The 1950 ACPA convention program included three general sessions. Two of the general sessions included a symposium, each with four topics for presentation, and the other session included a main speech with two illustrative studies by two additional speakers. In addition, section meetings were held. Twenty papers were read.
Mills presented her presidential address titled "No Vain Imaginings" at the ACPA Luncheon held on Monday. Among the invited older guests (who paid for their own luncheon) at the head table, three were past presidents of ACPA: A.J. Brumbaugh, Esther Lloyd-Jones, and Helen Voorhees. Within a few months, Thelma Mills resigned as ACPA president.
She served as Metropolitan Executive Director of the New York City YWCA until 1957 then took the same position in Houston, Texas, where she could assist the YWCA program of racial integration. She retired 10 years later. Mills became a World YWCA Volunteer Consultant in Program and Staff Develop­ment for the Taipei YWCA from 1968-72. She planned and supervised the building of a 12-story YWCA in Taipei where she lived when it was completed. She returned to China for another year of volunteer service during 1977-78 and 1979-80.
In 1975 Mills became Vice President of the Board of Trustees of Marylhurst Education Center for Lifelong Learning, formerly Marylhurst College. The Center is an innovative, non-traditional institution initially accredited for both the B.A. and M.A. degrees by the Northwest Association of Schools and Colleges on June 20, 1977. Thelma helped pilot through the first two years. Marylhurst College was formerly the oldest four-year women's college in the Northwest.
Credited for assisting hundreds of students and adults to a fuller development of their own potentials, Thelma Mills outlived two brothers and three sisters. She died on December 23, 1995 in Lake Oswego, OR.