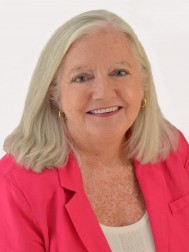 SIXTY-FOURTH ACPA President
Ms. Myra F. Morgan was born in Dublin, Ireland, but grew up in Indianapolis, Indiana. Morgan graduated from Indiana University. She was fortunate enough in graduate school to have both Dr. Bob Shaffer and Dr. Betty Greenleaf as her major professors. Both of them encouraged her to get actively involved in professional associations. Morgan completed all of her formal education in Indiana, though she has lived and worked in Florida for the past 26 years. At the time of her ACPA presidency, Morgan was the Associate Director of the J. Wayne Reitz Union and Director of Student Activities at the University of Florida. While ACPA President she became the Director of the J. Wayne Reitz Union after the Director was deployed to Afghanistan with the US Army. Morgan is still at the University of Florida and now serves as the Director of External Relations for the Division of Student Affairs.
Morgan's involvement in ACPA began through Commission IV, now the Commission for Student Involvement. As a graduate student, she accompanied Dick McKaig, a mentor and colleague at Indiana University, to a Commission IV meeting. She immediately got involved and was welcomed to join the group as they addressed CAS standards for student unions. Morgan became very involved in the Commission and eventually served as the Commission IV chair.
Additionally, Morgan was active with several ACPA Annual Convention planning teams. She worked on the 1994 Indianapolis Annual Convention, one of the first after ACPA dis-affiliated from AACD. Morgan then served as the Convention Chair for the 2001 convention in Boston, Massachusetts and significantly exceeded revenue goals despite a record-setting blizzard. Since serving as ACPA president, Morgan served as the Local Arrangements and Volunteer Coordinator for the 2007 Joint Meeting in Orlando and has coordinated the Awards luncheon for the 2010, 2011, and 2012 annual conventions.
With her extensive experience and expertise working in student activities, Morgan was well-equipped for her presidency. After the 2003 annual convention in Minneapolis, Carmen Neuberger, ACPA's Executive Director retired. As a result, much of Morgan's presidency was spent searching for and hiring a new Executive Director. After an extensive search, Morgan and the Executive Committee hired Gregory Roberts, a former ACPA president and vice president for student affairs.
In addition to hiring a new Executive Director, Morgan's presidency was characterized by attention to rebuilding internal systems and creating infrastructure to make ACPA a more efficient organization. When AAHE closed its doors in 2003, Morgan worked with the National Center for Higher Education to procure the space and with Teri Bump and American Campus Communities to fund the creation of the ACC Library, which expanded ACPA's office space. Further, Morgan reigned in the ACPA budget and worked collaboratively with Mela Dutka to ensure that the 2004 Philadelphia Annual Convention was a financial and educational success.
These successes did not come without challenges and setbacks. Hiring the Executive Director meant Morgan had to travel to Washington, DC monthly. Through that work, she evaluated all of ACPA's services and helped the organization become a more efficient organization. Further, there was much leadership transition during Morgan's presidency, including the editorship of the Journal of College Student Development and About Campus. The rebranding of ACPA began during Morgan's presidency and the aftermath of the Blue Ribbon Committee on the possible consolidation of ACPA and NASPA had been voted down just prior to Morgan's presidency. As in all of Morgan's work, she handled each of these challenges with professionalism and determination to leave a legacy of success.
Since finishing her term as ACPA president, Morgan has stayed very involved in ACPA and NASPA. She served on the Task Force on the Future of Student Affairs, a group that initially looked at the prospect of an ACPA/NASPA unification in 2008. Morgan applied her vast event planning knowledge to a sub-group on professional development for one, new association. She will serve on the NASPA 2012 Annual Conference committee and is a new 2011 ACPA Foundation Trustee. On top of her great dedication to the University of Florida, ACPA, and student affairs, Morgan continues to spend time with family and friends.