Sixty-Third President
As the sixty-third president of ACPA, Paul Shang was the Director of the HELP/Success Center at Colorado State University. He was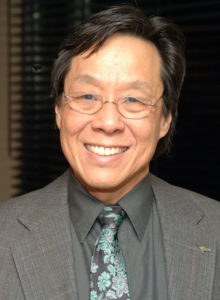 encouraged to attend his first convention by Laura Macagno-Shang, Celerstine Johnson, and Ursula Delworth, which was the joint convention with NASPA in Chicago in 1984. Shang's early involvements with ACPA included serving in various standing committees especially the Standing Committee for Multicultural Affairs, participating in convention planning teams, and giving program presentations. He has attended and been an active participant at every ACPA Annual Convention since the 1984 joint convention with NASPA. Shang continues to be involved with ACPA as a member of the ACPA-College Student Educators International Books and Media Board and a member of the ACPA Ethics Committee. He is a 2005 Diamond Honoree recipient and was recognized with the Annuit Coeptis Senior Professional Award in 2004. Earlier in Shang's career, he served on the Journal of College Student Development Editorial Board and chaired the Affirmative Action Committee from 1993-1997.
During Shang's presidency, ACPA expanded in its inclusion of two-year, transfer, and proprietary institutions as part of the ACPA membership and emphasized the importance of recognition of these educational experiences at the Annual Conventions. Further, ACPA was encouraged to develop partnerships with other student affairs associations such as NODA, ASJA (now ASCA), and NACADA. Despite a difficult economic environment, the ACPA convention in Minneapolis was very successful and an outstanding group of ACPA representatives was appointed to serve on the Blue Ribbon Committee to explore consolidation with NASPA, a topic which was initiated again during Shang's term. Due to the firm foundation developed by the Blue Ribbon Committee, the discussions culminated in the spring of 2011 when voting occurred by the memberships of both organizations.
Most recently, Shang co-edited with Dr. Kristen Renn, Biracial and Multiracial College Students, which was published in 2008 and is No. 123 of the Jossey-Bass New Directions in Student Services series. He also has a chapter in the publication entitled An Introduction to Social and Historical Factors Affecting Multiracial College Students. Shang continues to make presentations at ACPA conventions and looks for opportunities to be active professionally and to serve the Association. He enjoys a happy life shared with Laura Macagno-Shang, family especially grandchildren, parents, and wonderful colleagues. Additionally, Shang recently earned his black belt in Tae Kwon Do.