Sixty-Eighth President
Vasti Torres assumed leadership as the 68th ACPA President while she was an Associate Professor at Indiana University, Bloomington.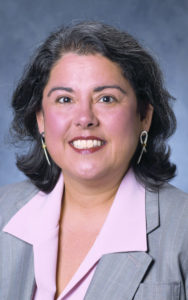 Torres first became involved in ACPA through the faculty in her master's program at the University of Georgia where she also completed her Ph.D. She was involved with the Standing Committee for Multicultural Affairs and the Latino Network. Additionally, Torres served as Program Chair for the 2006 ACPA Convention in Indianapolis. She was also an Emerging Scholar and was active with the Commission on Administrative Leadership before assuming her role as the first Latina president of ACPA.
During Torres' presidency, ACPA smoothly and successfully implemented a new governance structure and established mechanisms to make sure communication between the new Governing Board and Assembly was smooth and transparent. In an effort to orient the efforts of the new Governing Board, she created a strategic plan for the Association which incorporated voice from among the membership and leaders. The task of establishing the priorities took most of her presidency and the implementation was handed over to next President. During her presidency Torres worked with her NASPA counterpart and created the Joint Task Force on the Future of Student Affairs; the first task force that did not appointment individuals to represent the individual associations, instead both associations approved the entire membership of the taskforce. Amidst the challenge of implementing a new governance structure and overcoming a lack of trust among standing committees, Torres did an excellent job in re-centering ACPA on its values.
During this year the Virginia Tech shootings took place, which has influenced student affairs practice by establishing campus wide notifications and threat assessment teams on campuses. Because of her role as a researcher, Torres was asked to be part of an expert group for a joint Department of Education, FBI, and Secret Service which resulted in the publication: Campus Attacks Targeted Violence Affecting Institutions of Higher Education.
The ACPA Atlanta 2008 Annual Convention was marked by some rain, which broke the drought Georgia had been experiencing that year. Further, ACPA landed in Atlanta just following a devastating tornado that destroyed much of downtown. Despite the inclement weather, the Atlanta convention was a tremendous success. The pairing of Torres as president and Sue Saunders, another faculty member, as convention chair meant that there was an increased focus on learning and educational outcomes. In that vein, the 2008 convention was the first to use professional competencies as an organizing framework for convention programs. The educational caliber of the 2008 convention set the bar high for those that followed.
In addition to her many responsibilities as a faculty member and ACPA leader, Torres' book Negotiating the Complexities of Qualitative Research was published in 2006, she traveled to Italy and Belize, and became an Associate Editor of the Journal of College Student Development. Since completing her term as ACPA president, Torres completed her third book and began on her fourth and received the NASPA Contribution to Literature and Research Award.