Dennis L. Trueblood (1963-1964)
Twenty-Fourth President
In the election of 1962, Dennis L. Trueblood be­came the sixteenth man to attain ACPA's highest office. Trueblood was present at the ACPA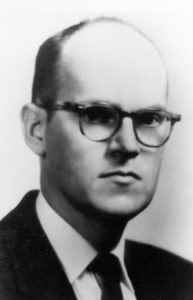 Executive Council meeting on Saturday evening, April 14, 1962, in Chicago when his name was announced as president-elect. He was professor of Higher Education and Coordinator of the College Student Personnel Gradu­ate Studies Program at Southern Illinois University. Dennis Trueblood was 37 years of age, married to the former Dorothy Drown, and the father of a son and daughter.
Born in rural Vigo County near Prairie Creek, Indiana, Trueblood graduated from Honey Creek High School in 1943 at Terra Haute. That fall he enrolled at Indiana State University. His major at entrance was Commerce. A desk clerk in the Student Union Build­ing during his last three years at Indiana State, he was president of his junior class and named outstanding senior man. He received the B.S. degree in 1948, and then he enrolled at Indiana University. He was granted the M.B.A. degree (1949, Personnel Management and Counseling).
For the next five years at Indiana University, while he studied for his doctorate, Trueblood was a College Counselor and Teaching Assistant. He was the recipi­ent of the Ed.D. Degree in 1954 (Guidance and Coun­seling). The title of his dissertation was "Selected Characteristics, Including Academic Achievement of Employed and Nonemployed Students in the Indiana University School of Business."
During 1954-56 he was Director of the Office of Aids, Scholarships, and Awards at the University of Kansas. From 1956 to December 1957, he served as Assistant then Associate Director of the Commission on Educational Organization of the National Confer­ence of Christians and Jews in New York City. He left New York City to accept appointment as Assistant Director then Coordinator of Student Affairs (Train­ing) and Associate Professor of Education at Southern Illinois in January 1958. Trueblood was promoted to full Professor in 1962 and named to chair the Depart­ment of Guidance in the summer of 1963.
At the 1954 ACPA convention in Buffalo, Trueblood was appointed P-O-G Proceedings editor and was placed in charge of records for the conventions. Also at that convention, Trueblood served as one of four discussants on the Participation of Students in Col­lege Administration panel, was the recorder at the Civil Liberties on the College Campus session, and was one of five discussants on the general topic Communication and Interpersonal Relations in Student Personnel Administration.
At the 1955 Chicago convention in the Conrad Hilton Hotel, Trueblood was one of three persons who dis­cussed the general topic of Relationship between Personnel Facilities and the Activities Program. He co-chaired a discus­sion group at the 1956 ACPA convention program in Washington, DC.
During 1956-57, Trueblood was one of 15 persons who served on ACPA's Program Committee in prepara­tion for the 1957 national convention in Detroit.
He was one of 26 Program Committee members during 1957-58. At St. Louis in 1958, he participated in the program The Role of the Counselor in Dealing with Moral and Religious Issues.
Trueblood was one of 30 members of the 1959 ACPA Cleveland convention Program Committee, and the Membership Committee chair considered him ACPA "recruiter extraordinary." In the 1959 ACPA election, Dennis Trueblood was selected to serve as a member-at-large on the Executive Council during 1959-61. He attended four Executive Council meetings during the Cleveland convention, the annual Business session, and appeared on two programs: Responsibility of the College for Race and Religion in Fraternities and Sororities and Organizational Programming and Group Size.
During 1959, Trueblood was listed as the ACPA state membership chair for Illinois. At the 1960 ACPA convention in Philadelphia, Trueblood was present at the Executive Council meeting, attended the Busi­ness session, was listed on a program with eight other persons who spoke on Training of Student Personnel Workers, and also spoke on the topic of Merits of Undergraduate versus Graduate Student Residence Hall Counselors. He attended the Executive Council meeting held on Thursday morning, April 14.
Dennis L. Trueblood chaired the 1961 ACPA con­vention Program Committee. At the ACPA Executive Council meeting, Trueblood reported on the plans of his Program Committee and he attended the two other Executive Council meetings and the second Business session. Trueblood also appeared on the program Counseling and Moral Values. Later In 1961, he was named Professor of Higher Education at Southern Illinois University.
At the 1962 ACPA convention In Chicago when he was announced as the new president-elect, he was present at all four Executive Council meetings and attended the Business session. He appeared on the program titled Regional Accrediting Agencies Stan­dard Setters for the College Student Personnel Pro­gram.
Trueblood was a member of the ACPA Steering Committee which met in Washington, DC on May 23-24, 1962, to outline possible areas for the ACPA Self-Evaluation Study Committee. At the Boston conven­tion in 1963, President-elect Trueblood attended the three-day convention workshop and the Executive Council meeting. He attended the Business session following the ACPA Boston Town Meeting. At the Business session he presented the Self-Study Com­mittee Report as revised and accepted by the Execu­tive Council. The Executive Council voted to accept and adopt the statement prepared by an ad hoc committee (chaired by Trueblood) to have a higher education specialist for ACPA to work out of APGA headquarters. His name appeared twice on the annual convention program. He chaired a group of four per­sons who discussed The Professional Education of Student Personnel Workers in Higher Education Workshop Reports and he and two other people made presentations in Plenary Session IV— Student Person­nel Work in Higher Education, The Years Ahead, Research, Administration and Professional Educa­tion.
During 1963, he chaired the ACPA delegation to the Inter-Association of Coordinating Committee founded in 1958 and changed to Council of Student Personnel Associations in Higher Education (COSPA) in 1963. At the end of October 1963, ACPA membership totaled 3,397. In his last message to the ACPA membership, he spoke optimistically about ACPA's future In APGA.
Author of over 50 journal articles and other publi­cations, Dennis L. Trueblood, who served the presi­dency of ACPA since May 1, 1963, resigned on Janu­ary 1, 1964. He died undergoing open heart surgery in a Chicago hospital five weeks later, when he was 38 years old. He was survived by his wife, two children, parents, and sister.
Barbara Kirk, who assumed the ACPA presidency upon the death of Trueblood, said:
No previous President of our Association has ever devoted more time and energy to activities and policies and concerns which required limitless attention, than Dr. Trueblood. The entire membership of ACPA has lost a leader who represented their Interests in every phase of his professional life, whether it was on the campus of Southern Illinois University or at the White House Conference on Children and Youth in 1960, or at Executive Council meetings in Washington at the National Headquarters of APGA. There will be few Presidents in the future with his stamina and drive. It was a privilege and an honor to have known and worked with him.
On March 23, 1964, at the ACPA Annual Business Meeting in San Francisco an "In Memoriam" resolution was endorsed by approximately 150 members attending.
In May 1985 the Illinois College Personnel Associa­tion Executive Board established an annual award to recognize individuals in that state who made signifi­cant contributions to student affairs. They created the award in Dennis Trueblood's name to honor him.