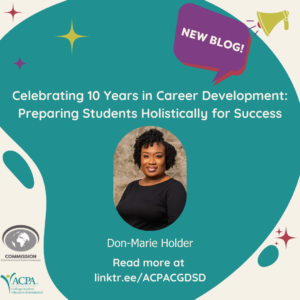 Celebrating 10 Years in Career Development: Preparing students holistically for success
 Written by Don-Marie Holder, 2022 CGDSD Scholarship Recipient
Transitions
When I joined my alma mater ten years ago, little did I know the depth to which I would have an opportunity to work with students to prepare them holistically for success. As a clinical psychologist, I moved from supporting people with mental illness to collaborating with students on their career-planning journey. This transition continues as a twofold celebration because my first day was on my birthday. It remains a bittersweet time because my work anniversary is in August, one of the busiest times in the academic calendar. This year represents my tenth year in this role and the following are some memorable moments and highlights.
Reflecting on my first few weeks, I recall learning the ins and outs of welcoming a new Cave Hill Blackbird, especially the chants. I was a member of a small but dynamic team with the opportunity to do more than what career services entail. I directly impacted lives and mental wellness in many ways in the Office of Student Services and Development (OSSD) at The UWI Cave Hill Campus. Cave Hill, located in the Caribbean island of Barbados is known for being one of the most diverse campuses of the UWI. There are various opportunities for our just under 6000 students, including out-of-classroom activities. Many of these experiences are coordinated by the OSSD and influenced by our vision 'to foster innovative out-of-classroom learning experiences that promote student engagement (campus & community life), lifelong learning, and global citizenship.'
Career Services Support in a Caribbean context
Like many spaces, strong academic performance is often seen as the most vital measure of personal and professional success. Increasingly, however, the value of integrating career and community-building experiences is equally valuable to achieving lifelong success. According to the Organization for Economic Co-operation and Development (OECD) (2018), the earlier the experiences are integrated, the greater their value is in attaining success.  Therefore, being a part of a small, multi-service unit offers several creative and sometimes challenging avenues to realize this.
Unlike many higher education career spaces, many services are provided by a single student service professional with limited digital support. This also facilitates the office making transitions such as an orientation office, a careers services office, to a crisis intervention space based on the academic season or situation This reality has allowed me to develop and grow in my career and student development competencies. Dexterity has become necessary for persons worldwide given the future of work and, more recently, the global health crisis. Whether seasoned, midway, or new to the work environment, modeling these attitudes and behaviors serves students. They can connect career competencies and humility, alongside the technical knowledge and roles they seek, including emerging roles. For example, one first-generation student who coupled their academic involvement with student leadership and volunteering within their community shared the skills gained from these experiences in a video when being interviewed for subsequent scholarship and job interviews. This student also gained a global internship, which later translated to a full-time role with that company.
Through civic activities, sports, and subject-related experiences, students can visualize, explore and identify potential career ambitions and attribute relevant to inventing innovation, and campaigning. Inventors produce something new, innovators do things in a new way, and campaigners advocate for specific causes (OECD: Career Guidance and Employer Engagement; 2018). Such insights facilitate the concretizing or changing of the course of academic and/ or professional direction. Scholarships, mentorship, and sponsorship further assist in leveling the playing field and provide access to students to actualize their career plans. These experiences also provide students with evidence of the potential contributions they can make, including non-traditional and novel ones. In particular, the First Year Experience (FYE) program is one area where I have observed this. Collaboration and information sharing is fostered in a group space for students. They identify opportunities for global access while increasing self-awareness yet nurturing a sense of self and a self with others. 
Resiliency and Career Services
Performing a Career Services role in a Small Island Developing State requires creativity, relationship building, and tenacity. Scenarios are often not explored in textbooks, case studies, and the like but are met head-on because of community centeredness that filters through our global alumni network. Students learn while building grit and overcoming obstacles in pursuit of professional goals while identifying strategies to address them. These dimensions include financial, disability (temporary or lifelong), and familial. Moreover, students have continued learning under extreme natural disasters, such as severe hurricanes, volcanoes, and, more recently, a pandemic. The career services increased alumni interaction with students in a group and at the individual level, primarily through mentorship program initiatives. 
In this environment, experiential opportunities have become fewer. Also, job opportunities are rarely listed on the few available job boards. This has further emphasized the value of alums and other strategic partnerships to identify and connect students with practical exposure. The benefits of advanced digital options to work and play were realized, but this has also come with immediate and significant job, familial and economic losses. Internet access, for example, is still not as widespread and dependable as needed. Further challenges students in real-time to be prepared for self-management, change, diversity, and chaos in learning and general.
Reflection in Action
As I look ahead to another ten years, I appreciate colleagues and members of the CTLPA (Caribbean Tertiary Level Professional Association). They have provided me with a community of practitioners to interrogate, analyze and intervene in these areas in culturally relevant ways. While observing that our lived experience and that of students still have similarities to the global student development experience. Over the next ten years, I hope to see a full fledge CTLPA (Barbados) Chapter and career readiness initiatives that are integrated within classes and not just specific to the  Career Development Service.
Don-Marie Holder
2022 CGDSD Scholarship Recipient
Career Counselling Specialist
The University of the West Indies
Cave Hill Campus, Barbados