Events

Institute for Critical Perspectives and Practices on College Masculinities
June 16 @ 12:00 pm

-

June 17 @ 3:00 pm

EDT
Institute for Critical Perspectives and Practices on College Masculinities
a space for student affairs educators, scholars, and higher education professionals to critically explore and reflect on the future of men and masculinities scholarship and practice
16-17 june 2022 // 12pm-3pm ET each day



Delivered Virtually
The Institute for Critical Perspectives and Practices on College Masculinities will provide a space for student affairs educators, scholars, and higher education professionals to critically explore and reflect on the future of men and masculinities scholarship and practice. This virtual institute will curate opportunities for critical reflection and provide tools for professional practice related to examining power and privilege as well as centering the experiences of marginalized masculinities in higher education. Through dynamic keynote speakers and interactive workshops, participants will gain critical perspectives and practices that will allow them to reimagine new possibilities for engaging and supporting college men.
J.T. Snipes, Ph.D is Assistant Professor of Educational Leadership at Southern Illinois University at Edwardsville. Prior to his faculty appointment he worked for over 12 years in higher education administration. Currently, his research interest focuses on religion and spirituality in higher education, African American collegiate students, and critical race theory in education. He recently completed his award-winning dissertation entitled, "Ain't I Black too: Counterstories of Black Atheist in College." It explores the narratives of secular African American students in college. His latest edited volume Remixed and Reimagined: Innovations in Religion, Spirituality, and (Inter)Faith in Higher Education invites readers to rethink religious scholarship and practice in higher education and student affairs.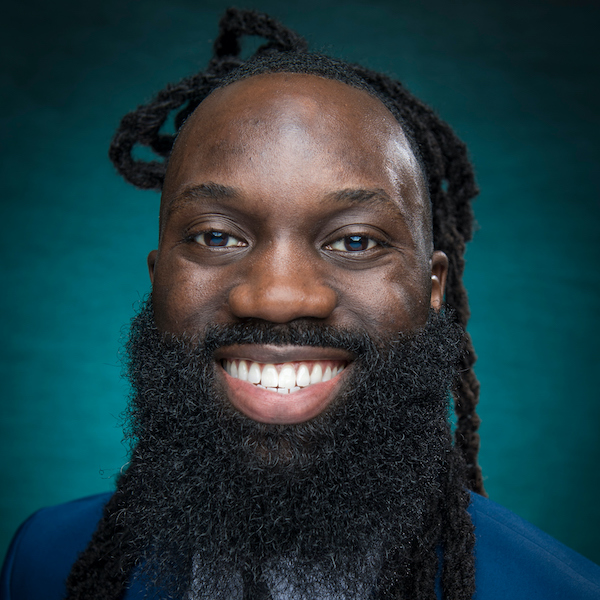 Dr. Wilson Kwamogi Okello is a poet who believes in the power of creative expression as a method to generate critical self-reflection, inspire confidence, and achieve agency. Dr. Okello is an assistant professor in the Watson College of Education at the University of North Carolina Wilmington. Bridging the artist-scholar divide, Dr. Okello is an interdisciplinary scholar who draws on theories of Blackness and Black feminist theories to think about knowledge production and student/early adult development, particularly, the relationship between history, the body, and epistemology in and beyond educational spaces. He is also concerned with how theories of Blackness and Black feminist theories might reconfigure understandings of racialized stress and trauma, qualitative inquiry, critical masculinities, and curriculum and pedagogy. He has delivered over 100 invited keynotes/lectures/presentations, from Rhode Island to California. Dr. Okello earned his Ph.D. from Miami University; his master's degree is from the University of Rhode Island, and he holds a bachelor's degree from Youngstown State University. He is the recipient of the University of Rhode Island's Distinguished Alumni Rising Star Award, the National Association of Student Personnel Administrators' (NASPA) Outstanding Professional Award, Youngstown State University's Outstanding Alumni Award, and he was named a 2022 Emerging Scholar by the American College Personnel Association. He is a proud brother of Kappa Alpha Psi Fraternity Incorporated.
$100
Consider purchasing the Live Stream Experience option for Graduate Programs and Student Affairs Divisions to learn from the event together! This registration option allows for 10 viewers in the same space; each additional attendee is $10 each.
$39
membership must be active through 17 June 2022
$19
membership must be active through 17 June 2022
Registrations can be paid by check, VISA, MasterCard, Discover, or American Express. All fees must be prepaid. Purchase orders are not accepted. Refunds will be given for cancellations, received in writing at ACPA by 20 May 2022. After 20 May 2022, there are no refunds. ACPA reserves the right to charge a service fee of US$50 for returned checks. Registrations are non-transferable. The conference may be canceled or postponed due to insufficient enrollment or other unforeseen circumstances. In this case, the fees will be fully refunded; however, ACPA will not be responsible for other additional costs, charges or expenses, including cancellation/change charges assessed by airlines and/or travel agencies.
virtual learning
We are excited to continue to offer this outstanding professional development opportunity in a live virtual format using Zoom Video Conferencing.  
The link to the online event will be emailed to registrants the day before the event begins. 
We recommend that you download the Zoom Client for Meetings on the computer you will be using prior to the event, if your computer does not already have Zoom. Once Zoom is downloaded on your computer, it will automatically open when you select the access link that will be shared with you the day before the event.
To connect to audio for this event, you can use the audio through your computer or you may call in.
To support community engagement and communication, registrants are encouraged to have a computer, mobile device, or phone webcam turned on when possible.  Understanding that attendees may be navigating internet bandwidth, available technology, and remote work environments access to a webcam is not required and participants are encouraged to mute video throughout the duration of the event or as needed.
schedule
*all times listed in Eastern Time
Day 1
Thursday, 16 June 2022
| | |
| --- | --- |
| 12:00pm | Welcome and Introduction |
| 12:15pm | Keynote Address – Dr. J.T. Snipes |
| 1:00pm | Small Group Breakouts |
| 1:45pm | Educational Sessions |
| 2:45pm | Day 1 Wrap-Up |
Day 2
Friday, 17 June 2022
| | |
| --- | --- |
| 12:00pm | Welcome Back |
| 12:15pm | Panel of Scholar Practitioners |
| 1:00pm | Small Group Breakouts |
| 1:45pm | Educational Sessions |
| 2:45pm | Concluding Thoughts – Dr. Wilson Okello |