Registration Cost
ACPA Professional or Faculty Member – $30
ACPA Student Member – $10
Non-member Professional or Faculty Member – $50
Non-member Student – $20
Registration can be found by following this link.
About
The Institute for Critical Perspectives and Practices on College Masculinities will provide a space for student affairs educators, scholars, and higher education professionals to critically explore and reflect on the future of men and masculinities scholarship and practice. This virtual institute will curate opportunities for critical reflection and provide tools for professional practice related to examining power and privilege as well as centering the experiences of marginalized masculinities in higher education. The institute will include an opening keynote, concurrent educational sessions, and collaborative discussion sessions. We hope participants will gain critical perspectives and practices that will allow them to reimagine new possibilities for engaging and supporting college men.
Keynote Speaker: Dr. Antonio Duran
Antonio Duran, PhD (he/él) is an assistant professor in higher and postsecondary education at Arizona State University. Antonio received his B.A. in English and American Literature from New York University, his M.S. in Student Affairs in Higher Education from Miami University, and Ph.D. in Higher Education and Student Affairs from The Ohio State University. His scholarship seeks to understand how historical and contemporary legacies of oppression influence college student development, experiences, and success. In his research, he is passionate about centering the lives of queer and trans communities, people of color, and those with multiple minoritized identities.
Dr. Duran's keynote will focus on an examination of the existing Higher Education and Student Affairs (HESA) scholarship on masculinities to understand how researchers are framing its intersection with other social identities and systems. Dr. Duran will also provide the ending remarks and calls to action at the conclusion of the Institute. In between, multiple engaging educational presentations and discussion sessions will be held.
Educational Presenters
Dr. Jason Laker (he/him)
Presenting "Male Student Development: Beyond Preaching to the Choir toward Professional Knowledge, Skills, and Commitments"
It is uncontroversial to assert that fostering students' development requires expertise about students' development and effective practices for promoting it.  Likewise, research connects likelihood of accessing and completing college—and positive, successful, and robust engagement along the way—to identity development and support.  Yet, Student Affairs graduate program curricula, institutions' onboarding/orientation, and/or professional development offerings from our associations rarely include information about masculine role socialization and other aspects of male students' identity formation.  How are we to be effective when our own field doesn't cover this material?  In this session, the author of the first chapter about male students' development to be included within a seminal text of our field will share about its content and the decades of advocacy to address a significant gap in professional knowledge about male students and the stakes associated with it.  Given the context is the CMM Institute, we can skip trying to persuade attendees about the importance of the subject and focus on strategies for promoting professional engagement with a key problem of practice.  Attendees will receive a copy of the chapter: "Masculine Role Socialization and Performance" recently published in the 5th Edition of the Handbook of Student Affairs Administration (McClellan & Kiyama (Eds), 2023).
Dr. Jason Laker is a Professor of Higher Education, Student Affairs, and Community Development and Chair of the Department of Counselor Education (and former Vice President for Student Affairs) at San José State University in California, USA.  Hepreviously served as AVP & Dean of Student Affairs, Fellow in the Centre for the Study of Democracy, and on the Gender Studies Faculty at Queen's University in Canada.  A profeminist men's and masculinities scholar, he has served as Chair of CMM's predecessor, ACPA's Standing Committee on Men and as the Founding Chair of NASPA's Men & Masculinities Knowledge Community.  Jason currently serves as the Editor-in-Chief of the Journal of Men's Studies.  His scholarly work in this area also includes two edited texts regarding gender and men's development: Masculinities in Higher Education (with Tracy Davis, Routledge, 2011); and Canadian Perspectives on Men and Masculinities (Oxford, 2012); and the first ever chapter on the subject in a Student Affairs graduate textbook, Masculine Role Socialization and Performance (2023, Handbook of Student Affairs Administration, McClellan, G. & Kiyama, J. (Eds.)).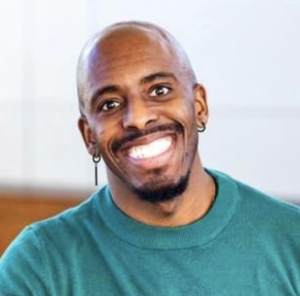 Dr. Quortne R. Hutchings (they, them)
Presenting "Queering men of color and Black male initiative programs through queer of color critique and nuanced activism"
Description: This session will explore how Black gay, bisexual, and queer men in men of color and Black male initiative programs enact queer-of-color critique and nuanced activism in challenging heteronormativity and cis heteropatriarchy in mentorship program settings.
Quortne R. Hutchings is a first-generation college graduate, proud Ronald E. McNair scholar alum, and assistant professor of higher education at Northern Illinois University. Their research primarily focuses on Black gay, bisexual, queer, and non-binary undergraduate and graduate students' academic and social experiences in higher education, student affairs professionals' experiences in student and academic affairs, utilizing gender and sexuality studies, intersectionality, and critical qualitative methodologies (e.g., queer phenomenology, arts-based research, and collaborative autoethnography).
Adam M. McCready, Ph.D. (He/Him)
Presenting: "Masculinities Within Historically White Fraternities: How Masculinities Affect Members and Why Diversity Matters"
This session will address how masculinities manifest in historically white college social fraternities and are associated with outcomes like alcohol consumption, and hazing and sexual assault attitudes. It was also examine how the prevalence of queer-identifying members and members with minoritized racial and ethnic identities within fraternity chapters relates to members' conformity to masculine norms. Implications for practice will be shared and discussed among attendees.
Adam M. McCready serves as Assistant Professor-in-Residence of High Education and Student Affairs in the Neag School of Education at the University of Connecticut (UConn) and Editor of the Journal of Sorority and Fraternity Life Research and Practice. His research critically examines the college student experience, and he is a leading scholar on hazing, sororities and fraternities, college men and masculinities, and student social media use. Relevant to the Institute, he has critically examined how the masculine norm climates of historically white fraternity chapter relate to members' outcomes and how the racial, ethnic and sexual identity diversity of these chapters are associated with members' masculinities. His scholarship has been published in, but limited to, the Journal of Diversity in Higher Education, Research in Higher Education, Journal of Student Affairs Research and Practice, and Innovative Higher Education. A first-generation college student and former college student-athlete (cross country), Adam is an avid runner who has run over 30,000 miles in his lifetime. He and his family reside just outside of Boston.
Jorge Burmicky Ph.D. (He/Him/His)
Presenting: "Latino Men and the College Presidency: An Intersectional Analysis of Identity, Power, and Marginalization in Higher Education"
According to the 2023 edition of the American College President Study (ACPS) administered by the American Council on Education, presidents of color account for one out of four presidents in the United States. Although many search firms, governing boards, faculty, and institutional leaders claim to be committed to diversifying the leadership landscape, the average president is a 60-year-old white man (ACPS, 2023). This presentation will provide key takeaways from a study that examined how Latino men who achieved the college presidency made sense of their most salient identities within the context of higher education leadership, with an emphasis on their masculine identity. This session will highlight the key role that family, graduate education, and leadership development institutes play in the identity development of Latino men. Implications for practice transferable to historically marginalized populations will be shared in this session.
Dr. Jorge Burmicky is an Assistant Professor of Higher Education Leadership and Policy Studies at Howard University. One of his research lines examines presidential leadership in higher education, with an emphasis on equity-minded and socially just leadership at minority-serving institutions (MSIs), community colleges, and broadly accessible institutions. His research also explores policies and practices that support the educational outcomes of men of color, specifically the impact of men of color programs in student success, Latino men in community colleges, and promising student affairs practices for serving Latino men.
Mr. Reggie Ellis (he/him),
Mr. Christopher Hurd (he/him),
Dr. César De Jesus Jiménez (he/him),
Dr. Paul Jiménez (he/him),

Mr. De Von Scott (he/him)
Presenting: "A Vision for Males of Color Success: Creating a New Landscape to Succeed"
There is a need for cross-campus partnerships and culturally relevant activities that increase the success for males of color at the community college. Compton College, El Camino College, Long Beach City College, Pasadena City College, and Santa Monica College will present on a collaborative effort, the annual Men of Color Action Network (MOCAN) Conference and the group's transition in becoming a 501c3. Each campus will also highlight men of color initiatives that have been implemented at each of their colleges.
MORE PRESENTERS TO BE ANNOUNCED