Events

Donna M. Bourassa Mid-Level Management Institute
January 6, 2022 @ 5:00 pm

-

February 18, 2022 @ 3:30 pm

CST
2022 Donna m. bourassa mid-level management institute
an ACPA signature educational program for those who have been in the student affairs field for five or more years or are a departmental director.
Registration for MMI 2022 has closed.
Information on the 2023 Institute will be released in Fall 2022.
MMI is going virtual! Join us for 5 sessions in early 2022:
Thursday, 6 January 2022, 5:00 – 7:00pm ET (2:00 – 4:00pm PT)

Friday, 7 January 2022, 1:30 – 3:30pm ET (10:30am – 12:30pm PT)

Friday, 21 January 2022, 1:30 – 3:30pm ET (10:30am – 12:30pm PT)

Friday, 4 February 2022, 1:30 – 3:30pm ET (10:30am – 12:30pm PT)

Friday, 18 February 2022, 1:30 – 3:30pm ET (10:30am – 12:30pm PT)
Going into its 24th year, the Donna M. Bourassa Mid-Level Management Institute is an ACPA educational program for those who have been in the student affairs field for five or more years or are a departmental director.  The Institute guides those desiring to grow their authentic leadership, strengthen their capacities and understand self and organizational dynamics in order to lead well.
The Institute, named for Donna Bourassa, Ed.D. former Associate Executive Director of ACPA, is a successful professional development resource to hundreds of colleagues in the student affairs profession.
institute features
Dynamic curriculum focused on identifying the complexities facing higher education and the student affairs profession and providing the resources to effect positive change.

A highly interactive and engaging learning environment including individual and group activities, panels, presentations, case studies and small and large group discussions.

A cohort model supports personal and professional transformation and connections with colleagues after the Institute.

In depth discussions and reflections facilitated through mentor groups.

Each year a reception is hosted at the ACPA Annual Convention for all past participants
institute faculty
click on a faculty name below to learn more about them!
Empty
Alan Acosta
Vice Provost for Student Life and Director of Positive Learning Environments
Office of Student Life // University of Massachusetts Chan Medical School
He, Him, His
Alan Acosta is the Vice Provost for Student Life and Director of Positive Learning Environments in the Office of Student Life at the University of Massachusetts Chan Medical School in Worcester, MA, USA, the ancestral homelands of the Nipmuc people. His work includes managing campus and student issues, collaborating with campus partners, encouraging the holistic wellness of students, and helping create a welcoming campus community. He believes in the importance of growing college students into ethical global leaders for the future, and he weaves equity and inclusion into the work he does. Prior to his role as Assistant Vice Provost, Alan worked at Clark University, as well as held numerous roles at Florida State University.
Alan received his Bachelor of Science in Business Administration from the University of Florida in 2004, and he earned his Master of Education in Student Personnel in Higher Education from the University of Florida in 2006. He received his Ph.D. in Higher Education Administration in 2017. Alan has published articles on the leadership experiences of Latino men in peer reviewed higher education journals, authored a book chapter on the impact of implicit bias on Black men in the academy, and co-edited a book on student conduct in the residence halls. He is also an adjunct instructor in the Higher Education and Student Affairs program at Salem State University.
Alan has been actively involved in ACPA – College Student Educators International (ACPA), his professional home for over 15 years, where he is currently the treasurer of the ACPA Foundation. He has previously served as the Chair of ACPA's Commission for Student Conduct and Legal Issues, the coordinator for ACPA's Voices of Inclusion awards, and a directorate body member of the Standing Committee for Graduate Students and New Professionals. Alan has been involved in the Association for Student Conduct Administration (ASCA), serving as the Educational Initiatives chair for the Association's 2016 Annual Conference and a co-author of the ASCA Knowledge and Skills document. He also is a member of NASPA – Student Affairs Administrators in Higher Education, and a past member of the Association of College and University Housing Officers – International.
Alan enjoys spending time with his partner, Danielle, their two cats, Ninja and Buster, and their dog Stella. He also likes reading, watching professional wrestling, and cheering for the Golden State Warriors, Boston Celtics, New England Patriots, and Boston Red Sox. Follow him on Twitter and Instagram at @alanacosta81. ¡Boricua!
Monique C. Atherley
Director
Intercultural Center // Marymount Manhattan College
She, They
Monique C. Atherley (She/They) is a dynamic, impactful, and vision-based leader who works to diligently to offer underrepresented populations opportunities to succeed. She is a scholar-practitioner, servant leader, capacity builder, and trainer with over 15 years of experience across K through 12, Community Based Organizations, and Higher Education with specific focus on urban educational offerings and college access. Monique focuses her praxis and pedagogy on empowering, informing, exposing, and preparing folx in her care for the realities and opportunities that will help revolutionize their existence. She recently joined the Marymount Manhattan College community as the Inaugural Director of their Intercultural Center.
A child of immigrants, she's committed to the protection and joy of black and brown bodies; and positions herself in spaces that support them thriving, not just surviving. On her journey, Monique has built an Award-Winning Residential Student Leadership system, served as a Charter member for two honor society chapters as well as a Model United Nations Conference, and has also served an Advisor for identity-based groups. Monique has served as the Chair of the Pan African Network of ACPA – an affinity space in Higher Education creating room and visibility for those from or in support of the African diaspora. Since 2019, Monique has been a faculty member at the CUNY School of Professional Studies in their Human Relations Department, where she also serves as the Inaugural Advisor for their Black Student Union (BSU). She is also a former staff member/current volunteer for the New York Urban League.
Monique's depth, insight, heart, strategy, and effort have promoted the connectedness needed in communities to support individual and organizational growth. She has received numerous awards in recognition of her advocacy including the 2021 Promising Practices in Social Justice at a Two-Year College from the ACPA Commission for Two-Year Colleges and 2021 Network Leadership Award from the ACPA Coalition for Multicultural Affairs. Her research interests include Equity and Racial Justice in Education, Sense of Belonging, The Multigenerational Workplace, Employee Engagement, and Support for Caregivers in the Workplace. She is currently focusing her dissertation research on how organizations can bridge the gap of talent at the table through belonging.
Craig Elliott
Assistant Vice President of Enrollment and Student Services and Assistant Professor
Samuel Merritt University
He, Him, His
Dr. Craig Elliott has worked in student affairs for over 25 years, and currently serves as the Assistant Vice President of Enrollment and Student Services and Assistant Professor at Samuel Merritt University in Oakland, CA. He helps lead the student engagement and success efforts at the University
Craig is currently serving as President of ACPA-College Student Educators International and leading the organization in its efforts to boldly transform higher education. He previously served as President of the California College Personnel Association from 1999-2001, chaired the Inclusion Task Force for ACPA in 2002, served on the national convention planning teams (2002 and 2013), and served on the Foundation Board. He has also served in a variety of leadership capacities in NASPA, NCORE and WACUHO. Craig is also a Social Justice Training Institute alumnus, serves on the faculty with Student SJTI, is a Co-Lead Facilitator for the LeaderShape Institute, and is on the board of World Trust.
Craig is also a trainer, consultant, and speaker on diversity, leadership, and social justice with over fifteen years of experience.  Craig's research interests explore white caucus work, feminism and masculinity, the intersection of Transformative Learning and Social Justice work, inclusion and equity, institutional change, and dismantling white supremacy.  Craig is part of the editorial collective for Rad Dad, a zine on feminist and social justice parenting, which has published three anthologies. He has also contributed chapters on feminism, fathering, co-authored an article on the transformative nature of medical missions, and an article on institutional barriers to inclusion and equity.
Craig recently co-wrote a book with Robert Brown and Shruti Desai entitled Identity-Conscious Supervision in Student Affairs: Building Relationships and Transforming Systems. It is published by Routledge.
Craig also serves in his local community in scouting, soccer. He is married to Nicole (over 22 years) and is father to Jackson and Thomas, and loves soccer, music, time with his family, and really good, strong coffee.
Anat Levtov
Director of Global Experiences and Academic Advisor
University of Iowa
She, Her, Hers
Anat Levtov currently serves as the Director of Global Experiences and Academic Advisor in the College of Engineering at the University of Iowa.  Anat grew up as a "Third Culture Kid", living around the world in Panama, Costa Rica, Ecuador, Israel, and Italy.  She first came to the United States as an international student to attend Dartmouth College, where she studied anthropology and psychology as an undergraduate.  Her fascination with cultures and learning led her to a career in higher education, including professional experiences in the U.S. and abroad in residence life, admissions, and international student services.  In all of her positions, she has focused on collaborating with faculty and staff across campus to create an environment that supports learning inside and outside the classroom.
Anat has a master's degree in Higher Education and Student Affairs Administration from the University of Vermont, as well as a master's degree in Higher Education with a focus on Research, Evaluation, and Assessment from the University of Michigan.  As a graduate student at Michigan, she was part of the qualitative research team for the Wabash National Study of Liberal Arts Education (WNSLAE), conducting hundreds of student interviews on campuses across the country.  She has presented at various regional and national conferences on appreciative supervision, assessment, academic partnerships, and transitions for new professionals.  Lately, she has been intrigued by the concept of growth mindset, and she has provided trainings on this concept to peer advisors, tutors, and professionals on her campus.
Anat currently lives in Iowa City with her partner, a faculty member at the University of Iowa's College of Education, and her two dogs.
Bernie Liang
Senior Director for Student Engagement
Seattle University
He, Him, His
Bernie Liang is the Senior Director for Student Engagement at Seattle University, where he oversees initiatives design for a diverse student body.  With functions in leadership development, outreach to marginalized communities, and campus life, he brings a wide set of experiences.
Throughout his 20+ years in student affairs, he has dedicated his leadership to creating inclusive environments that encourage deep interrogation of our systemic inequities in higher education. A first-generation gay Asian American cisgender man, Bernie received his bachelor's degree in Business Logistics at Penn State University and his Master of Arts in Education in Student Development Administration at Seattle University. Before his time at Seattle University, he held positions at University of Washington Tacoma, Willamette University, and Susquehanna University, overseeing a variety of campus functions including residence life, campus life, recreation, community service, and admissions.
Bernie has been involved with ACPA for 18 years, providing leadership to the Asian Pacific American Network (APAN), the Coalition for Multicultural Affairs (CMA), and as part of the convention team for Las Vegas and Montreal. In 2021, he was honored to host ACPA's first virtual convention as Convention Chair.  He presented on topics including trailing spouse experiences in student affairs, supporting LGBT students of color, and navigating the mid-level manager landscape as a person of color. In 2012, he was honored to co-author a chapter on Multiracial and Multiethnic APIA professionals in higher education, published in the text Asian Americans and Pacific Islanders in Higher Education: Research and perspectives on identity, leadership, and success.
At home, Bernie is proud to be a loving husband to Ryan Hamachek, a father to their 2-year-old, Eli, and their dachshund mix Sybil.
Rosie Perez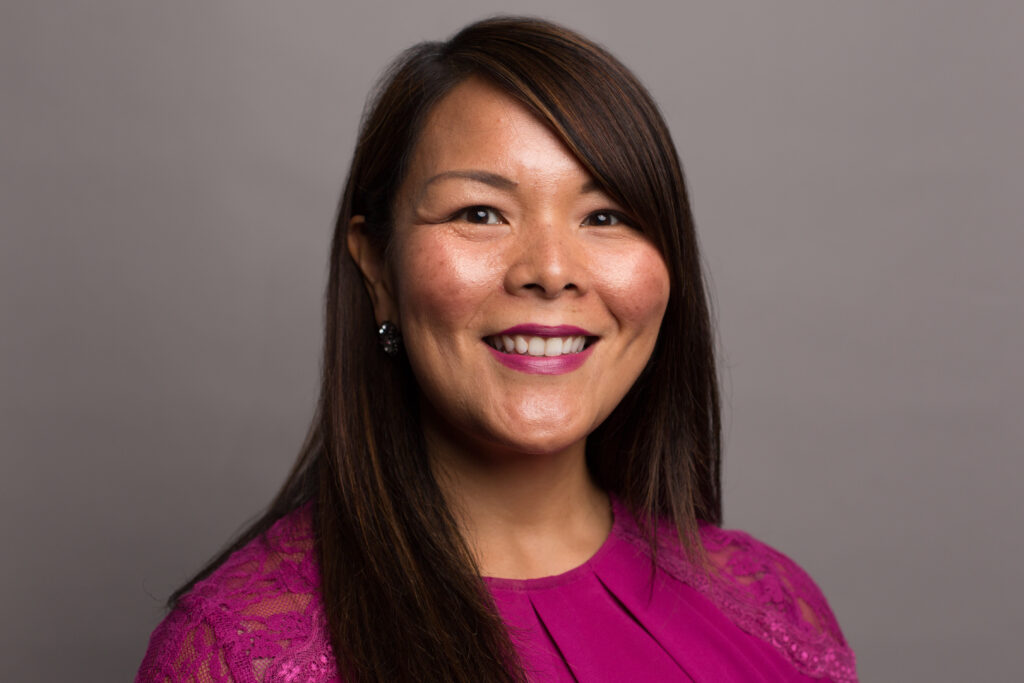 Associate Professor, Center for the Study of Higher & Postsecondary Education
University of Michigan
She, Her, Hers
Dr. Rosemary (Rosie) Perez is an Associate Professor in the Center for the Study of Higher and Postsecondary Education at the University of Michigan. Before joining the faculty at Michigan, she was an Assistant Professor and Division Head of Higher Education in the School of Education at Iowa State University (ISU).
Rosie's teaching, research, and praxis have strongly been shaped by her experiences as second generation, middle class, Filipina American who was raised and educated in predominantly White environments in the east side suburbs of Cleveland, OH. Her work has also been influenced by her prior educational and work experiences. Rosie earned her B.S. in Biological Sciences with an additional major in Psychology at the Carnegie Mellon University and her M.Ed. in Higher Education and Student Affairs at The University of Vermont. She worked in housing and residence life at the University of San Francisco and American University before earning her Ph.D. in Higher Education from the University of Michigan.
Collectively, these experiences have informed Rosie's multidisciplinary approach to studying college student learning and development. Across her program of research, Rosie explores the dynamic interactions between people and their environments, the tensions between structure and agency, and how power, privilege, and oppression affect individuals and groups within higher education. Her work has been published in venues such as the Journal of College Student Development, Journal of Diversity in Higher Education, Journal of Higher Education, and The Review of Higher Education. Rosie contributions to her communities of practice have recognized both locally and nationally. She received the 2016 ISU Multicultural Student Affairs Faculty/Staff Change Agent Award and the 2019 ISU College of Human Sciences Early Achievement in Teaching Award. She was also recognized as the 2014-2016 CWI Emerging Scholar in Residence, was a member of the 2017-2019 ACPA Emerging Scholars Cohort and was a 2020 ACPA Diamond Honoree.
Rosie also takes great pride in being a mother scholar and wife. She loves exercising, drinking coffee, listening to music, watching all the baking shows on Netflix, and watching sports.
Before 3 December 2021                      After 3 December 2021
$199                    $299
membership must be active through 6 January 2022
Before 3 December 2021                      After 3 December 2021
$299                     $399
consider becoming a member of ACPA to save $200 on your registration price!
Payment and Cancellation Policy
Registrations can be paid by check, VISA, MasterCard, Discover, or American Express. All fees must be prepaid. Purchase orders are not accepted. Refunds will be given for cancellations, received in writing at ACPA by December 3, 2021. After December 3, 2021, there are no refunds. ACPA reserves the right to charge a service fee of US$50 for returned checks. Registrations are non-transferable. The conference may be cancelled or postponed due to insufficient enrollment or other unforeseen circumstances. In this case, the fees will be fully refunded; however, ACPA will not be responsible for other additional costs, charges or expenses, including cancellation/change charges assessed by airlines and/or travel agencies