Thank you for stopping by to learn more about the Commission for Assessment & Evaluation. Take some time to look through our content and don't hesitate to share how you'd like to get involved. Use the menu below to jump to a section of interest.
Please contact us at CAE@acpa.nche.edu or connect with the members of our Directorate Body with questions or ideas.
The Commission for Assessment and Evaluation promotes assessment skills and knowledge to facilitate and support student learning, development, and effective student affairs practice.
Our VISION
ACPA's Commission for Assessment and Evaluation will be an international leader in the development of sound practices and education in student affairs assessment and evaluation.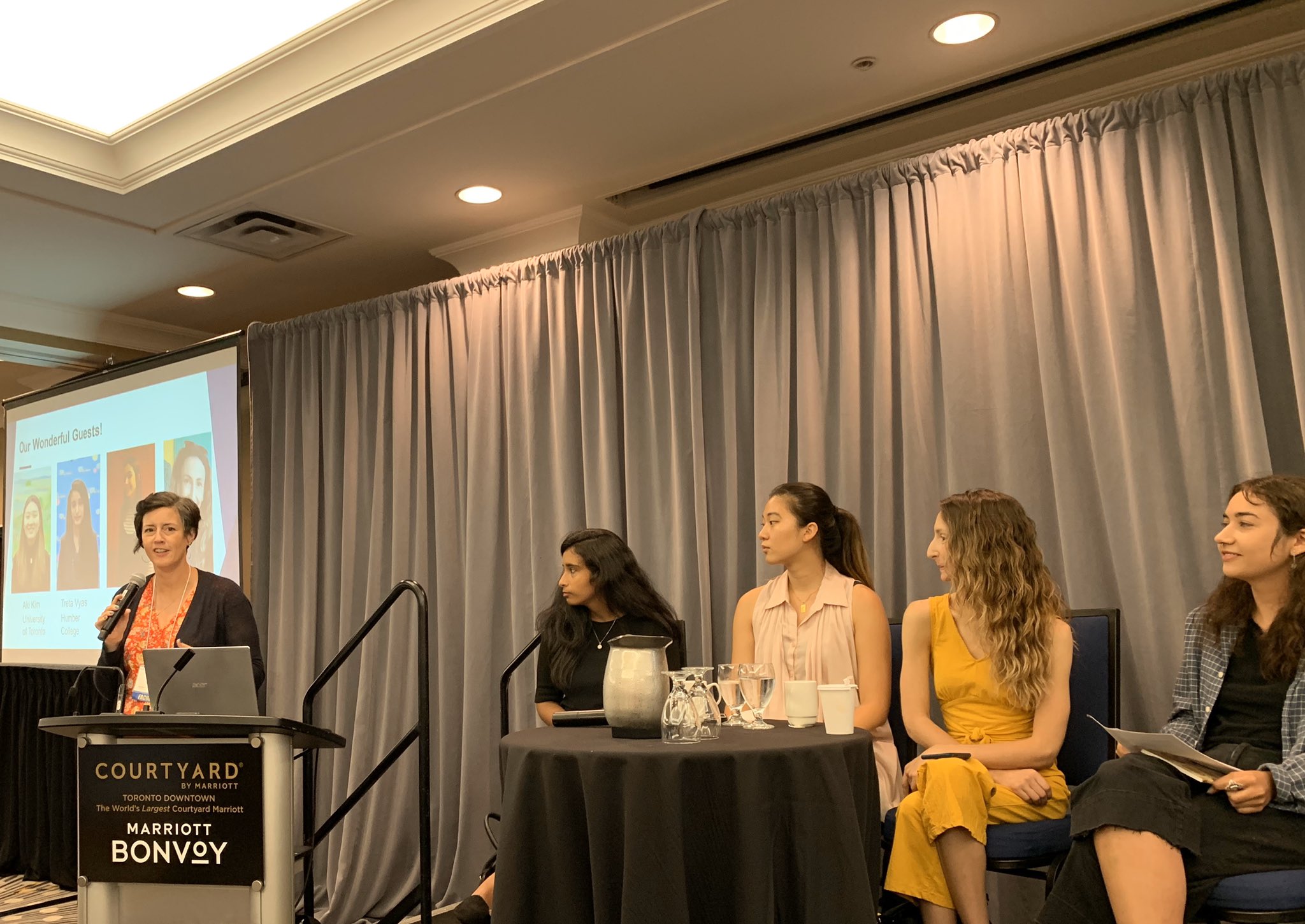 Commission history
Originally titled "Commission IX", the Commission for Assessment & Evaluation (CAE) was among the first eleven functional areas recognized by ACPA in 1961. Over the course of over fifty years, the Commission has continued to grow, benefiting from forward-thinking leadership and an involved membership.
In 1986, Marcia Baxter Magolda chronicled the Commission's 25-year history and, in conclusion, noted:
"…while activities have changed over the history of the Commission, the major focus during each period accurately reflected the needs of the profession at the time."
Indeed, this effort to meet the needs of the profession remains a mainstay of the Commission these additional 25 years later.
Since Baxter Magolda's reflective piece, the landscape of assessment in higher education, in general, and student affairs, in particular, has changed dramatically. Calls for higher education reform took hold late in the decade of the '80s and grew powerfully through the 1990s. Increasing demands for institutional accountability left colleges and universities, as well as accrediting agencies, scrambling for means to demonstrate what students were learning and how. Grades, exam scores, and graduation rates – albeit important – no longer sufficed as indicators of learning. Student affairs professionals needed to be able to demonstrate co-curricular student learning and development as well as efforts to improve practice based on evidence.
The Commission's focus shifted slightly, then, as the territory of assessment moved away from testing and towards student learning and institutional improvement. Efforts to enhance assessment skill capacity for student affairs professionals continued to grow as primary focal point for the Commission. Building on our history and strong foundation, today, the Commission's mission is to "promote assessment skills and knowledge to facilitate and support student learning, development, and effective student affairs practice." Among many others, some of the steps taken to help us achieve that mission have included:
Taking on leadership of the ACPA Student Affairs Assessment Institute – an annual curriculum-based institute designed to help student affairs professionals develop basic assessment skills.
Sponsoring presentations and institutes on assessment and evaluation at the ACPA Annual Convention.
Developing and disseminating the Assessment Skills and Knowledge (ASK) Standards under the leadership of Alice Mitchell and Gavin Henning. These standards not only benefited Association members but also served as a critical launching point as ACPA and NASPA sought to develop competencies for the profession.
Highlighting emerging best practices in the field of student affairs and assessment, first as awards presented to institutions and most recently as a monograph intended to reach a broader student affairs audience.
Maintaining relevant resources for association members. These resources included for several decades the maintenance of a clearinghouse of testing instruments and evaluations. Today, the Commission links members to online survey tools, assessment offices, and provides assessment tips.
Nearly doubling our membership from 450 to over 800.
Increasing our collaboration with other commissions and standing committees (e.g., Commission for Administrative Leadership, Commission for Housing and Residential Life) to reach even broader audiences.
Crafting a series of monographs and publications for the association membership on such topics as emerging best practices in student affairs assessment and the role of student affairs in accreditation.
As we look to the next 50 years, we have a tremendously solid foundation on which to build. The future of student affairs assessment and evaluation as well as student learning and development will continue to change. As it does so, CAE will be there to meet the ever-changing needs of our profession.
For nearly a decade, ACPA's Student Affairs Assessment Institute has served as the premier gathering of student affairs professionals seeking to build capacity in assessment. Whether you a brand new to assessment, taking on new responsibilities in your unit, or...
read more
Get Involved
Do you LOVE student affairs assessment, even if it's not your full-time job? Join the Commission for Assessment & Evaluation to stay up-to-date with all things higher education assessment.
Ready to join?
Joining an Entity through the ACPA Member Portal automatically identifies you as a member of that Entity! You will begin to receive Entity communications through their respective email listserv and have access to any resources they share!
Login to your ACPA Member Account
Click on Community Groups (Chatter)
Click Groups
Click Active Groups
Find the entity you want to join and within that group, click +Join
Contact cae@acpa.nche.edu, to learn more about ACPA's Commission for Assessment & Evaluation.
Any ACPA member can become involved and there are varying levels of involvement:
Join our listserv (sign up under "my profile" in the ACPA membership area)
Attend our open business meeting at the annual ACPA convention
Review conference programs for the annual convention
Submit a sponsored program proposal for the annual convention
Host a webinar
Submit a proposal for a paper to be published on our website
Tell us how CAE can help you in your professional journey
Every year, the Commission for Assessment & Evaluation recognizes dedicated assessment professionals at convention. The open nominations process allows professionals across the field to nominate themselves and others for recognition of their service.
Our Directorate Board is made up of a variety of people all who are dedicated to helping us accomplish our mission. Each year the Directorate board develops teams, sets goals for each team and members work year-round to accomplish their goals. This year's goals include having fun, developing educational sessions targeted at new and mid-level professionals, developing our on-line tools and resources, providing educational sessions at Convention and solidifying our communications plans. If you like to write about assessment, plan or facilitate education sessions, help us better utilize social media or just want to learn more about assessment while applying your event planning or communication skills, consider running for our Directorate board.
Tori Rehr
Chair
The Ohio State University
Paul Holliday-Millard
Education Committee Co-Chair
University of North Carolina, Charlotte
Tanner Gill
Education Committee Co-Chair
Sarah LaFrance
Membership Committee Co-Chair
Mitchell Foster
Membership Committee Co-Chair
The George Washington University
Mandy Westfall-Senda
Directorate Member
University of Hawaii, Manoa
Britt Rhymes
Directorate Member
Shaun Boren
Directorate Member
Pamela Butler
Directorate Member
University of the District of Columbia
Crystal Cyr
Directorate Member
University of Colorado, Boulder
Jerri Danso
Directorate Member
Sierra Gray
Directorate Member
Rutgers University, New Brunswick
DeVoneia Jordan
Directorate Member
California State Polytechnic University, Pomona
Michele Kleeman
Directorate Member
San Jose State University
Jeananne Knies
Directorate Member
Shiloh Lovette
Directorate Member
Appalachian State University
Quan Phan
Directorate Member
Amy Salinas Westmoreland
Directorate Member
Pennsylvania State University
Krista Soria
Directorate Member
Brianne Steele
Directorate Member
Western Michigan University
Anna Van Gurp
Directorate Member
Austin Van Horn
Directorate Member
Eastern Mennonite University
Myrah Wilson
Directorate Member
Lin Zhang
Directorate Member
Many departments within and outside of Student Affairs create employment and leadership development opportunities for students. As beyond the classroom educators, we should view these contexts for what they must be—highly effective learning experiences. However, assessing this learning in a meaningful manner can be difficult. Attend this webinar to learn how departments at the University of Southern Mississippi have enhanced the educational potential of these experiences using intentional learning-focused conversations, AAC&U's VALUE Rubrics, and sound pedagogy.
Featuring Amy Homkes-Hayes and colleagues. University of Michigan's Student Life has advanced research and practice on student learning using integrative learning pedagogy. Integrative ePortfolios measured by action based research have demonstrated significant gains in student learning. The scope of research has widened to include content analysis and controlled experiments. Integrative outcomes have also served as models for measuring student life wide student learning outcomes. In this session, practitioners and researchers examine both effective approaches to measuring student learning, and the practical implications of the research.
Many colleges and universities across the United States have created committees, departments, and leadership roles dedicated to advancing diversity, equity, and inclusion on campus. 
In this webinar, Ryan J. Davis, Director of Assessment and Educational Programs at Purdue University, will provide an overview of a variety of approaches that campus officials may employ to fit their institutional and departmental missions, values, goals, and cultures. Specifically, participants will be able to identify multiple approaches to assessment and planning that enable campus officials to demonstrate the breadth and depth of their diversity, equity, and inclusion efforts within and across each campus unit. 
The work environment is composed of a multi-generational landscape (Silent, Boomers, Gen X, Y, and soon Z). Each generation has different work values and preferences impacting employer recruitment efforts. This session will examine recruiting strategies across generations collected via an online survey. Participants will examine their work values and motivations through a generational lens and have the opportunity to engage in thoughtful discussion about recruiting strategies for the various generations and how they can assist both students and employer partners.
Narrative inquiry is a form of qualitative research that privileges participant stories. It is a complex methodology widely in educational research. However, it is rarely leveraged by administrators in student affairs. During this session, participants will hear from and be able to ask questions of a panel of two doctoral candidates and one faculty member who used narrative inquiry as the methodology of study for their dissertations. Challenges and strengths of narrative inquiry will also be identified and discussed.
With increasing calls for accountability, assessment has become a staple function for all divisions of student affairs. Ad hoc assessment occurring in pockets must be transformed into a culture where assessment is embedded into daily practice. Based on a chapter in the forthcoming ACPA/NASPA publication entitled Coordinating Divisional Assessment, participants attending this webinar will describe characteristics of cultures of assessment, use a tool to assess a division's culture of assessment, and develop steps to cultivate such a culture.