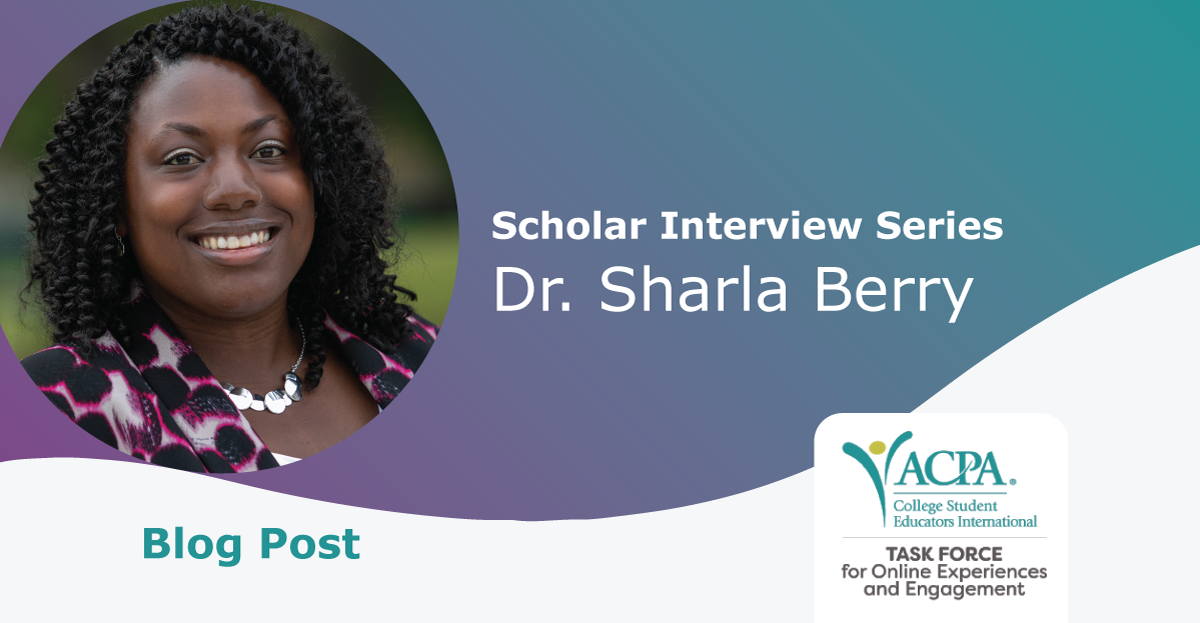 We're excited to highlight the scholarship of Dr. Sharla Berry, Assistant Professor in the Center for Evaluation and Educational Effectiveness (CEEE) at California State University, Long Beach. Dr. Berry is an expert in the field of digital equity and online learning. Her research has been featured in many academic journals including Online Learning and the International Review of Research in Open and Distributed Learning, and at academic conferences including the American Educational Research Association (AERA) and the Association for the Study of Higher Education (ASHE). Dr. Berry is committed to using her research to support practitioners in teaching and leading with technology. Her recent book, "Creating Inclusive Online Communities:
Practices that Support and Engage Diverse Students" focuses on how to better support college students in online learning environments. 
We got the chance to ask Dr. Berry a few questions about her work:
What led you to this research?
I started my doctoral program in 2013. At that time, there was a lot of talk about the future of technology. MOOCs, coding bootcamps, and hackathons were very popular. I was curious about what this tech explosion meant for Black people, people of color, and people from low-income backgrounds. I grew interested in online learning and digital equity, and sought to bridge my interests in communication, technology, culture, and education. 
Based on your research, what recommendations do you have for better-supporting students as they navigate online college environments and experiences?
I was initially interested in how youth of color use technology in schools and to prepare for college. My colleague, Dr. Vanessa Monterosa, and I even participated in a hackathon and technology incubator, and tried to start an app! Still, I had a little trouble getting this research agenda off the ground. Frankly, a lot of academics, especially in the field of education, were having trouble seeing the overlap between BIPOC students, tech, and media cultures. I found more support in communications and sociology, but I was in an Education Policy Ph.D. program, so I had to find a topic that was a bit more traditional. I switched my focus to online learning in higher education, and here we are! 
Fortunately, I am able to integrate some of my core interests, particularly around diversity and equity, into my research. I take an intersectional approach toward my examination of online teaching and learning, exploring how elements like disability, gender, class, and race impact students' experiences. 
Based on your research, what recommendations do you have for better supporting students as they navigate online college environments and experiences?
Supporting online students starts with recognizing that they are not a monolith. Online students are diverse and can have diverse experiences, even in the same academic program. Instructors should consider how disability, gender, class, and race impact students' experiences. For example, instructors can make online courses more accessible by partnering with instructional designers, faculty developers, and disability support services to ensure that they are employing technology in equitable ways. There are many features of online classrooms that are complementary to assistive technologies, and skilled instructors will maximize their use of these features. 
Practitioners should also consider how they are orienting students to the academic experience on multiple levels. While it can be easy to focus on what happens in individual classes, the online experience is also impacted heavily by program level and institutional supports. Orientations vary by context, but practitioners should consider how they are introducing online students to their broader program and to the community. Such an orientation involves getting creative with digital resources — perhaps creating videos to orient students to the institution, or connecting them to social media platforms where they can meet other students. 
Another thing practitioners can do to support online students is to remember that some students may benefit from and have access to in-person supports. In my research, online students were connecting with colleagues in-person, meeting up for football games, studying together in libraries, and meeting up in their local neighborhoods to connect. This is something that institutions can encourage and leverage to build community for online students. Practitioners can also consider making online students aware of in-person supports like campus cultural centers so that LGBTQ, BIPOC, and other students can build relationships with peers who may not be in their online courses. The core takeaway is to get creative and take a holistic approach to online students' experiences.  
What do you recommend for new professionals interested in learning more about this work?
I recommend new professionals who are interested in this work read my new book 😁,   Creating Inclusive Online Communities: Practices that Support and Engage Diverse Students, which has something for everybody. The book focuses on the research around creating online communities, and it has explicit takeaways for faculty, administrators, instructional designers, faculty developers, and other staff members who seek to incorporate principles of diversity, equity, and inclusion into their online and hybrid classes. Whether you are looking for a theoretical framework of online learning that includes the experiences of diverse learners, or a practical set of strategies for teaching online, you will find the book impactful. 
A core contribution of the work is that it parses out different ways to use technology. In it, I highlight different learning activities for engaging students in synchronous, asynchronous, and hybrid courses. For example, if you are looking for different ways to use the chat or discussion board to engage more students, you'll find no shortage of strategies in my book. I also explore how to engage students who struggle with technology access or who may not feel included online.
What's next for this research project?
In terms of what's next, I hope to continue to share my work with practitioners. I do this primarily through keynote speeches and workshops.  Online teaching and online research have a symbiotic relationship. In order for the research to occur, researchers need to learn more about who is innovating in the online space and how it is working. I've been facilitating workshops about online teaching and learning at community colleges and 4-year universities. By working with practitioners, I am seeing my research in a new light. 
The book is also for researchers who are looking for robust, equity-oriented theories of online teaching and learning. Additionally, the book offers strategies for all who are looking to leverage technology to facilitate learning communities.
Connection to the mission of ACPA's OEE (Written by Virginia Byrne)
Dr. Berry's work is beneficial to all Student Affairs professionals, especially those who support students who take courses online. As more and more co-curricular programming is moved online to become accessible and reach more students, knowledge of how to build inclusive communities online will be essential. Dr. Berry's earlier work (2017a; 2017b) is particularly relevant to practitioners working with graduate students who are predominantly online. 
Interested in learning more about Dr. Berry? 
Visit www.sharlaberry.com or on Twitter at @Sharla_Berry
References
Berry, S. (2017a). Student support networks in online doctoral programs: Exploring nested communities.

International Journal of Doctoral Studies

,

12

, 33.

https://doi.org/10.28945/3676

Berry, S. (2017b). Building community in online doctoral classrooms: Instructor practices that support community.

Online Learning

,

21

(2), n2.

http://dx.doi.org/10.24059/olj.v21i2.875

Sundt, M. A., Berry, S., & Ortiz, A. (2017). Using data to support online student communities.

New Directions for Student Services

,

2017

(159), 83-91.

https://doi.org/10.1002/ss.20229

​​Berry, S. (2022).

Creating inclusive online communities: Practices that support and engage diverse students

. Stylus Publishing, LLC.