Gordon V. Anderson (1953-1955)
Fifteenth President
Gordon V. Anderson was elected president of ACPA for a two-year term in 1953, before the annual conven­tion that year. His term of office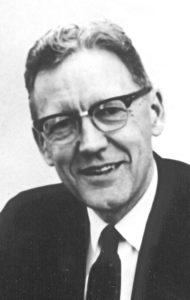 began officially on July 1. At the time of his election, he was serving as ACPA's vice-president. He was also a member of the Executive Council, and he chaired the Committee on Constitu­tional Revision. Anderson was Assistant Director of the University of Texas Testing and Guidance Bureau and Associate Professor of Educational Psychology. When he was elected president, he was 42 years old, married, and the father of a son and daughter.
Born and reared in Wausa, Nebraska, Gordon Anderson graduated from the local high school in 1926. He attended Augustana College in Illinois as an undergraduate student during 1926-29 and 1931-32. He received the A.B. degree in 1932, an Education major. Years later the Alumni Association at Augus­tana presented him an Outstanding Achievement Award. During 1929-31 and 1934-36, he was editor of the Wausa Gazette published by his father. During 1932-34, Anderson taught social science and music at Hazelton (Iowa) High School. An Employment Inter­viewer and Administrative Assistant with the United States Employment Service for five years (1936-41) in Lincoln, Nebraska, he began working toward the M.A. degree at the University of Nebraska (UN) in 1937. He majored in Psychology and received his degree in 1940. He was the recipient of the Wolfe Memorial Fellowship during 1940-41 and remained at UN with a graduate teaching assistantship.
Offered a graduate school scholarship, he went to the University of Minnesota (UM) to study for his doctorate. At UM he was Acting Director of the Student Counseling Bureau during 1942-45 and Assistant Professor of Psychology. He was granted his Ph.D. in 1945 with a major in Psychology. His dissertation was entitled "Factorial Analysis of Attitudes Toward Com­munity Problems." D.G. Paterson was his major ad­viser.
Anderson left Minnesota and served two years at Northwestern University as Assistant Professor of Psychology and assumed duties as Director of the Division of Correlated Studies. From Illinois, Ander­son and his family traveled to the University of Texas at Austin (UT), where he became Assistant then Asso­ciate Director of the Testing and Guidance Bureau and Lecturer in Educational Psychology. In 1958 he was promoted to full Professor and appointed Director of the renamed Testing and Counseling Center with more than 30 full-time and part-time workers serving over 20,000 students.
In 1965 he was as­signed a dual role, act­ing chair of the Depart­ment of Educational Psychology. Two years later, he left the Center to chair the department until 1972 with a one-year leave of absence (1969-70) to work in test development with CTB/McGraw Hill at Monterey, California. From 1972 until his retire­ment from UT in January 1979, he was a full-time teacher of courses in measurement, evaluation, psychometric theory, and related topics. He was then officed in the department as Professor Emeritus for nearly another decade.
Anderson first became a member of ACPA in 1944, when he was Assistant Professor of Psychology and Acting Director, Student Counseling Bureau, Univer­sity of Minnesota, where he received his Ph.D. the following year. He was a member of the ACPA Commit­tee on Standards and Training during 1947-49. His paper titled "Professional Standards and Training for College Personnel Workers" was read at the Monday afternoon, March 29 general session held in the Fort Hayes Hotel in Columbus. The annual report of the Committee on Standards and Training was included in his presentation.
The announcement of his election in 1949 as a member-at-large to serve on the Executive Council for one year was made at the annual ACPA Business session in the Stevens Hotel at Chicago. He was re-elected to serve another one-year term during 1950-51, and he served as chairman of the ACPA Program Committee for the 1951 convention in Chicago. In the 1952 elections the following year, Anderson was elected vice-president of ACPA for 1952-53. Also, he was an ex-officio member of the Program Committee of 11 members for the 1953 APCA convention in Chicago.
He was listed in the 1953 program as recorder at the sectional meeting titled Identifying and Developing Leaders. Anderson attended the annual ACPA Busi­ness session on Wednesday morning, April 1 in the Conrad Hilton Hotel, and he participated in the two Executive Council meetings. President Hopkins turned the gavel over to him at the second meeting.
A message of the ACPA membership in the fall of 1953 by President Anderson indicated that the changing social impact upon higher education necessitated that the college personnel workers re-examine their role. He stated: "Reformulation of our program is clearly our number one task for this year. It is one in which the entire membership should participate." He requested volunteers to serve on committees, and he called for an increase in multiple memberships so that the APGA Divisions could increase in strength and formulate sound programs. Anderson believed that the professional needs of college student personnel workers could be more adequately met "through the concerted efforts of the Divisions, and ACPA can concentrate on a unique program of its own without dissipation of effort over too wide a range of profes­sional problems."
During 1953-54, Anderson was one of two persons who continued to represent ACPA on the APGA Execu­tive Council. He proposed that the regular ACPA committees with their membership continue in their assignments for another year, and he was hopeful that physical meetings of the committee members would be held during the Buffalo convention in 1954. Ander­son was hopeful, also, that the work of the committees could be "translated into programs of action contrib­uting to the advancement of ACPA and the profes­sional development of the members," something more than routine reports. During 1953-54, the Member­ship Committee members conducted a thorough study of the ACPA membership.
The second annual APGA convention extended from Sunday through Thursday, April 11-15. The Statler Hotel was convention headquarters. The ACPA program theme was "Integration of Student Personnel Services in the College Community." Anderson was expected to attend the APGA Executive Council meet­ings which were scheduled all day Sunday. The ACPA Executive Council met again that evening with Presi­dent Anderson presiding.
The ACPA luncheon at noon on Monday was fol­lowed with a general session. Anderson presented his presidential address titled "The Meaning of the Mean­ing of ACPA." On Tuesday morning, Anderson pre­sided at the annual ACPA Business session. That afternoon, Anderson was one of three discussants at a section meeting titled Implications of Research on Standardized Tests. The subject of his paper was "Research on Interest Inventories." Wednesday morning he presided at a general session which was a joint meeting with the Student Personnel Association for Teacher Education (SPATE), Division 4 of APGA. The ACPA social hour on Wednesday afternoon was at­tended jointly with SPATE, also. A total of 35 section meetings were held during the convention, and a general session on Thursday morning was the last of three general meetings held in Buffalo. ACPA member­ship for 1953-54 was 1,428.
As planned by the ACPA Executive Council to assure wider participation of members in nomination procedures, nomination ballots were mailed to ACPA members in April 1954. President Anderson and the ACPA president-elect attended the APGA Executive Council two-day meetings in Chicago on Sunday and Monday, October 10-11, 1954. Anderson reported to the ACPA membership that APGA "supplements and supports the Divisions, each of which is left completely free to chart its own course, set its own goals, outline its own program of activities." Also, the fifth of five problem areas he outlined was the relationship of their organization to other professional groups, both within and outside APGA. He organized a special Committee on Relations with other professional Societies to study the matter. On March 1, 1955, ACPA membership was 1,424.
The third annual APGA convention took place at the Conrad Hilton Hotel in Chicago from Sunday through Thursday, April 3-7, 1955. The ACPA program theme was "Student Personnel Work as a part of the Educa­tional Process." President Anderson attended the APGA Executive Council meetings which began Sunday morning and lasted periodically throughout the day. Anderson presided at the ACPA Executive Council meeting which took place Sunday evening. After the ACPA luncheon on Monday at noon, President Gordon Anderson presided at the opening general session. "Who Am I?" was the title of his presidential address, which related the work of the personnel worker to the convention theme. Two other general sessions were scheduled as were 25 section meetings and a Business session. On Tuesday morning, April 5, Anderson presided at the ACPA Business session held in the Waldorf Room of the Conrad Hilton Hotel. During the early 1950s Anderson helped work out the transition to APGA. During the early 1960s he served on the editorial board of the Journal of College Student Per­sonnel.
In April 1968, Andersen's hopes for ACPA were for "Better Standards— our moves away from adequate professional preparation for college and university personnel workers needs to be curbed."
Gordon V. Anderson was married to Atha Grothe for 55 years. He died in Austin, TX on March 13, 1991. A Memorial Resolution in his honor appeared in the June 1993 issue of ACPA Developments.