Donald P. Hoyt (1968-1969)
Twenty-Ninth President
Donald P. Hoyt became president-elect at the 1967 annual meeting in Dallas. At that time, he was Coor­dinator of Research Services for the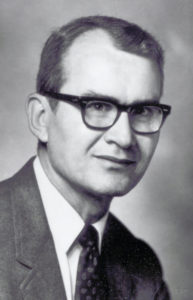 American College Testing Program and Professor of Education at the University of Iowa (Iowa City). He had previously been senior counselor at the University of Minnesota's Student Counseling Bureau (1952-1954) and on the Psychology and Counseling Center staffs at Kansas State University, serving as Director of the latter from 1958-1961. He was 40 years of age, married, and the father of three sons.
Donald Hoyt was born in Cherokee, Iowa. As an undergraduate at the University of Illinois, he was employed in the Dean of Students Office. He majored in Mathematics but gained a strong psychology back­ground and completed his B.S. degree in 1948. During his senior year, Dean Fred H. Turner told him to enroll in graduate school at the University of Minnesota (UM) and arranged to have E.G. Williamson provide an assistantship. Hoyt received the M.A. and Ph.D. de­grees in 1950 and 1954, respectively, from UM where he experienced various assistantships. At UM his long career in research began, and for the next seven years after he received his doctorate, he was employed at Kansas State University.
Hoyt returned to Kansas State where he is now from the University of Iowa in 1968. He was appointed Director of Educational Research, Professor of Educa­tion, and Professor of Psychology. He has had several titles including Assistant Vice President for Academic Affairs and Director of Educational Resources. At different times a substantial portion of his time has been spent in collecting, analyzing, and interpreting data which relate to optimal allocation of institutional resources (positions, facilities, program support). Another major focus has been evaluation, both of personnel and programs. Time has been devoted to system-wide coordination, and he has had the overall responsibility for faculty development services.
Beginning in 1954 (Buffalo), he had been a regular program participant at the national conventions, presenting papers on measurement, counseling, and research in higher education. He served on the ACPA Publications and Research Committee in 1956-57. In 1960 he was appointed to the ACPA Monograph Commission, and served two terms (1960-1966). He served as a member of the first Commission VII (1962) and in 1964 was elected to the Executive Council.
During his term as Executive Council member, he represented ACPA on the National Commission on School-College Rela­tions, serving as its vice-president in 1965-66. In 1966, he and Philip A. Tripp conducted an ACPA membership sur­vey to inform the Ex­ecutive Council of members' needs and opinions; results were published in the Janu­ary 1967 issue of the Journal. Hoyt became involved with ACPA policy regarding separate conventions in 1967. APGA had scheduled its 1969 meeting in Hawaii; Hoyt repre­sented ACPA on a special ad hoc committee which recommended that the 1969 meeting be re-scheduled for Las Vegas. The ACPA Executive Council had earlier voted to meet separately in 1969 unless APGA agreed to meet somewhere on the Mainland.
In the 1968 meetings in Detroit, the APGA Board of Directors was told of the difficult housing situation which was projected for the 1970 New Orleans meet­ing. Hoyt was involved with several other Executive Council members in the decision to hold ACPA's 1970 meeting separate from APGA's; Higher Education Executive Associates was commissioned to explore and recommend a site.
The 1968 Detroit meeting was marked by Hoyt, as Chair, presenting 14 resolutions to the Business meeting. He also presented a paper, later published in the Journal, entitled "An ACPA program for 1968-69." In this paper, he outlined a series of proposals and strategies for making ACPA more responsive to its members. These constituted the major thrust of the organization during his tenure as president. The chief accomplishments were:
1. Providing the first ACPA regional workshops on topics of professional interest,
2. Establishing a publications committee for the Commissions to more efficiently and effectively capi­talize on their professional efforts,
3. Establishing a committee on the future of the student personnel profession, while continuing Task Forces on Blacks and Women,
4. Exploring new organizational possibilities by meeting regularly with leaders of NASPA and NAWDC, and
5. Organizing ACPA's first separate convention (St. Louis, 1970).
Following his year as president, he continued on the Executive Council for one year as past-president. He also served as ACPA's representative on APGA's Commission on Purposes, Functions, and Operation in both 1969-70 and 1970-71. In 1971-72, he con­ducted another ACPA membership survey which fo­cused considerable attention on organizational op­tions. This was his last active service for ACPA. His new employment (Assistant Vice-President for Aca­demic Affairs at Kansas State University) directed his interests in other channels and he became progres­sively disenchanted with ACPA's ability to deal with either professional or political problems. The last meeting he attended was the Chicago meeting in 1972.
On September 21, 1977, Donald P. Hoyt concluded a manuscript for another publication (Presidential Reporting, 1978) with a forecast of what would happen in ACPA's future. A small section of his predictions follows:
There will be a continuing need for some highly specialized student service. Those concerned with student financial aid will have jobs in the future; specialists in career placement will also have a definite role, although it may change some as new patterns of education emerge (e.g., more work/study, more mul­tiple careers). I expect health services may gradually be provided through community, rather than institu­tional, resources. If not, they clearly call for highly specialized personnel.
Certain other services will continue to be staffed with separate personnel; those involved in housing, recreation, and entertainment (including cultural programming) are the only certain ones in this cate­gory. Most other student services will be provided by the teaching faculty. Given appropriate motivation and training, the faculty can and should handle most counseling services, group advising, and program development.
For this to happen, some other changes will have to occur. The faculty will need to embrace (with more enthusiasm) "student development" as a legitimate concern of theirs. And institutions will need to reward them for success in relevant activities. In this connec­tion, a new set of priorities will need to be adopted by our institutions. Not only must there be a renewed emphasis on learning, but also on what is to be learned. The current stress on specialized skills and knowledge which can be used to gain position and status will have to be downgraded; and new ways must be found to address fundamental questions of values, including a sense of personal responsibility for the survival of the species.
Donald Hoyt died in Manhatten, KS on December 16, 2005.