Terry E. Williams (1992-1993)
Fifty-Third President
Raised and educated in small farming communities in Indiana and Illinois, Terry Williams began his formal post-secondary education at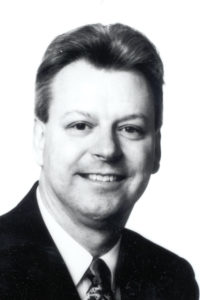 Illinois State University where he graduated with a degree in Business Administration and Mathematics along with earning an Illinois Teaching Certificate. While he had a tentative plan to begin a high school teaching career this was superseded by a deeper desire and calling to work instead in higher education due primarily to his undergraduate experiences working with student affairs mentors. Upon graduation in 1970, however, and with a special 'invitation' from the U.S. Government, Williams served in the United States Army which included a tour of duty in Viet Nam as a combat infantry soldier. Immediately following his military service, he enrolled at Indiana University Bloomington and in 1974 earned a master's degree in College Student Personnel Administration under the mentorship of Professor Betty Greenleaf. Williams remembers well nervously preparing for his admission interview with Greenleaf immediately following his return from Vietnam. She was gracious, welcoming and supportive at a time when many recent Vietnam veterans were not always treated with such warm and open arms.
Following graduation, Williams served as a hall director and campus activities advisor at Illinois Wesleyan University before deciding to earn his Ph.D. in Higher Education from The Florida State University in Tallahassee. While at FSU, Williams was mentored by Professor Melvene D. Hardee. Due to his mentor's expert guidance, his dissertation research received the NASPA Outstanding Dissertation of the Year Award in 1980, an award later renamed to honor Professor Hardee. Following FSU, he served as an Assistant Dean of Students at the Illinois Institute of Technology in Chicago before joining the faculty at Loyola University Chicago in 1980.
Williams joined ACPA in 1974 while completing his Master's program at IU. His first formal experience with the Association was serving on a panel at the 1974 ACPA Convention in Chicago at the invitation of Professor Betty Greenleaf to discuss his experiences and professional development during a full-year's administrative internship in the Dean of Students Office at the University of Evansville (IN). Williams continued to attend annual ACPA conferences over the next few years. In 1980, he participated in a meeting of Commission 12, now the Commission for Professional Preparation, looking for support, guidance and advice from other faculty members as he began his own teaching career. An influential group of faculty members, in particular Leila Moore, Cynthia Johnson, Gerald L. Saddlemire, Nancy Evans, Bob Young, and Carnie Strange, was extremely welcoming and provided encouragement and support. This initial formative and very positive experience set the stage for a long-standing relationship between Williams and ACPA.
Williams volunteered to contribute to Commission 12 committee work and from 1983-1987 he served on the commission directorate. In 1986 he was elected the Commission's Vice Chair. During this time, Williams was also heavily involved in the Illinois College Personnel Association where he served as President in 1985-1986. He transitioned into an ACPA Executive Board position in 1987 when he was elected for a two-year role as ACPA's first Vice-President Elect for State Divisions (1987-1989) which later led into the role of Vice President for State Divisions (1989-1991). Williams found his work with state-level leaders to be very collaborative, enjoyable, and extremely rewarding and this work led him to consider other opportunities within the ACPA leadership. In spring 1991, he was nominated and later elected to the position of ACPA President-Elect during the historic 1991-1992 Association year.
As President-Elect Williams worked very closely with ACPA President Leila Moore and Immediate Past President Betty Fitzgerald and other ACPA leaders in implementing ACPA members' decision to legally disaffiliate from the American Counseling Association. This was an extremely busy, yet exciting, year working closely with Leila Moore as she carefully, thoughtfully and courageously guided the Association from its legal affiliation with ACA to a fully independent higher education association in the midst of much angst over predictions about ACPA's survival. In his keynote presidential address to ACPA in March 1992 in San Francisco, Williams placed heavy emphasis on ACPA's independence and the need for student affairs professionals to emphasize their campus role as professional educators. The address emphasized the need for ACPA members to educate and empower students to address key social justice issues facing U.S. society and to consider a call to serve others who are in great need. Additionally, emphasis was placed on a call for the Association to reach out to other national higher education associations with whom we share core values around education and student development.
In July 1992, Williams assumed the role of President of ACPA. This was an exciting and historic time for the association as many diverse challenges associated with the legal separation from the American Counseling Association continued to be addressed. In fact, legal 'closing' documents which finalized the separation of ACPA from ACA were signed by Williams on December 2, 1992. Williams saw as his major task the continuation of the outstanding work of Leila Moore and the ACPA Executive Council to bring to reality the carefully laid plans to establish ACPA as a newly independent higher education voice for students and student affairs educators. Significant 'start-up' challenges faced the new organization on many fronts including finding the personnel and financial resources needed for membership recruitment and retention; opening of ACPA's first national headquarters office at One Dupont Circle in Washington, D.C.; and providing leadership and support for the association's first Executive Director and his staff. Along with Leila Moore and President-Elect Charles Schroeder, Williams established task forces to study and draft strategic initiatives on membership, multiculturalism, fiscal affairs, and professional development and continued the task force on governance.
Williams was also part of the leadership team for the 1993 ACPA Convention in Kansas City that addressed the theme 'Educating for the Common Good: An Uncommon Agenda.' He and his convention chair, Dr. Betty Glick, had the unique responsibility of organizing the first post-ACA disaffiliation ACPA convention. Although very serious concerns about convention attendance and its potential impact on Association finances were always a topic of conversation during the planning phases, the convention team met and exceeded its goal in terms of convention registrations and funding support returned to the Association. As part of the overall theme involving a call to service, the Kansas City convention for the first time initiated a program that promoted member volunteerism and service with a variety of underserved communities within Kansas City.
Williams' participation in ACPA continued following the conclusion of his presidency. For two years, he also served as Chair of the Executive Director Personnel Committee and coordinated the complete re-writing of ACPA's By-laws. Since first joining ACPA in 1974, Williams has been a frequent presenter at annual conventions. In 2002, he was invited by ACPA President Nancy Evans to chair ACPA's The Next Generation Conference and served on the Convention Planning Team for the Long Beach, CA annual convention. Most recently, he has served as a Trustee for the Educational Leadership Foundation from 2006 to 2009.
Williams continues his work at Loyola University Chicago and in 2010 completed 30 years as Director of the Higher Education Program within the School of Education. In addition to his Chicago-based teaching, research and service roles, Williams has spent several summers beginning in 2006 teaching at Loyola's campus in Rome, Italy. His current research interests focus on international higher education and particularly on the experiences of students who participate in education abroad programs. He has been invited by his institution to participate in planning groups related to his institution's strategic global initiatives.
Williams has been married to Patricia Jean Maroder since 1972 and together they have one son, Ryan, who works in higher education. Williams and his wife enjoy travel, especially visiting U.S. national parks and botanic gardens.