Tell us about yourself and your role within the Commission.
My name is Mary Ann Bodine Al-Sharif. At my institution, I go by Dr. BAS or Mary Ann. I am extremely excited to be taking on the role of Faculty in Residence Elect for the Commission for Global Dimensions of Student Development (CGDSD). This is an exciting opportunity to grow with the commission and work to advance research efforts in international higher education and study abroad! I hope to be able to work collaboratively with our commission member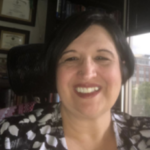 s in creating innovative opportunities for research and research partnerships. I will be working with Dr. Katie Koo, current Faculty in Residence, as I move into this position, and I am SO very much looking forward to her mentorship and guidance in this role! Likewise, I am really looking forward to working with all our CGDSD members!
Tell us about your higher education journey, career, and research interest?
I am the proud product of a community college! I was not the typical college student, and had it not been for my community college roots, I may not be where I am today! My local community college truly embedded within me the love of learning! 
Once I started on my educational journey, it was hard to stop, and it exposed me to SO many wonderful opportunities! I had never traveled abroad much less anywhere too far within the United States, but once I transferred for my bachelor's degree, I had the opportunity to participate in my first study abroad experience as an undergraduate student, and later also as a graduate student! These experiences laid the foundation for my current work!
Currently, I hold a PhD in Adult & Higher Education and work at the University of Alabama at Birmingham as an Assistant Professor of Higher Education. Prior to taking on the role of faculty, I worked for just over 10 years as an administrator in higher education predominantly within the community college system and in the areas of enrollment management and student affairs.  My research interests are within three distinct areas: 1) exploring the lives of students who define themselves as living between worlds across issues of ability, race, religion, ethnicity, gender expression, and the like; 2) the impact of internationalization, globalization and glocalization in higher education, and 3) exploring issues of social justice, institutionalized oppression, and advocacy within higher education.
What has been your favorite experience in international higher education as a faculty member?
I have had many amazing opportunities abroad, but as a faculty member my favorite experience was in Saudi Arabia. In April of 2019 and pre-COVID-19, I had the opportunity to serve as a Saudi Fellow and invited scholar through the Ministry of Education in the Kingdom of Saudi Arabia. This was an amazing opportunity to participate alongside selected scholars and policy makers in higher education from around the world at the International Exhibition and Conference on Higher Education (IECHE) and to engage with Saudi educators on important conversations about the challenges facing Saudi higher education and the work the Saudi Ministry of Education is doing to provide innovation and accountability in higher education while working to further develop the Kingdom. This experience was extremely important and memorable to me, because my dissertation focused on the experiences of Saudi students studying within the United States and how they spoke about their national identity in relation to their study abroad experience.
What are your goals as the Faculty in Residence Elect and as an international researcher?
As the Faculty in Residence Elect, I hope to gain as much knowledge and experience as I can working with Dr. Koo to strengthen research opportunities within the CGDSD, to introduce more individuals to the global reach of higher education, and to expand research opportunities for our members! As an international researcher, I hope to gain insight on higher educational practices from a non-western viewpoint and to support and promote the development of indigenous knowledge and research within developing higher education systems abroad.