Black Lives Matter.
There is no real liberation until there is Black liberation.
The ACPA Latin@/x Network stands with Black Lives Matter. We are aware of the anti-blackness in our own communities and culture. We are enraged by the historical and recent acts of police brutality, hate crimes, and violence inflicted on Black lives. We cannot stand for the ignorant behavior that perpetuates systemic racism in the United States.
As an organization, we are committed to showing up, standing for, and advocating for the Black and Afro-Latinx community. Ways we are supporting and ask others to support:
Self educate on the topic of racism and anti-blackness within the Latinx community
Directly talk about and address the anti-blackness that exists in our communities, institutions, and families
Listen to the Black and Afro-Latinx community
Donate time, money, and energy to Black owned businesses, organizations, and funds
Vote, sign petitions, call local representatives, and defund the police.
In this newsletter, we are providing a guide with resources for advocacy & action and invite you to our community conversation on Anti-Blackness in the Latinx Community (see below).
Resources for Advocacy
& Action
Our LN Advocacy Chairs, Beatriz Barron and Hugo Yepez, have developed an advocacy guide highlighting articles, anti-racist resources, podcasts, webinars, and much more. We hope this guide is informative and helpful as we all learn how to be advocates and show up for others. Click here to access the guide.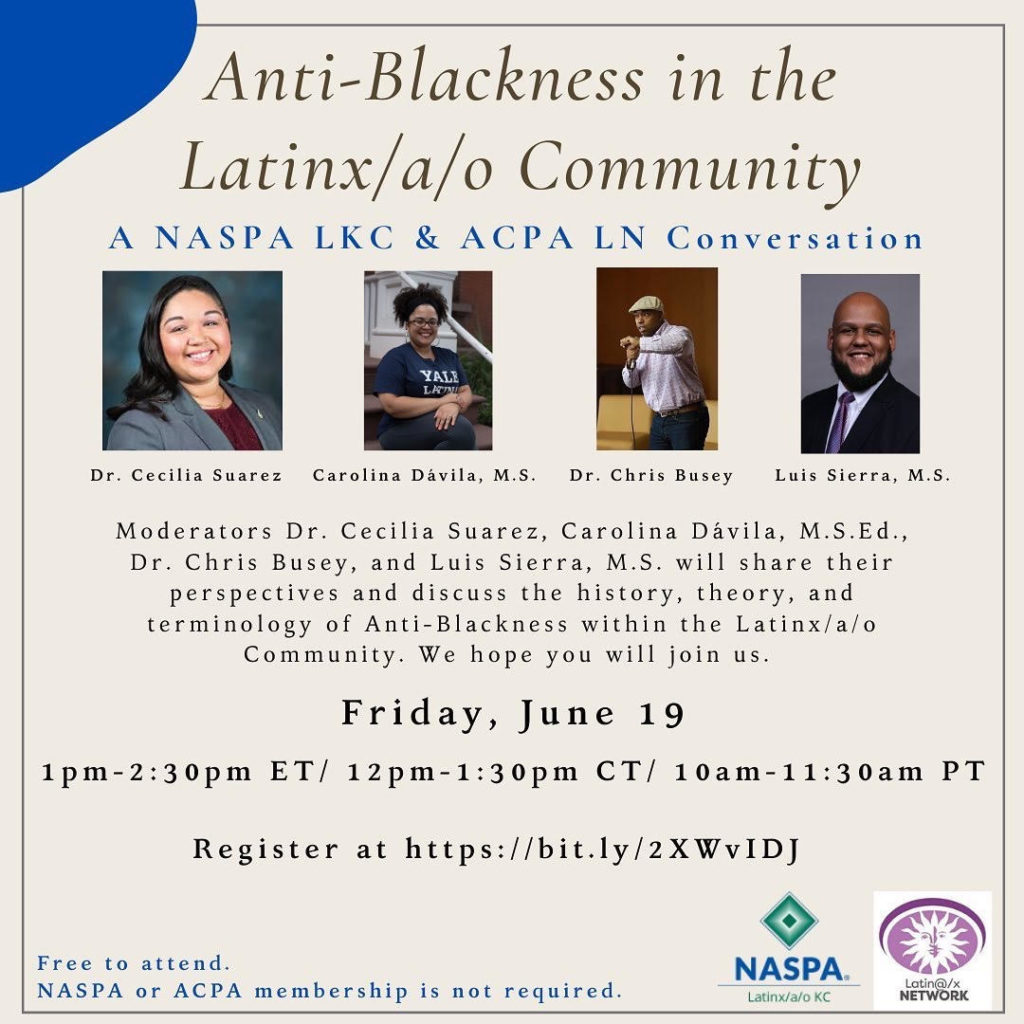 Anti-Blackness in the Latinx Community
Join us on Friday, June 19, 2020 at 1pm EST / 12pm CST / 11am MST / 10am PST for a conversation on Anti-Blackness in the Latinx Community with members of the ACPA Latinx Network and the NASPA Latino/a/x Knowledge Community.
Moderators Dr. Cecilia Suarez, Carolina Dávila, M.S.Ed, Dr. Chris Bussey, and Luis Sierra, M.S. will share their perspectives and discuss the history, theory, and terminology of Anti-Blackness within the Latinx community. This event will also acknowledge Juneteenth, which is recognized annually on the nineteenth of June by African Americans to commemorate emancipation from slavery in Texas in 1865.
Free to attend but registration is required. Click here to register!
Click here to learn more about our moderators.
Continuing the Conversation…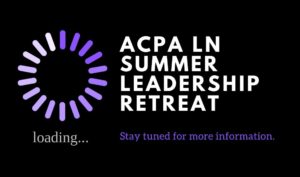 2nd Annual ACPA LN Summer Leadership Retreat
Please stay tuned for more information about the LN Summer Leadership Retreat taking place late July.  The retreat will be platform to continue pressing conversations that center Black, Afro-Latinx and Indigenous voices and address the anti-Blackness that exists in our communities, our practice, and ourselves. The retreat will be offered virtually and members will have the opportunity to engage as participants and presenters. The call for presenters will be made next week.
Registration will become available by Monday, June 29, 2020.