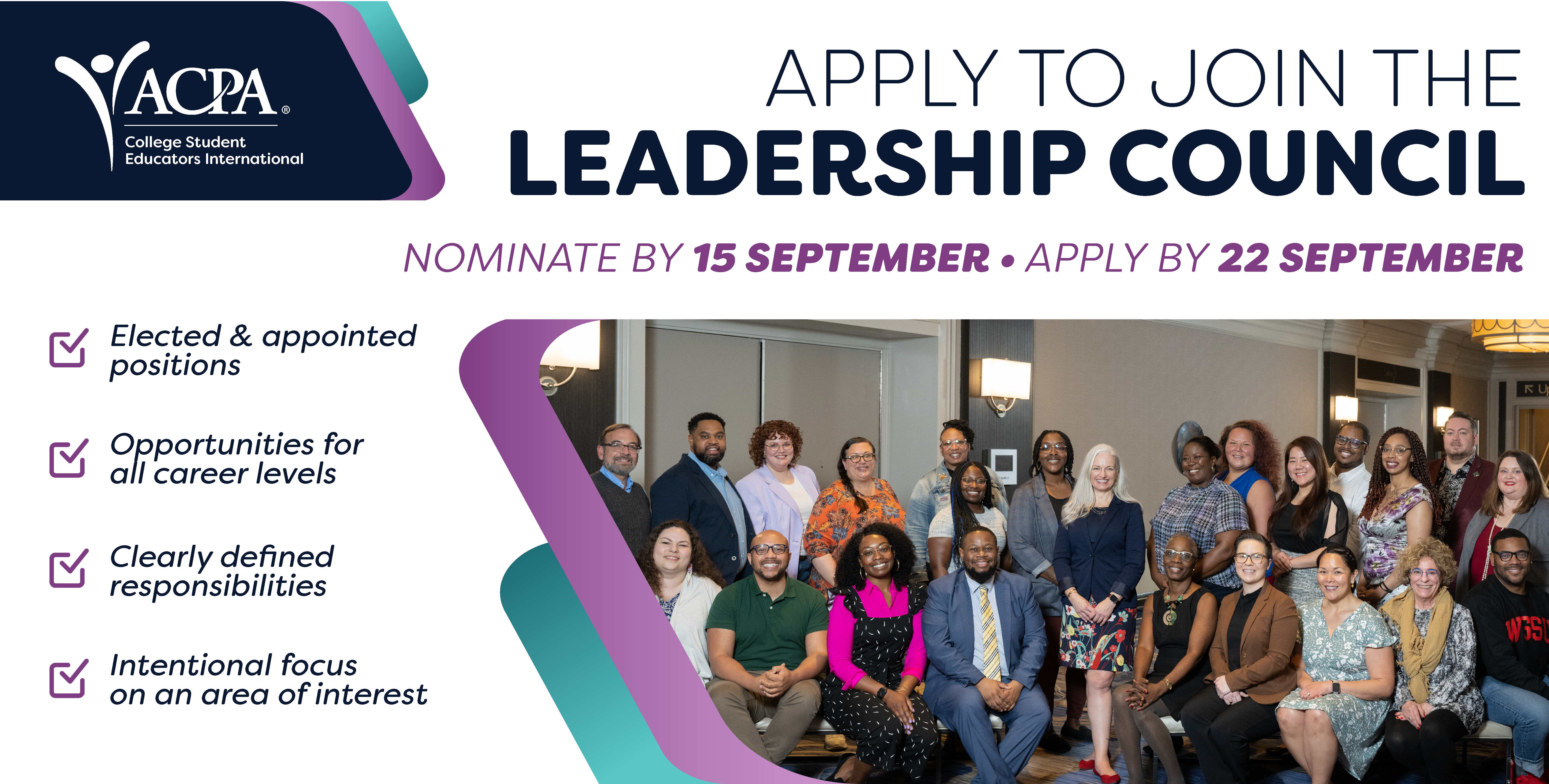 NOMINATION, ELECTION & APPOINTMENT TIMELINE
| | |
| --- | --- |
| Nomination form available | was available 5 July-15 September 2023 |
| Application form available | Available starting 5 July 2023 |
| Nomination form closes | 15 September 2023 |
| Application due by 11:59pm ET | 22 September 2023 |
| Elections open for member voting until 11:59pm ET | 6-20 November 2023 |
| Run-off Election (if needed) | 28-31 November 2023 |
| Appointed positions selected | mid-December 2023 |
| Election & appointment results announced to membership | mid/late December 2023 |
LEADERSHIP COUNCIL POSITIONS OPEN FOR SELECTION
Positions to be ELECTED by ACPA Members
Positions to be APPOINTED
INFORMATION ABOUT THE ACPA LEADERSHIP COUNCIL POSITIONS:
At the 2023 Annual Business Meeting, ACPA members approved a new governance model for the Association that will begin implementation in March 2024 (Phase 1) and will be fully in place as of February 2025. This selection process in Fall 2023 will identify the leaders who will begin their roles on the Leadership Council at the start of Phase 1 of the new model.
As ACPA is a non-profit organization (registered 501c3), we are required to meet certain legal and business requirements to sustain. The Leadership Council operates using an informal version of Parliamentary Procedure for conducting business meetings, and newly elected officers will receive training and guidance for participating in these meetings.
Participating in the ACPA Leadership Council is similar to being a trustee of a college and university, rather than planning professional development or networking opportunities. The Leadership Council is responsible for ACPA's financial wellbeing, strategic planning, and business practices and not as involved in day-to-day operations, programs, or services as most members might think. Many apply for governance leadership positions because they have had positive and meaningful experiences in programming or services on behalf of the Association and are surprised by the business-oriented nature of carrying out ACPA's fiduciary duties.
The positions available in this election require various levels and amounts of time and commitment. Beyond the President-Elect/President (15-20 hours per week) and Vice Presidents (10-15 hours per week), most Leadership Council positions should expect and be capable of spending 5-10 hours per week on ACPA-related meetings, communications, and projects.
Position descriptions require all interested applicants be "in good standing" with the Association. "In good standing" simply means that an individual's ACPA membership is current and there are no active restrictions on membership or participation in Association activities/initiatives. Beyond active membership, the eligibility requirements for each Leadership Council role are outlined on the individual position descriptions.
Participation in all Leadership Council and working council meetings is expected for these positions.
Interested applicants are encouraged to consult with supervisors, mentors, current or previous governance leaders, and others in their network about your interest in the position and time/effort commitments required in advance of applying.
An excerpt from the current ACPA Standard Operating Procedures (SOPs) outlining policies related to the Leadership Council Nominations & Elections Process can be reviewed here.
QUESTIONS?
Questions about the ACPA Leadership Council Nomination, Application, and Election process may be submitted via this Contact Form and will be shared with the committee members below.
Andrea D. Domingue, 2023-2024 Nominations & Elections Committee Chair
Jasmine A. Lee, Director of Equity & Inclusion
Chris Moody, ACPA Executive Director (ex officio Committee member)​